Ten players who could transfer in January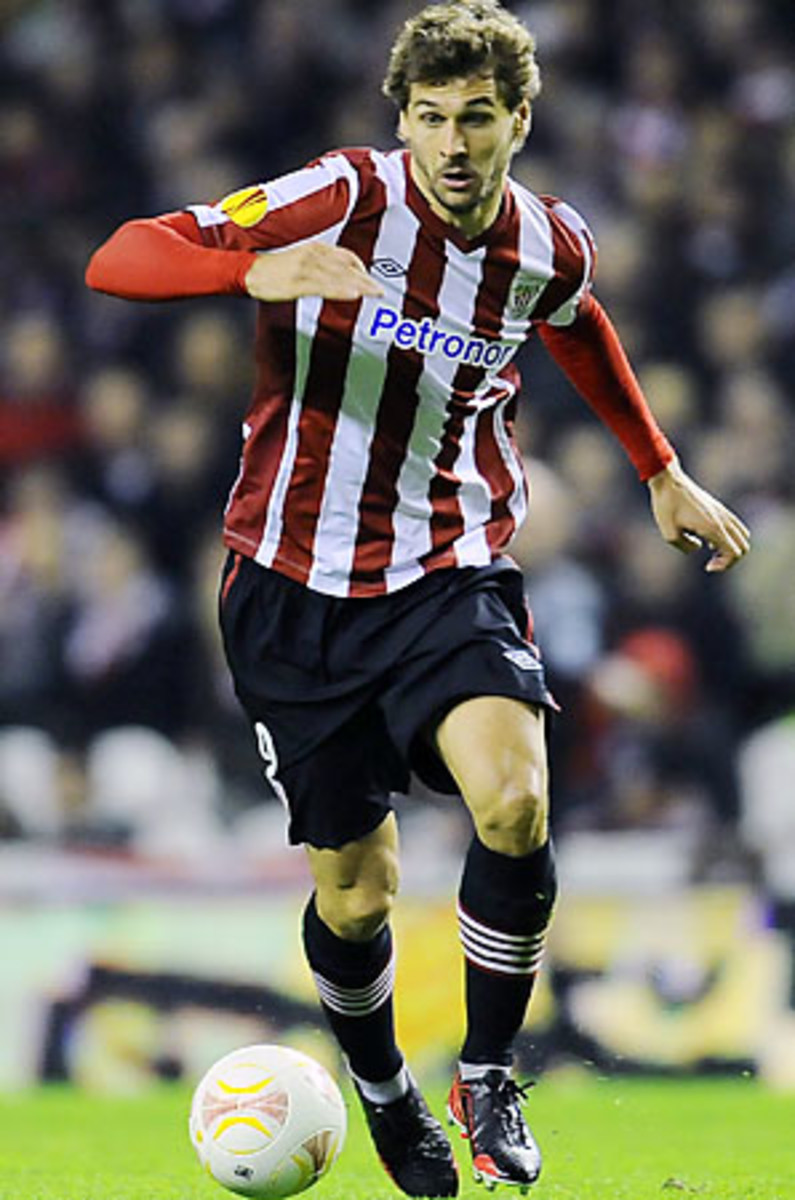 The opening of January's transfer window could herald some big moves as Europe's wealthiest clubs struggle to meet targets of league success, or even Champions League qualification, and some of the world's best players are embroiled in contract disputes. Here are some who may move in the next four weeks:
1. Fernando Llorente (Striker, Athletic Bilbao)Interested clubs: Juventus, Tottenham Hotspur, Manchester City, Chelsea
What a six months it's been for Llorente. Ever since he was an unused substitute throughout Spain's Euro 2012 success, things have been on the downturn for the likeable 27-year-old. In the last year of his contract, he did not extend his deal at the start of the season, and a hoped move to Juventus fell through. The fans, rather than wishing him well for what would clearly be a step up the career ladder, turned on him, called him a traitor. The club's silence told its own tale. Coach Marcelo Bielsa has reportedly banished Llorente from training when he thought he was not trying hard enough, while he has only played more than 45 minutes in a La Liga match twice this season. Llorente is being wasted on the bench; Athletic could make some money by selling him in January in a deal that would suit everyone. But it has gotten so ugly between the parties that the divorce might just drag out untl the summer.
2. Didier Drogba (Striker, Shanghai Shenhua)Interested clubs: Juventus, AC Milan
Chelsea's Champions League hero has claimed that there are no problems with his new life in China -- even if he does stay up to 3 a.m. spending time online with his family back in London -- but his teammate Nicolas Anelka is reportedly prepared to forego a $7 million salary to leave midway through his two-year deal. Drogba could follow. He scored eight goals in 11 league appearances, of which Shanghai won four and drew six. And while he insisted that there was little interest in him last summer, because it was expected he would stay at Chelsea, Juventus did make an offer. "To win a Champions League with another club, others have already done that before me," Drogba said. "However, winning the Asian Champions League after winning the European title, no one has done that." That now looks unlikely at Shenhua, and with Nicklas Bendtner hardly providing the backup firepower the Italian champion hoped for, a short-term move to Turin could become a reality after the African Cup of Nations.
3. Lewis Holtby (Schalke)Interested clubs: Liverpool, Fiorentina, Arsenal, Napoli
Holtby is on the radar of Premier League clubs after rejecting a new contract with Schalke. The surprise is that teammate Klaas-Jan Hntelaar did recently agree a new deal, within days of coach Huub Stevens being sacked, which led to reports that his dismissal was connected to Huntelaar and Holtby signing new deals. As it is, Holtby has six months left to run and can sign a deal with a foreign club this week. Given his versatility in midfield -- from a deep lying playmaker to a box-to-box midfielder for Schalke, as well as a playmaker for Mainz -- Holtby, 22, could be well suited to Liverpool as a long-term replacement for captain Steven Gerrard. With an English father who supports Everton, it may not be an easy move for the family to stomach.
4. David Villa (Striker, Barcelona)Interested clubs: Arsenal, Manchester City, Chelsea, Liverpool, Swansea
At least Villa is in good company: Samuel Eto'o, Thierry Henry and Zlatan Ibrahimovic all struggled, in different ways, playing second fiddle to Lionel Messi. Villa is the latest to suffer, though he was not helped by a broken leg in December 2011 that threatened his career. He returned this season but has not been a regular under Tito Vilanova and has not started any of Barcelona's big games. His contract has 18 months left, and Barcelona could cash in on him now or next summer. There was talk of a six-month loan to Swansea, coached by ex-Barcelona favorite Michael Laudrup, but that seems unlikely. Villa has dropped off the radar in the last 12 months: now 31, his next contract could be the last big one of his career. The Premier League's top clubs will be interested.
5. Ibrahima Toure (Striker, Monaco)Interested clubs: Shakhtar Donetsk, Galatasaray, Norwich, Tottenham Hotspur
His CV hardly suggests he's a star, but after a journeyman career in China, Iran and the United Arab Emirates, the Senegalese center forward, 26, is one of the hottest properties in the game. A breakout year in France's Ligue 2, where he has scored 16 goals in 19 games this season, has pushed to the front of Shakhtar's queue for a new striker, and the Ukrainian champion has offered ?11 million for the player who, 12 months ago, signed for ?1.1 million, a figure that at the time, raised eyebrows.
6. Theo Walcott (Winger, Arsenal)Interested clubs: Liverpool, Manchester United, Manchester City, Chelsea
Has there ever been a less rebellious contract rebel than Walcott? Unfailingly polite and always giving his best, Walcott does not want to leave Arsenal, but he wants to be paid what he feels is the going rate and, compared to what some teammates are said to be paid, you can't blame him. There is reported interest from Manchester United, Chelsea and Liverpool, the team he supported as a boy, but Arsenal, if it ups its £75,000-per-week, five-year deal, can still control the situation. His departure, if it comes, would be more significant than that of Samir Nasri, Cesc Fabregas (like Walcott, both 23 when they left) and Robin van Persie -- simply because Walcott is English. Arsene Wenger, for so long the pioneer who found value in the foreign transfer market, wants to build an English spine to his side. Kieran Gibbs, Carl Jenkinson, Jack Wilshere and Alex Oxlade-Chamberlain are all talking over new deals with the Arsenal hierarchy. "We couldn't keep the good core of young foreign players, but I hope we will be capable to build a team around all these young England players who can achieve something together," Wenger said after Walcott scored in his first start as center forward, a recent 5-2 win over Reading.
7. Yann M'Vila (Midfielder, Rennes)Interested clubs: Tottenham Hotspur, Arsenal
The secret of success in the transfer market is to sell a player at peak value, a lesson that Rennes might do well to heed. Eighteen months ago, it turned down a ?20 million bid from Arsenal for M'Vila, but after a wretched time, during which M'Vila has lost form on the pitch, been arrested for assault, robbed by prostitutes and was banned from the French national team until summer 2014 for going night clubbing before a crucial under-21 qualifying match, his price has plummeted. He could go for as little as ?8 million, but his signature does come with added risks. At least he won't be heading off on international duty for a while, though.
8. Wesley Sneijder (Midfielder, Inter Milan)Interested clubs: Tottenham Hotspur, Manchester United, Manchester City
Within weeks of inspiring Holland to the World Cup final in 2010, Sneijder signed a huge five-year contract with Inter Milan, worth around £200,000 per week. Last summer, though, Inter decided they wanted Sneijder off the payroll and offered him a longer deal on a reduced salary. When he said no, he was no longer picked for the side. His wife, Yolanthe, tweeted that they would soon be leaving Milan, but reports he agreed with Spurs have been denied. The Dutchman is still only 28 and remains a top-class player, but his huge wages could be a stumbling block.
9. Frank Lampard (Midfielder, Chelsea)Interested clubs: Queens Park Rangers, West Ham, Arsenal, Los Angeles Galaxy, Shanghai Shenhua, Al-Wasl, Galatasaray, Paris Saint-Germain
575 games, 190 goals, three Premier League titles, four FA Cups, two League Cups and a Champions League final as captain: Frank Lampard has had a pretty successful 11 years at Chelsea, and yet the club, in a style perhaps unsurprising given its record with coaches, seems likely to move Lampard on six months before the end of his deal. Lampard has broken records throughout his Chelsea career -- his recent goal in an 8-0 win over Aston Villa broke Bobby Tambling's 129-goal mark as Chelsea's top-flight record scorer -- but there will be no sentimental farewell. His uncle, Harry Redknapp, would love him to help QPR try and avoid relegation, but that seems an unlikely move: more likely, perhaps, somewhere else in Europe.
10. Loic Remy (Striker, Marseille)Interested clubs: Newcastle, Chelsea, Tottenham Hotspur, Queens Park Rangers
The Frenchman scored 12 league goals last season and 15 the year before that but this season has only managed one for France's joint league leaders. The reason is partly injuries -- he has only started eight games -- and partly his disappointment after a spring thigh injury ruled him out of contention for a place at Euro 2012. In the past, Remy has come close to joining Stoke, Spurs and Chelsea, but for now, his likeliest destination is Newcastle, as a possible replacement for Demba Ba.