U.S. stars come together for Soccer Night in Newtown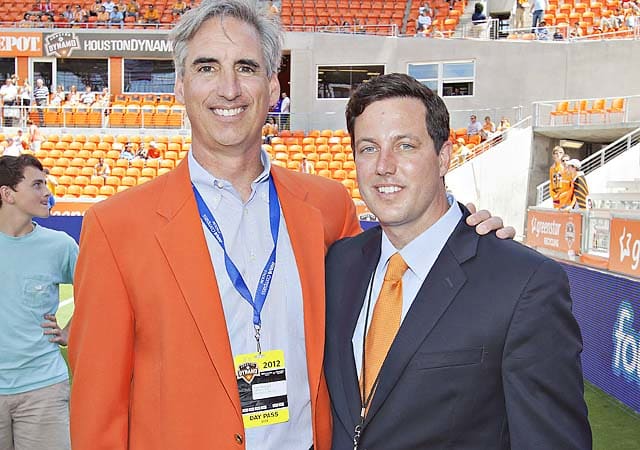 Stars from the U.S. soccer community will gather in Connecticut on Monday for Soccer Night in Newtown, an evening of entertainment designed to lift the spirits of those devastated by the massacre at Sandy Hook Elementary School last month.
SI.com spoke with the organizer, Houston Dynamo president and Connecticut native Chris Canetti.
SI.com: How did you come up with the idea?
Chris Canetti: I'm from a town called Guilford in Connecticut and went to a college called Quinnipiac in Hamden, Connecticut. So for the first 30 years of my life I lived in Connecticut before moving to New York to work for the MetroStars. So I have a tie to Connecticut.
Secondly, I'm just like a lot of other Americans who sat around the weekend after the tragedy and just felt very, very sad and angry and depressed, all the different emotions that everybody felt over this senseless tragedy. A lot of people wanted to find a way to help. There's not a lot of ways to help these people, but thinking about how can we do something, literally on a whim driving into work on Monday morning [Dec. 17] I picked up the phone and called the coach of Quinnipiac University, Eric Da Costa, and I just said to him, "Tell me what kind of a soccer community Newtown is."
He said, "It's a big soccer town. They've got high school programs, facilities, soccer's a big part of the community." And I said, "Well, what do you say: as a college soccer coach in Connecticut who's tied to his community and me as someone who's the president of a professional team, why don't we do something?" We agreed on that phone call to do something.
The idea became, "Let's do a clinic -- I'll bring some Dynamo players up, and we'll try to find a place to host a clinic." And in general that's what we were going to do. I called [Brian] Ching and [Brad] Davis and [Ricardo] Clark and [Corey] Ashe and [Tally] Hall, and they all agreed to go, so the stage was basically set to do a small clinic with Dynamo players for Newtown residents. Then word kind of trickled out that this was happening, and it steamrolled from there.
SI.com: Who is coming?
Canetti: Everybody wanted to come on and get involved. Alexi Lalas, who's a good friend of mine from our days at New York, asked if he could support it, and I said sure, so he became the sixth player. He connected me with Mia Hamm, who became the seventh, then Christie Rampone from the U.S. women's national team came forward and became the eighth player, then Kristine Lilly became the ninth, then MLS came forward -- [commissioner] Don Garber emailed me and said, "How do we help?"
We talked and decided to get more MLS players. Word was put out right before Christmas to all the teams that if anybody else wanted to come we'd be happy. And I've now lost track of how many players we've got -- somewhere in the neighborhood of 50. Every MLS team is represented with at least one player, then we've got US national team greats -- Alexi Lalas, Cobi Jones, Tony Meola, Lilly, Hamm and Rampone.
No longer is it a clinic, now we're calling it Soccer Night in Newtown: 4-8 p.m., two sessions, some interactive games and activities, photos, things of that nature.
SI.com: What do you hope to achieve?
Canetti: We've got a little mission statement that we put together so we could stay on point and not lose track. It's basically to bring a smile to kids' faces, provide the opportunity to have a little fun, offer a diversion from the terrible realities they're facing in the community and provide the positive message that people around the country care and are feeling for them and feeling the pain with them.
SI.com: Will there be a fundraising element?
Canetti: We're still working on that. Raising funds was not the priority. ... it's possible there will be a silent auction where people can bid on MLS memorabilia and in the event that we do that there will be funds raised that go back to the community. But that's not the priority right now.
SI.com: How many people do you expect to attend?
Canetti: The indoor facility there can't handle the demand. They've got strict fire codes there in terms of what the capacity can be, which is why we've broken it up into two sessions, 4-5.30 and 6-7.30. Registrations went out [Wednesday] to the residents of Newtown, and in the matter of a couple of hours registrations were full, and we can't handle any more people. But it's somewhere north of a thousand people, probably more like 1,200 will pass through the doors that night.
SI.com: It seems like a great way to show that sport can be a positive force.
Canetti: That's what it is. I'm not sure there's ever been a gathering of US soccer stars at one place like this ever before -- maybe, I have no idea. But if you think about it, other than at All-Star games or MLS Cups, when do guys come together like this? People were coming to us, saying "How do we participate?" Some people are even paying their own way. ... Not only are people giving up their time, they're using their own resources to get there, and I think it's going to be a great event for people of the town.