Transfer window unusually quiet for U.S. players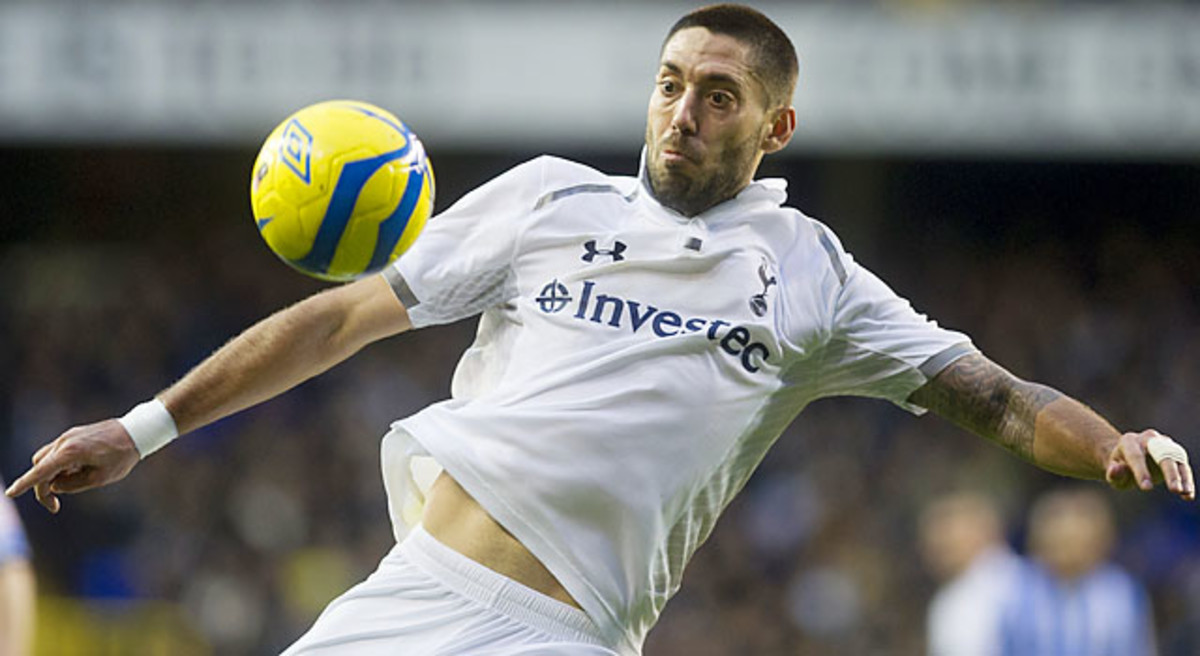 The January transfer window has been the cause for the usual chaos and speculation all around Europe, but unlike during the summer transfer window, not much of that rampant speculation involves Americans.
A little more than four months ago, Clint Dempsey was on his way to Tottenham; Carlos Bocanegra, Maurice Edu and Alejandro Bedoya moved to Racing Santander, Stoke City and Helsingborg, respectively; and Oguchi Onyewu landed at Malaga. Just before that, Michael Bradley moved to AS Roma. Now? Top-tier Americans around the globe are pretty set in for the remainder of the season.
Michael Parkhurst has already sealed his move from Danish side Nordsjaelland to Bundesliga outfit Augsburg. Mix Diskerud is reportedly closing in on a new deal with Norwegian side Rosenborg after being touted as a candidate for a move to Rapid Vienna and Major League Soccer's Portland Timbers. Bedoya is in search of a move after his short-term deal with Helsingborg expired, yet Swedish reports say the club is interested in re-signing Bedoya to a new contract. The pending club decisions for Diskerud and Bedoya did not harm their chances of competing in the U.S. January training camp, as both were called in by Jurgen Klinsmann and have the potential to play major roles in the Jan. 29 friendly against Canada.
If there's one American player in dire need of at least a loan, it is Edu, the U.S. national team midfielder who has languished on the bench save for all of 10 minutes since he signed with Stoke. His months of inactivity could prove costly with World Cup qualifying resuming in less than a month, and even though Fox Soccer Channel reported Sunday that Edu could be a late addition to Klinsmann's training camp -- provided Stoke releases him during the season, which would speak even greater volumes of his place in the pecking order there -- working his way into a stable club situation has to be priority No. 1.
As for the players in action, Dempsey is continuing to show his accelerated comfort in Tottenham's lineup, returning from a recent groin injury to score three goals in two games for Spurs as they maintained third place in the Premier League and advanced to the fourth round of the FA Cup. U.S. and Santos Laguna striker Herculez Gomez also got on the scoreboard with a header this weekend, as the Liga MX Clausura campaign kicked off, and Gomez, the 2010 Clausura Golden Boot winner, helped his team to a draw.
With some leagues in Europe still on break and England focused heavily on the FA Cup, here is how all of the Americans abroad in action fared this past week (season statistics encompass all competitions):
England
Premier League
Geoff Cameron, D/M, Stoke City -- Started, played 90 minutes in Stoke City's 3-0 loss to Manchester City on Tuesday. Cameron also started and played 90 minutes in a 0-0 draw with Crystal Palace in the third round of the FA Cup on Saturday. The two teams have their replay slated for Jan. 15. SEASON: 21 games, 20 starts
Cody Cropper, GK, Southampton -- Not in the 18 for Southampton's 1-1 draw with Arsenal on Tuesday or a 5-1 loss to Chelsea in the third round of the FA Cup on Saturday. SEASON: 0 games
Clint Dempsey, M/F, Tottenham -- In the 18, came on as a 76th-minute substitute and scored three minutes later in Tottenham's 3-1 win over Reading on Tuesday. Dempsey hit a long-range effort that deflected and looped over Reading goalkeeper Adam Federici and under the crossbar to give Spurs an insurance tally. Dempsey also started, played 90 minutes and scored two goals in a 3-0 win over Coventry City in the third round of the FA Cup on Saturday, netting a tap-in and a looping header to help Spurs into the fourth round. SEASON: 25 games, 20 starts, 6 goals
Maurice Edu, D/M, Stoke City -- Not in the 18 for Stoke's 3-0 loss to Manchester City or a 0-0 draw with Crystal Palace in the third round of the FA Cup. SEASON: 1 game
Brad Friedel, GK, Tottenham -- In the 18, did not play in a 3-1 win over Reading. Friedel started, played 90 minutes, made four saves and earned the clean sheet in a 3-0 win over Coventry City in the third round of the FA Cup. SEASON: 12 games, 12 starts, 17 goals allowed, 1 clean sheet
Brad Guzan, GK, Aston Villa -- Started, played 90 minutes and made four saves in Villa's 2-2 draw with Swansea City on Tuesday. Guzan was in the 18 but did not play in a 2-1 win over Ipswich Town in the third round of the FA Cup on Saturday. SEASON: 20 games, 20 starts, 37 goals allowed, 6 clean sheets
Tim Howard, GK, Everton -- Started, played 90 minutes and made four saves in Everton's 2-1 win over Newcastle on Wednesday. Howard also started, played 90 minutes and made five saves in Everton's 5-1 win over Cheltenham Town in the third round of the FA Cup on Monday. SEASON: 22 games, 22 starts, 26 goals allowed, 2 clean sheets
Eric Lichaj, D, Aston Villa -- In the 18, did not play in Villa's 2-2 draw with Swansea City. Lichaj started and played 90 minutes in Villa's 2-1 win over Ipswich Town in the third round of the FA Cup. SEASON: 19 games, 12 starts
League Championship
Conor Doyle, F, Derby County -- In the 18, did not play in Derby County's 3-1 win over Middlesbrough on Tuesday. Doyle was also in the 18 and came on as a 78th-minute substitute in a 5-0 win over Tranmere Rovers in the third round of the FA Cup on Saturday. SEASON: 3 games, 1 start
Robbie Findley, F, Nottingham Forest -- Not in the 18 for Nottingham Forest's 3-0 loss to Blackburn on Tuesday or a 3-2 loss to Oldham Athletic in the third round of the FA Cup on Saturday. SEASON: 7 games, 3 starts (all with Gillingham)
Stuart Holden, M, Bolton -- Not in the 18 for Bolton's 1-0 loss to Leeds United on Tuesday or a 2-2 draw with Sunderland in the third round of the FA Cup on Saturday. The two teams have their replay slated for Jan. 15. According to Bolton's website, Holden is slated to play in a reserve match Tuesday, which would mark his first competitive action since returning to training after more than a year on the sidelines with a knee injury. SEASON: 0 games
Will Packwood, D/M, Birmingham City -- Started, played 77 minutes in Birmingham's 1-0 loss to Cardiff City on Tuesday. Packwood also started and played 65 minutes in Birmingham City's 1-1 draw with Leeds United in the third round of the FA Cup on Saturday, exiting with a broken leg. The injury is expected to keep Packwood out of action for the remainder of the season, and the 19-year-old will miss the U.S. Under-20 national team's quest to qualify for this summer's FIFA U-20 World Cup, with the CONCACAF U-20 championship being held next month. SEASON: 6 games, 6 starts
Tim Ream, D, Bolton -- Started, played 90 minutes in Bolton's 1-0 loss to Leeds. Ream was in the 18 but did not play in a 2-2 draw with Sunderland in the third round of the FA Cup. SEASON: 12 games, 10 starts
Jonathan Spector, D/M, Birmingham City -- Started, played 90 minutes in Birmingham's 1-0 loss to Cardiff City. Spector was not in the 18 for a 1-1 draw with Leeds United in the third round of the FA Cup. Birmingham and Leeds have their replay slated for Jan. 15. SEASON: 22 games, 19 starts, 1 goal
Zak Whitbread, D, Leicester City -- Not in the 18 for Leicester City 's 6-1 victory over Huddersfield Town on Tuesday or a 2-0 win over Burton Albion in the third round of the FA Cup on Saturday. SEASON: 15 games, 14 starts, 1 goal
League One
Mike Grella, F, Scunthorpe United -- In the 18, did not play in Scunthorpe's 2-2 draw with Oldham Athletic on Tuesday. Grella was also in the 18 and came on as a 75th-minute substitute in Scunthorpe's 0-0 draw with Shrewsbury Town on Saturday. SEASON: 16 games, 10 starts, 2 goals
Robbie Rogers, M, Stevenage -- In the 18, did not play in Stevenage's 1-0 loss to Walsall on Tuesday. Rogers was not in the 18 for a 2-1 win over Crewe Alexandra on Saturday. According to Leeds United's website, Rogers' loan with Stevenage runs through Jan. 15, at which point he will either return to Leeds, have his loan extended or have his contract purchased outright by Stevenage. SEASON: 9 games, 3 starts
Frank Simek, D, Carlisle United -- Started, played 90 minutes and picked up a yellow card in Carlisle's 1-0 loss to Crewe Alexandra on Tuesday. Simek also started and played 90 minutes in a 4-0 loss to Swindon Town on Saturday. SEASON: 26 games, 24 starts
Italy
Serie A
Michael Bradley, M, AS Roma -- Started, played 90 minutes in Roma's 4-1 loss to Napoli on Sunday. SEASON: 14 games, 13 starts, 1 goal
Spain
Primera Division
Oguchi Onyewu, D, Malaga -- Not in the 18 for Malaga's 1-0 loss to Deportivo La Coruna on Saturday. SEASON: 7 games, 6 starts, 2 goals
Segunda Division
Carlos Bocanegra, D, Racing Santander -- Not in the 18 for Racing Santander's 2-1 win over Ponferradina on Saturday. SEASON: 16 games, 16 starts (7 games, 7 starts with Rangers)
Portugal
Primeira Liga
Caleb Patterson-Sewell, GK, Vitoria Setubal -- Started, played 90 minutes in Vitoria Setubal's 4-2 loss to Academica de Coimbra on Saturday. SEASON: 5 games, 5 starts, 12 goals allowed, 1 clean sheet
Tony Taylor, F, Estoril Praia -- Not in the 18 for Estoril's 3-1 loss to Benfica on Sunday. SEASON: 7 games, 3 starts
Mexico
Liga MX
DaMarcus Beasley, M, Puebla -- Started, played 72 minutes in Puebla's 2-1 loss to Tijuana on Sunday. SEASON: 1 game, 1 start
Jonathan Bornstein, D, Tigres UANL -- Not in the 18 for Tigres' 3-0 win over Jaguares on Saturday. SEASON: 0 games
Edgar Castillo, D, Tijuana -- Started, played 90 minutes, picked up a yellow card and helped set up a goal in Tijuana's 2-1 win over Puebla on Sunday. Tijuana is in for a busy year, with the Copa Libertatores and CONCACAF Champions League being added to the slate in addition to top-flight league play. The club was drawn into the same Libertadores group as reigning FIFA Club World Cup champion Corinthians, Colombian champion Millonarios and Bolivian club San Jose. SEASON: 1 game, 1 start
Joe Corona, M, Tijuana -- Started, played 61 minutes in Tijuana's 2-1 win over Puebla. SEASON: 1 game, 1 start
Michael Orozco Fiscal, D, Puebla -- Started, played 90 minutes in Puebla's 2-1 loss to Tijuana. SEASON: 1 game, 1 start
Greg Garza, D/M, Tijuana -- Not in the 18 for Tijuana's 2-1 win over Puebla. SEASON: 0 games
Herculez Gomez, F, Santos Laguna -- Started, played 74 minutes and scored the opening goal in Santos Laguna's 1-1 draw with San Luis on Saturday. Gomez got his head to a Carlos Quintero cross in the center of the area to nod his team in front. SEASON: 1 game, 1 start, 1 goal
Benji Joya, M, Santos Laguna -- Not in the 18 for Santos Laguna's 1-1 draw with San Luis. SEASON: 0 games
Jose Torres, M, Tigres UANL -- Started, played 90 minutes in Tigres' 3-0 win over Jaguares. The match was Torres' Tigres debut after he had spent his entire career with Pachuca prior to his winter transfer. SEASON: 1 game, 1 start