Clint Dempsey, Jozy Altidore strike loudly; Americans Abroad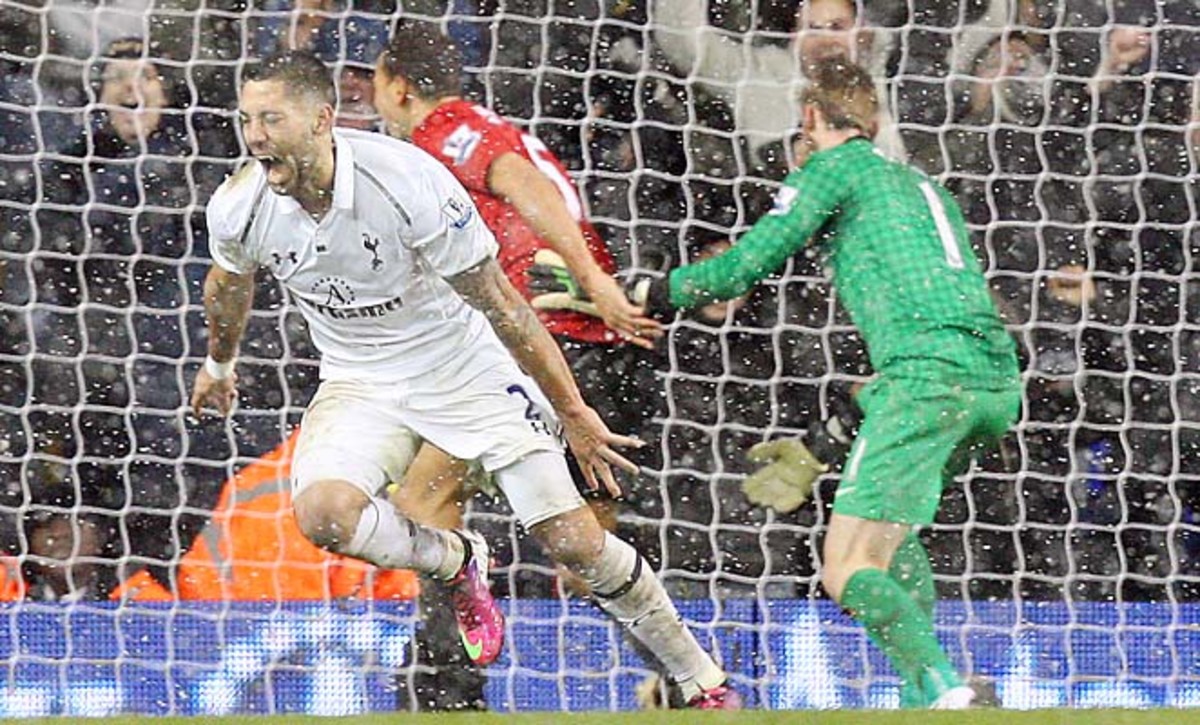 As a horde of U.S. national team hopefuls compete in training camp in California, hoping to win over Jurgen Klinsmann for World Cup qualifiers and Gold Cup matches, the current batch of A-listers were going about their business to ensure they don't lose their standing in the player pool anytime soon.
Clint Dempsey had the most notable moment of the past week, notching a dramatic game-tying goal against Manchester United for Tottenham. During a time when Dempsey is out to prove his worth to Andre Villas-Boas that he can pair with Jermain Defoe up top while Emmanuel Adebayor is with Togo for the African Cup of Nations, Dempsey scored against the Premier League's top dog for the second time this season. He scored his first goal with Tottenham at Old Trafford in September, and that eventual game-winner combined with his stoppage-time equalizer Sunday means that he is directly responsible for four points that Spurs have taken off the Red Devils.
Not to be outdone, Jozy Altidore recorded his second hat trick this season, torching Vitesse for three goals in a 22-minute span to lift AZ Alkmaar to a win. Altidore scored his first on a run to the far post for an unmarked header, notched his second on a diving header from the right edge of the six-yard box and capped his landmark day with a close-range finish with his right foot after settling a cross off his chest and firing on goal. He now trails just Ivory Coast international Wilfried Bony, who has 16 goals, in the race for the league's Golden Boot. Altidore's 14 non-penalty goals are tied with Bony for the most in the league.
One of Altidore's former teams, Bursaspor, welcomed playing time-starved Maurice Edu on loan from Stoke City, a move that paid immediate dividends for the U.S. midfielder. In one day with Bursaspor, Edu played two-and-a-half more times as much as he did in almost five months with Stoke, pitching in 25 minutes off the bench for the Super Lig's fifth-place team before really having a chance to be integrated with the club.
Elsewhere among midfielders, Stuart Holden made his long-awaited return to Bolton's first team as a substitute in the FA Cup before being held out of the club's league game over the weekend as the Trotters ease him back into action. Michael Bradley continued his consistent, first-class play for Roma, helping the Italian club get by Fiorentina and into the semifinals of the Coppa Italia in addition to winning a penalty off Inter Milan in the clubs' draw over the weekend.
Easy to be overlooked amid attacking exploits but important considering the first World Cup qualifying hexagonal game is approaching, Tim Howard recorded his second straight clean sheet for Everton to preserve points in a game in which his team did not score.
With some of the top U.S. national team stars turning in fine performances and leagues in Germany, the Netherlands and Belgium returning to action after a brief winter break, here is how the Americans playing abroad fared this past week (season statistics encompass all competitions):
England
Premier League
Geoff Cameron, D/M, Stoke City - Started, played 120 minutes and picked up a yellow card in Stoke's 4-1, extra-time win over Crystal Palace in their FA Cup third-round replay Tuesday. Cameron also started and played 90 minutes in Stoke's 3-1 loss to Swansea City in league play Saturday. SEASON: 24 games, 23 starts
Cody Cropper, GK, Southampton - Not in the 18 for Southampton's 2-2 draw with Chelsea on Wednesday or for a 0-0 draw with Everton on Monday. SEASON: 0 games
Clint Dempsey, M/F, Tottenham -- Started, played 90 minutes and scored a stoppage-time equalizer in Tottenham's 1-1 draw with Manchester United on Sunday. Dempsey rifled home a cross from Aaron Lennon from the center of the box to salvage a point for Spurs and set off a raucous celebration at White Hart Lane. SEASON: 27 games, 21 starts, 7 goals
Brad Friedel, GK, Tottenham -- In the 18, did not play in Tottenham's 1-1 draw with Manchester United. SEASON: 12 games, 12 starts, 17 goals allowed, 1 clean sheet
Brad Guzan, GK, Aston Villa -- Started, played 90 minutes and made four saves in Villa's 2-2 draw with West Brom on Saturday. SEASON: 22 games, 22 starts, 40 goals allowed, 6 clean sheets
Tim Howard, GK, Everton - Started, played 90 minutes and made four saves in Everton's 0-0 draw with Southampton on Monday. SEASON: 24 games, 24 starts, 26 goals allowed, 4 clean sheets
Eric Lichaj, D, Aston Villa -- In the 18, came on as a fifth-minute substitute and picked up a yellow card in Villa's 2-2 draw with West Brom. SEASON: 20 games, 12 starts
League Championship
Conor Doyle, F, Derby County - Not in the 18 for Derby County's 1-1 draw with Nottingham Forest on Saturday. SEASON: 3 games, 1 start
Stuart Holden, M, Bolton - In the 18, came on as a 74th-minute substitute in Bolton's 2-0 win over Sunderland in their FA Cup third-round replay Tuesday. Holden was not in the 18 for a 0-0 draw with Crystal Palace in league play Saturday. SEASON: 1 game
Tim Ream, D, Bolton - In the 18, did not play in Bolton's 2-0 win over Sunderland in the FA Cup. Ream started and played 90 minutes in a 0-0 draw with Crystal Palace in league play. SEASON: 14 games, 12 starts
Jonathan Spector, D/M, Birmingham City - Not in the 18 for Birmingham 2-1 loss to Leeds United in their FA Cup third-round replay Tuesday or a 2-2 draw with Brighton & Hove Albion in league play Saturday. SEASON: 23 games, 19 starts, 1 goal
Zak Whitbread, D, Leicester City - Not in the 18 for Leicester City's 1-0 win over Middlesbrough on Friday. SEASON: 15 games, 14 starts, 1 goal
League One
Mike Grella, F, Scunthorpe United - Scunthorpe's match against Portsmouth scheduled for Saturday was postponed on account of a frozen pitch. SEASON: 17 games, 11 starts, 2 goals
Frank Simek, D, Carlisle United - Carlisle's match at Crawley Town scheduled for Saturday was postponed on account of a frozen pitch. SEASON: 27 games, 25 starts
Germany
Bundesliga
Timmy Chandler, D, FC Nurnberg -- Started, played 65 minutes in Nurnberg's 1-1 draw with Hamburg SV on Sunday. Chandler departed the game with an apparent head injury. SEASON: 19 games, 19 starts, 1 goal
Steve Cherundolo, D, Hannover 96 - Not in the 18 for Hannover's 5-4 loss to Schalke on Friday. SEASON: 28 games, 27 starts
Fabian Johnson, D, TSG 1899 Hoffenheim - Started, played 90 minutes in Hoffenheim's 0-0 draw with Borussia Monchengladbach on Saturday. SEASON: 18 games, 18 starts, 3 goals
Jermaine Jones, M, FC Schalke 04 -- Not in the 18 for Schalke's 5-4 win over Hannover on Friday. Jones is suspended until Feb. 2 for a red card he received prior to the league's winter break and is also dealing with a minor knee injury. SEASON: 21 games, 18 starts, 1 goal
Michael Parkhurst, D, FC Augsburg - In the 18, did not play in Augsburg's 3-2 win over Fortuna Dusseldorf on Sunday. SEASON: 21 games, 20 starts, 2 goals (all with FC Nordsjaelland)
Danny Williams, D/M, TSG 1899 Hoffenheim - In the 18, came on as a 36th-minute substitute in Hoffenheim's 0-0 draw with Borussia Monchengladbach. SEASON: 14 games, 12 starts, 1 goal
Italy
Serie A
Michael Bradley, M, AS Roma - Started, played 120 minutes and picked up a yellow card in Roma's 1-0 win over Fiorentina in the quarterfinals of the Coppa Italia on Wednesday. The win sets up a two-legged semifinal clash with Inter Milan, with the first leg slated for Wednesday. Bradley also started. played 90 minutes and drew a penalty that led to a goal in Roma's 1-1 draw with Inter in league play Sunday. SEASON: 17 games, 16 starts, 1 goal
Spain
Primera Division
Oguchi Onyewu, D, Malaga -- In the 18, did not play in Malaga's 2-2 draw with Barcelona in the first leg of the Copa del Rey quarterfinals Wednesday. Onyewu was not in the 18 for a1-1 draw with Celta de Vigo in league play Saturday. SEASON: 8 games, 7 starts, 2 goals
Segunda Division
Carlos Bocanegra, D, Racing Santander -- Started, played 90 minutes in Racing Santander's 1-0 loss to Las Palmas on Saturday. SEASON: 17 games, 17 starts (7 games, 7 starts with Rangers)
Netherlands
Eredivisie
Jozy Altidore, F, AZ Alkmaar -- Started, played 90 minutes and notched a hat trick in AZ's 4-1 win over Vitesse on Saturday. Altidore scored three goals in 22 minutes in the second half, all from about six yards or closer, for his second hat trick of the season, bringing his league goal total to 14. SEASON: 25 games, 25 starts, 18 goals
Belgium
Pro League
Sacha Kljestan, M, RSC Anderlecht - Started, played 90 minutes and picked up a yellow card in Anderlecht's 1-0 win over Gent in the second leg of their Belgian Cup quarterfinal Wednesday. Anderlecht advanced on a 2-1 aggregate and will face Genk in the semifinals. Anderlecht's league game against Zulte-Waregem scheduled for Sunday was postponed by snow. SEASON: 31 games, 24 starts, 2 goals
Turkey
Super Lig
Maurice Edu, M, Bursaspor - In the 18, came on as a 65th-minute substitute in Bursaspor's 2-1 win over Kayserispor on Saturday. The minutes were Edu's first since playing 10 off the bench in Stoke City's match against Liverpool on Oct. 7. SEASON: 2 games (1 game with Stoke City)
Portugal
Primeira Liga
Caleb Patterson-Sewell, GK, Vitoria Setubal - In the 18, did not play in Vitoria Setubal's 4-1 loss to Sporting Braga on Sunday. SEASON: 5 games, 5 starts, 12 goals allowed, 1 goal
Tony Taylor, F, Estoril Praia - Not in the 18 for Estoril's 2-1 loss to Gil Vicente on Sunday. SEASON: 9 games, 3 starts
Mexico
Liga MX
DaMarcus Beasley, M, Puebla - Not in the 18 for Puebla's 4-0 win over Celaya in the Copa MX on Thursday. Beasley was in the 18 and came on in the 69th minute of a 2-1 win over Santos Laguna in league play Sunday. SEASON: 3 games, 2 starts
Jonathan Bornstein, D, Tigres UANL - Not in the 18 for Tigres' 1-0 win over Atlas on Saturday. SEASON: 0 games
Edgar Castillo, D, Tijuana - Started, played 90 minutes in Tijuana's 2-1 win over Pumas UNAM on Sunday. SEASON: 3 games, 3 starts
Joe Corona, M, Tijuana - Not in the 18 for Tijuana's 2-1 win over Pumas UNAM. SEASON: 2 games, 2 starts
Michael Orozco Fiscal, D, Puebla - Started, played the first half of Puebla's 4-0 win over Celaya in the Copa MX. Orozco Fiscal also started and played the first half in a 2-1 win over Santos Laguna in league play. SEASON: 4 games, 4 starts
Greg Garza, D/M, Tijuana - Not in the 18 for Tijuana's 2-1 victory over Pumas UNAM. SEASON: 0 games
Herculez Gomez, F, Santos Laguna - Started, played 90 minutes in Santos Laguna's 2-1 loss to Puebla on Sunday. SEASON: 3 games, 3 starts, 1 goal
Benji Joya, M, Santos Laguna - Not in the 18 for Santos Laguna's 2-1 loss to Puebla. SEASON: 0 games
Jose Torres, M, Tigres UANL - Started, played 71 minutes in Tigres' 1-0 win over Atlas. SEASON: 2 games, 2 starts