MLS Power Rankings: Surprises, streaks define Week 4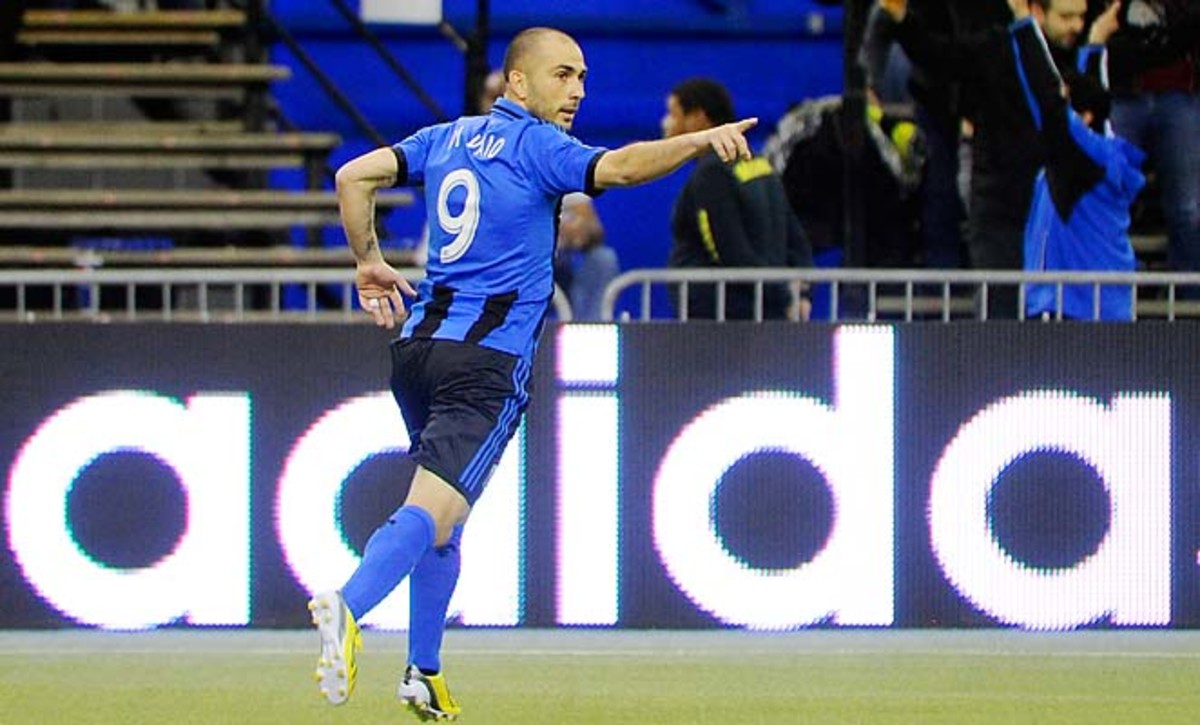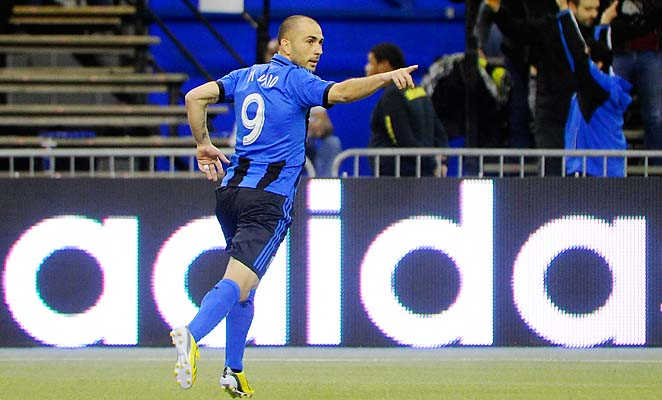 The international break and the CONCACAF hexagonal overshadowed MLS Week 4, but the two surprises of the season won again, while a pair of lengthy streaks continued and two others reached their end ...
1. Montreal, Chivas USA keep it up. There may not be a more fascinating pair of MLS stories than the Montreal Impact and Chivas USA. Two non-playoff teams in 2012. Two new, foreign coaches. Two completely different styles and approaches. Two storybook starts to 2013.
Chivas took plenty of flack for some of its offseason moves -- not necessarily for what the moves did for the current roster but for the value, or lack thereof, that the club received in return for its assets -- and begged whether it was savvy enough to navigate through all of MLS' idiosyncrasies. That question was answered to a degree when the club appealed the heinous red card (clubs became able to appeal red cards starting last season under a new policy) given to Joaquin Velazquez last week and had it rightfully overturned. Velazquez wound up scoring the game-winning goal in the 4-1 triumph over Chicago on Sunday evening.
The overall attitude the club projects is a team on the same page, and the way Chivas players immediately seek out Jose Luis "Chelis" Sanchez Sola to hug their eccentric manager after scoring a goal is quite telling of the chemistry. Sure, there is room for improvement, and "Chelis'" unorthodox three-man defense is susceptible to putting goalie Dan Kennedy under immense pressure, but in about three weeks, since the season-opening flop against Columbus, Chivas has taken huge steps in establishing itself as more of a serious squad and less of a punchline.
On a meta-Chivas level, it is quite a pleasant site for U.S. national team fans to see Juan Agudelo blossoming in his starting role. Finally getting the chance to perform with regularity, Agudelo is finding success in spearheading Chivas' attack, and the strength he displayed to shoulder Jeff Larentowicz off the ball before slyly curling an effort inside the far post with his next touch Sunday was one of the more impressive finishes of the season. We've seen Agudelo hit the highlight reel in spurts, but he is starting to string some meaningful performances together, which is invaluable for his continued growth.
Of the two, Montreal figures to have the more legitimate shot at staying power. Its defensive organization and efficient counterattack are suited for sustainable success provided the club's key, but aging, contributors (Alessandro Nesta is already hobbled) can stay healthy. Central midfield stalwart Patrice Bernier is no one-season wonder, as he proved his class last season and has taken it to another level in 2013. Manager Marco Schallibaum appears to have has his methods fine-tuned, and the proof in his rare, seamless transition to MLS is in the product on the field.
It is early, and plenty can happen over the course of a long campaign, but it's safe to say that a month ago few would have pegged Montreal and Chivas to have a combined 6-1-1 record four weeks into the season.
2. Going streaking. The Dynamo are approaching rare air. With a win or draw at BBVA Compass Stadium against the San Jose Earthquakes this weekend, they will match Real Salt Lake's MLS record of 34 straight home games without a loss in all competitions. The last team to trip up the Dynamo in Houston was the Columbus Crew, June 18, 2011 at Robertson Stadium.
The Crew also played spoiler for club with that was waiting for the Dynamo to slip up at home in order to take the longest-home-unbeaten-streak baton, D.C. United. RFK Stadium had been a fortress for more than a year. D.C.'s last home loss came on opening day of last season to Sporting Kansas City, but United came out flat and could not defend Columbus' set pieces with any semblance of organization, and the team's 19-game unbeaten run at RFK is now a thing of the past.
Meanwhile, RSL had never won in Texas, and that dubious mark stretched to 22 games after the short-handed club's 2-0 loss at FC Dallas. Now 0-19-3 all-time in the Lone Star State, RSL has one more chance during the regular season to snap that streak of futility, a return to FC Dallas Stadium on July 13. The club's Rio Tinto Stadium is hosting a U.S. national team group game during the CONCACAF Gold Cup that day, and with all of the extended USA team candidates RSL boasts, the club could again find itself looking down the depth chart in its return to Frisco.
On a more individual level, Colorado Rapids defender Drew Moor was the league's iron man last season, the only field player to play all 90 minutes in all 34 regular-season games (Sporting KC goalkeeper Jimmy Nielsen accomplished the feat as well). He won't be able to replicate that mark after his foolish elbow to Marcelo Sarvas' face earned him a red card in the 48th minute of the Rapids' 1-0 loss to the LA Galaxy. Not only did Moor have to sit out the final 42 minutes, but he'll also miss the next 90 against the Portland Timbers this weekend and perhaps more if the MLS Disciplinary Committee sees fit. Kudos to Moor -- who also played the entirety of 69 straight regular-season matches between 2009-2011 -- for avoiding suspension and injury during that lengthy time, but, as even he acknowledged in his apologetic postgame comments, his current streak ended with a thoughtless act that not only put his side down a man but granted LA the difference-making penalty kick in the 1-0 result.
3. Goalkeepers have their say.There are always weeks during an MLS campaign when goalkeepers reign supreme and keep opposing attackers at bay, and Week 4 was one of those.
Bill Hamid and Andy Gruenebaum engaged in an "anything you can do I can do better" battle in creating a Save of the Week montage in Columbus' victory at D.C. Hamid's impressive double save to deny Chad Marshall on a side volley and then Tyson Wahl on the point-blank follow-up was matched in crunch time by Gruenebaum. His double stop on Brandon McDonald's shot through traffic and Dwayne De Rosario's close-range rebound in the 72nd minute preserved three points for the Crew, who earned a 2-1 result where their 2012 season effectively came to an end.
"Any time you see someone on the other end make a great save, you obviously don't want to be in that position, but when it happens you have to be there," Gruenebaum said.
The edict was followed by Seattle's Michael Gspurning and San Jose's Jon Busch at Buck Shaw Stadium on Saturday night. Both made four saves, and Gspurning repeatedly kept his struggling side in the game by denying the Earthquakes, specifically his sprawling effort to deny Chris Wondolowski's effort through crowd-induced smoke and Ramiro Corrales' chance on a breakaway. On the other end, Busch's tremendous double save preserved San Jose's 1-0 win, his dive parrying away Mauro Rosales' low shot from 18 yards and his field awareness allowing him to stuff David Estrada on the rebound.
And finally, Colorado's Clint Irwin deserves a medal for being hung out to dry by his team only to come up time and again in the Rapids' loss at Los Angeles. Making his first MLS start while Matt Pickens begins his recovery from a broken arm, Irwin was under constant pressure and made seven saves -- and very nearly got to Mike Magee's penalty kick -- to prevent Colorado from being completely blown out of the Home Depot Center. Unfortunately for Irwin, indications are he's must be the club's savior considering the lack of defensive cohesion and increasing number of injuries.
4. Change of scenery does wonders.What do Ty Harden, Dan Gargan and Nana Attakora have in common? In 2010, they accounted for a huge chunk of Toronto FC's well-below-average defense and were jettisoned out of town in the following seasons. On Saturday night, they teamed to fortify an injury- and international-duty-stricken back line in San Jose to shut out the Seattle Sounders.
Plenty of factors created the change in fortune, from the aura around San Jose in 2013 being quite different to that around TFC's past teams to the Earthquakes overall having way more quality than those Reds squads to the fact that Seattle was playing with its second-choice strike force. It is quite intriguing what a change of scenery can do for a maligned group, though.
5. Team of the Week
Goalkeeper: Andy Gruenebaum (Columbus Crew)
Defenders: Josh Williams (Columbus Crew), Aurelien Collin (Sporting Kansas City), Matt Hedges (FC Dallas), Nana Attakora (San Jose Earthquakes)
Midfielders: Fabian Castillo (FC Dallas), Jackson (FC Dallas), Patrice Bernier (Montreal Impact), Ricardo Clark (Houston Dynamo)
Forwards: Juan Agudelo (Chivas USA), Chris Wondolowski (San Jose Earthquakes)