Benitez pads resume, Belgium impresses, more EPL thoughts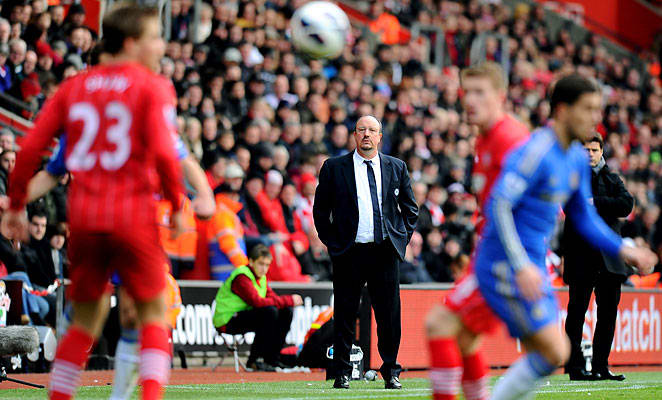 1) Rafa's resumé. Perhaps Rafa Benítez is a manager who heeds the ancient coach's mantra and really thinks only one game at a time. That might explain why he was crazy enough to accept a short-term contract to manage in the madhouse that is Stamford Bridge.
Yet Rafa's team selection on Saturday when Chelsea visited Southampton in the Premier League suggested that he was thinking ahead: to Chelsea's next match and to his next job.
After the game he told the BBC: "We don't have too many options in some positions so we have to manage the squad." Yet when he left Ashley Cole, Demba Ba, Ramires, Eden Hazard and David Luiz all on the bench at St Mary's, the message was clear. The league game with Southampton was less important than the FA Cup replay against Manchester United less than 48 hours later on Monday, and, perhaps, the Europa League game against Rubin Kazan on Thursday evening.
Benítez did throw on Ramires and Hazard as Chelsea trailed in the second half, but his team still lost a lively and entertaining game, 2-1.
The defeat meant Chelsea slipped to fourth, the last position that yields a Champions League place. It is two points behind Tottenham and only two ahead of Arsenal.
After the loss, Benítez defended his team selection with a revealing choice of words: "The players playing today were playing to be in the Champions League next season."
While the vast majority of the players will probably be at Chelsea next season -- though with Roman Abramovich one can never be entirely sure about personnel matters -- Benítez won't be. He will be applying for new jobs in the summer. So he can be forgiven for thinking about padding his resumé and basing his approach on appealing to future employers rather than pleasing his current boss. Winning a cup will catch the eye of other chairmen far more than simply finishing fourth in the league.
If Chelsea misses a Champions League place, it would make it even more difficult to lure the type of superstar manager Abramovich believes is a better fit for his club than Roberto Di Matteo or Benítez (José Mourinho, perhaps?).
Benítez, undoubtedly, is insanely competitive. All successful coaches are. A manager who is seen to lose on purpose would never get work again. Yet to exit Chelsea clutching two cup winner's medals but with the club out of the lucrative Champions League would give Rafa bittersweet revenge.
2. City's pride. The Manchester City of this spring finally looked like Manchester City of last spring as it rediscovered its attacking rhythm and thrashed visiting Newcastle 4-0 on Saturday.
One factor driving the performance might have been Manchester United's 1-0 victory at Sunderland earlier in the day. For a few hours, United was 18 points ahead of City with eight games to play.
After the City game, Roberto Mancini pretty much conceded the race was over.
"Maybe it is too late," the City manager answered when asked about the title. "It's important to get second place and to win the FA Cup semi-final next week."
Alan Pardew was quite sure City was better because it has abandoned hope.
"They played with no pressure about them," the Newcastle manager told the BBC.
Yet, even though City has almost certainly lost its title, that does not mean its players weren't under pressure Saturday.
City's next league game is at United on March 8. If City had lost Saturday, it would have gone into the Manchester derby still 18 points behind. In that case, a defeat at Old Trafford would have left the club 21 points back with seven rounds of games to go and a goal difference far worse than United. The title race would have been effectively over. The City players would have had to endure the United team and fans celebrating, gloating and mocking around them.
The victory Saturday ensured City would not have that extra helping of humiliation heaped on top of the already painful loss of its title.
3. Shining Belgium. International breaks always have an unpredictable impact on the following Premier League weekend.
Tottenham, for example, was without Hugo Lloris at Swansea after the goalie was injured playing for France against Spain last Tuesday. Clint Dempsey didn't budge from the Spurs bench despite his impressive play for the United States against Costa Rica and Mexico. That might have something to do with the fact both matches were played halfway round the world and at high altitude, the first in a blizzard. The lad needed a rest.
Perhaps that's why Hazard started on the bench for Chelsea. He had scored in both games as Belgium won twice to hold on to first place in its World Cup qualifying group and on course for Brazil.
Yet, even with Hazard on the bench at St Mary's and Thomas Vermaelen only a substitute for Arsenal, it was still an outstanding afternoon for Belgians in the Premier League.
When Kevin Mirallas raced through the backpedalling Stoke defense to score the only goal of the game as Everton won 1-0 in the late game on Saturday, it was the 56th strike by a Belgian in the Premier League this season. Only Englishmen and Spaniards have scored more.
Mirallas was better rested than his compatriots Hazard and Vermaelen. He played only 45 minutes in the two Belgian games. That might explain why he was able to race 70 yards with ball leaving Stoke players wallowing in his wake. It was a pretty goal, but it wasn't the only one from a Belgian on Saturday.
Vincent Kompany was sharply criticized by Mancini after he made his comeback from some nine weeks out with a calf injury by playing 90 minutes for Belgium against Macedonia on Tuesday.
"Sometimes players should understand that the club is more important," Mancini said.
Maybe that criticism explains why Kompany had a sheepish smile on his face after he hit City's third goal on Saturday. It's always nice to get back at the manager. Or maybe it was because Kompany, a centerback, standing with his back to goal, had stuck his foot at Gareth Barry's hard but inaccurate shot and volleyed it with his heel into the net. If that's exactly what Kompany intended, it was an outrageous piece of skill. That smile suggested there was perhaps an element of luck about the goal.
There was certainly no element of luck about the best Belgian goal of the day. Jan Vertonghen played every minute of Belgium's two qualifying games. Yet he was full of energy from the start for Tottenham at Swansea. After seven minutes he collected the ball in his own half, burst forward and charged on as Bale flicked the ball over the defense. Vertonghen killed the dropping ball without breaking stride before flicking it into the goal. It would have a delightful goal by a striker. For a central defender it was dazzling.
A quarter of an hour later, Vertonghen supplied the pass from which Bale put Spurs two goals up. It won, 2-1. Much has been made on how much Spurs are relying on Bale's goals this season. Yet Vertonghen has scored four of Tottenham's last eight goals.
In the second half, as Tottenham's nerves began to fray, Vertonghen showed he is more than just a pretty face topped by perfect hair, as he became immersed in a nasty, niggly battle with Swansea's striker Michu.
Like so many of the other Belgians in the Premier League -- Kompany, Vermaelen, Christian Benteke, Marouane Fellaini, Romelu Lukaku and Hazard (when faced with ball boys) -- Vertonghen has a physical edge to go with his undoubted skill.
4. It's tough at the bottom. Alex Ferguson has called the last two months of the league season "squeaky bum time." Well, the United manager could, if he was so inclined, relax in his seat during his team's remaining league games. At the other end of the table, a lot of buttocks will be clenching as April begins. The pressure got to Sunderland Saturday when it parted company with Martin O'Neill after losing to Fergie's United
Sunderland did not have a shot on target at home to United until a tame effort by Connor Wickham in the last minute. It lacks fight, which is usually the one quality a Martin O'Neill team always shows. O'Neill was sacked as manager shortly after the game, indicating the club felt the spark had gone out of the relationship.
It was also a bad afternoon for a trio of teams that a few weeks ago seemed to be paddling gently towards dry land; Norwich, Newcastle and Stoke all lost.
Stoke showed for fight than Sunderland in their match at Everton, but their defeat meant it has only won one league game since Christmas, and that was against Reading. It's sinking.
The only good news for those nervous clubs was that Reading, the worst team in the Premier League no matter the manager, lost its first game under Nigel Adkins. It was crushed, 4-1, at Arsenal.
Rickie Lambert's precise free kick made him the top English scorer in the Premier League with 14 and gave Southampton a victory over Chelsea that lifted the Saints to the glorious heights of 12th.
Yet that hardly represents security. Even teams in the top half of the table may be beginning to grow nervous.
Arouna Koné's late winner for Wigan give it a 1-0 victory against Norwich and lifted the relegation bar. Wigan currently sits at 30 points, which is how many points Aston Villa, in 18th, has. Wigan's little surge means that suddenly only six points separate Fulham, in 10th place, from Villa.
There is still time this weekend for even more squeaking. Villa, like Wigan showing signs of revival, could jump two places if it wins at home against erratic Liverpool on Sunday. QPR could escape last place and suggest that it might complicate the picture when it plays Fulham on Monday.
Is it going to be possible for fans of all those clubs to hold their breath until mid-May?
5. Tactics made simple. Juventus is galloping away with Serie A again this season by breathing new life into the old Italian formation of three central defenders.
Naturally Juve's success has drawn envious attention. The Premier League's resident Italian tinkerer, Mancini, imitated the champion of his native land earlier in the season with mixed results. Aston Villa, clutching at straws, adopted the formation as it attempted to break its awful winter run.
On Saturday, one of the most British of Premier League managers, David Moyes, rolled out three center backs against Stoke. Such a formation offers Everton attacking advantages. Both Seamus Coleman and Leighton Baines are attacking defenders suited to the wingback role. But the logic might have been much, much simpler than that.
Stoke's tactics are hardly a secret. It has a lot of big players and likes to bang high balls at the opposition. With Fellaini, the big midfielder who is so strong defending against aerial set pieces, suspended, Moyes needed to add another big body in defense.
Picking an extra center back was a straightforward response to a simple problem. It worked, but only just. Everton's reinforced defense somehow survived the bombardment it had known was coming. After 10 minutes, Jon Walters hit the bar after a Stoke corner. The hulking Robert Huth was first to the rebound but Tim Howard, well rested after missing the two US internationals, made a spectacular save.
Sometimes soccer strategy isn't rocket science.