Russell's scorcher the highlight from Saturday's MLS action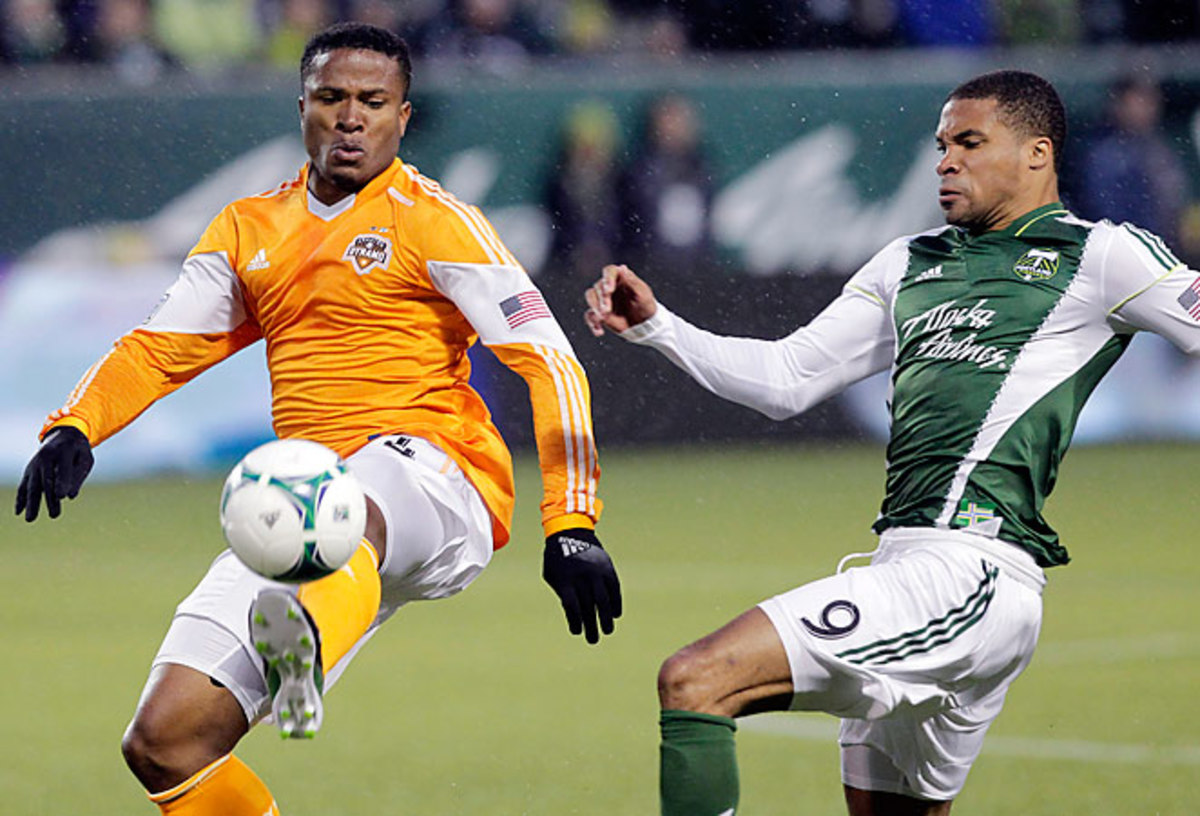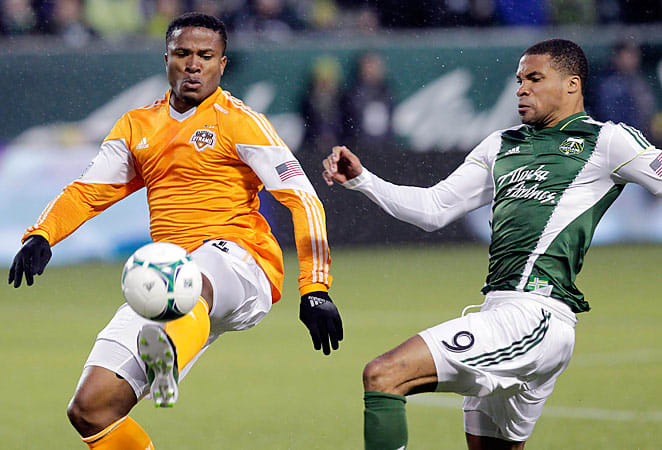 Caleb Porter got his first win in charge of the Portland Timbers, Clint Irwin continued his rise from obscurity, and Darel Russell made amends for last week's mistake with the best goal of Saturday's MLS action.
Match of the day
Portland Timbers 2, Houston Dynamo 0
The video of this game deserves a PG-13 rating. WARNING: intense scenes, some mild violence.
Portland on its own patch of artificial turf, and Houston anywhere, are teams that are never going to take a timid approach. And this was a night game - soccer under lights always seems so much more dramatic - played in rain doing its best to conform to Pacific Northwest cliches.
Not one for the purist, then - unless pure testosterone is your thing. But the occasion had all the ingredients for one of those attritional, messy yet compelling games which compensates for a lack of elegance with an abundance of aggression.
For the first time this season, Portland kicked their habit of conceding goals in the opening half hour, but Caleb Porter's team had lost two men to injury by the 25th minute.
David Horst, who had just returned from a hip injury suffered in preseason, hurt his right knee. Then Diego Valeri collected a cut near an eye after Dynamo defender Jermaine Taylor caught him with an outstretched left arm as both players jumped for the ball. Porter was angry at the challenge, but it looked careless rather than deliberate on Taylor's part.
In the lineup because of an injury to Oscar Boniek Garcia, Houston's Andrew Driver was cautioned by referee Ricardo Salazar for a rash two-footed tackle on Michael Harrington.
Later in the first period, Timbers defender Mikael Silvestre joined Driver in the book for a tackle on Giles Barnes that connected with the ball but sent the forward sprawling.
The Laws of the Game are perfectly clear that players may not tackle in a dangerous manner and must not lunge at opponents, whether from the front, side or back, with one leg or two. Winning the ball should not be relevant to a referee's decision when the official is judging a challenge's legitimacy. Yet players continue to tackle as if they're taking part in an Olympic luge contest, and pundits still make excuses for violent play if the ball is won cleanly.
The battling attitude continued until the final whistle and it was an even contest until the first goal. A brace after the break from Ryan Johnson handed Portland its first win of the season against opponents whose road form is also a stark contrast with their record at home. While Houston is automatic at BBVA Compass Stadium, riding a record-equaling 34-game unbeaten streak in the heat and humidity of south-east Texas, this was its third defeat out of three fixtures on the road this season. The Dynamo also lost away to FC Dallas in MLS as well as Santos Laguna in the CONCACAF Champions League.
Goal of the day
Darel Russell
Not only a great strike but a good story as soccer showed its capacity for rapid redemption.
A week earlier, the defender's misdirected clearance across the face of goal helped Toronto lose two points. The resulting ball fell perfectly for the Los Angeles Galaxy's Jose Villarreal to score an otherworldly volley in stoppage-time and level matters at 2-2.
Then, on Saturday, the former Norwich City player brilliantly controlled Justin Braun's blooped cross on the edge of the penalty box, let it bounce and unfurled a high shot that went in off the far post as straight, fast and lethal as a laser-guided missile. It was the 32-year-old's first goal since March 20, 2012, when he was with Charlton Athletic in London, so no one is going to claim they saw it coming.
"It's like a boxer when they hit a great punch. It came off the foot well. I saw the back of the net ripple and that was good enough for me," Russell told MLSsoccer.com. Quite a moment for a club that had spent much of the match floating like a butterfly - and stinging like one, too.
That 90th-minute equalizer gave Toronto a 2-2 draw with FC Dallas - an outcome that had seemed more remote than Antarctica only five minutes earlier. Dallas, who currently lead the Western Conference, were two goals to the good and sauntering towards a fifth win in six matches. But Braun bundled in a goal from underneath the crossbar after 85 minutes and the scene was set for Russell's personal salvation story: goat one week, guru the next.
Toronto now has five points from five games: as many as the much-heralded New York Red Bulls, who play the Chicago Fire on Sunday. That's a solid return for new head coach Ryan Nelsen, but is Toronto good enough to maintain its progress?
The team has scored seven goals, which is a reasonable number considering that league statistics say it's only mustered 42 shots; 18 of which have been on target. In comparison, Eastern favorite Sporting Kansas City also has seven goals, but from 89 shots; 21 on target.
So far, Toronto has been highly efficient at capitalizing on opponents' defensive mistakes, thanks largely to the opportunism of striker Robert Earnshaw. It hasn't carved out many great chances all by itself.
Stat of the day
7 - starters missing for the Colorado Rapids in their win over Real Salt Lake
You'd need to have a heart of ice (or be an RSL loyalist) not to feel pleased for injury-cursed Colorado as it claimed its first three points of the campaign in unlikely fashion - against its biggest rivals without six injured first-teamers and the suspended Drew Moor.
Atiba Harris' early goal was the match winner, though the Rapids were indebted to Alvaro Saborio. The RSL forward has three strikes already this season but had an off night on Saturday, missing several good chances and seeing a penalty saved by Clint Irwin.
The 24-year-old Rapids goalkeeper has made only three MLS starts, yet has already faced three spot-kicks. The Galaxy and Timbers scored against him, but this time he saved well from Saborio - the first time the Costa Rica forward has squandered a penalty in MLS.
Unknown no more, Irwin was impressive all night, though it almost summed up Colorado's injury misfortunes when he appeared to injure himself simply making a throw out of the penalty box. Happily for the Rapids, he was able to continue, and was ably supported by a strong showing from his back four, who had plenty to do against a RSL team that controlled the game for long spells.
These Rocky Mountain Cup clashes are always eagerly-awaited, but it's strange that the schedulers did not permit the rivalry to marinate a while longer. This was the second meeting between the clubs in three weeks: they tied 1-1 at Rio Tinto Stadium as part of Rivalry Week on March 16 as Irwin came off the bench for his MLS debut when first-choice Matt Pickens suffered a broken arm.
Player of the day
Ryan Johnson, Portland
Signed from Toronto last December, the 28-year-old Jamaican was a shrewd acquisition by Portland. Johnson was one of the few bright spots in a dark 2012 for the Canadians, with seven goals in 31 starts. Now in new surroundings, his partnership in attack with Darlington Nagbe has the potential to be one of MLS's more intriguing forward combinations.
When Johnson converted Diego Chara's expert right-wing cross ten minutes into the second period, it marked the first time this season that Portland held the lead. The Timbers clutched the advantage even tighter after 73 minutes as Johnson finished coolly beyond goalkeeper Tally Hall.
Set through on the left by Nagbe, Johnson did not rush his shot even as a pack of Dynamo defenders descended upon him, waiting until he was eight yards out then firing into the far corner.