Sounders struggling, Dallas fan embarrassing on MLS Saturday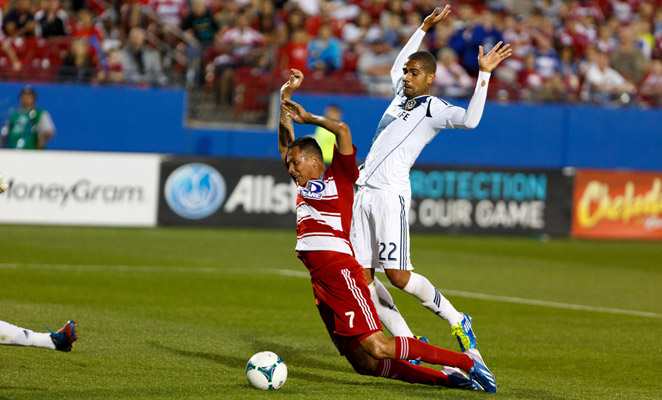 Landon Donovan made his first MLS start since his long hiantus from soccer, but that turned out to be a minor footnote on an MLS Saturday that saw Seattle stay winless and FC Dallas fans assault one of their own players.
Player of the day
George John, FC Dallas
Shocked and embarrassed - and that was the winning team. John had an eventful second half: the defender gave away a penalty, scored a late winner and was injured by an object thrown by his own fans.
With three minutes left, Dallas substitute Eric Hassli hit the crossbar and John headed in the rebound. As he wheeled away from the goal, what looked like a bottle was thrown from the stand behind the goal and hit him near his left ear, knocking him to the floor. He clutched his head and required treatment but completed the match, a 1-0 victory that handed the Los Angeles Galaxy its first MLS loss of the season. It increased the Texans' lead at the top of the Western Conference to six points as second-placed Chivas USA lost to the Colorado Rapids in Saturday's late fixture.
Since the 26-year-old spent seven games last year sidelined with concussion symptoms, the sight of him collecting a head injury in such reprehensible and strange circumstances was especially alarming. John came off at halftime in Dallas' previous game against Toronto because of concerns he had potentially suffered a concussion.
"I wasn't quite sure what happened, if I ran into the post or what, but then I looked down and saw a beer bottle," John told MLSsoccer.com. "I felt [my head] and there was a ridge and then I was like 'yes, something hit me for sure.' Luckily I didn't need stitches and I was able to stay in and finish out the game."
The incident overshadowed Landon Donovan's first MLS start of the campaign. Donovan lasted the full game despite playing in midweek against Monterrey and linked up promisingly with substitute Jose Villarreal in attack, but rustiness was apparent in the 31-year-old's poorly-struck penalty, which was saved by goalkeeper Raul Fernandez.
That chance came after John was harshly adjudged to have tripped Villarreal, soon after Dallas had squandered a spot-kick of its own. Defender Leonardo was dismissed for making gentle contact with Blas Perez but Carlo Cudicini pushed away Kenny Cooper's kick. Justice of sorts: two soft decisions, two weak penalties.
Watch John's winning goal and subsequent injury:
Stat of the day
0 - MLS wins for Seattle Sounders
The flip side to attracting the largest crowds in MLS? Plenty of people in the stands to holler their discontent after a bad result.
In isolation the antsy green hordes of CenturyLink Field might have tolerated a goalless draw with the New England Revolution considering Seattle was without injured strikers Obafemi Martins and Eddie Johnson. Many teams would look toothless with their two sharpest fangs knocked out.
But Seattle is the only winless team in MLS, with a record of two draws and three defeats from its first five matches. Even so, an under-powered Sounders would be expected to topple such travel-sick opponents as New England. Jay Heaps' club seems little improved from last year, when it finished second to last in the Eastern Conference and lost 13 of its 17 MLS fixtures on the road.
While Seattle had far more possession and shots than New England, the visitors did a good job of chopping up the Sounders' rhythm with a number of judicious fouls in midfield. The Revolution could even have stolen a victory, but for two wasted opportunities by Jerry Bengtson in stoppage-time. Such a result would have served Seattle right for its lack of intensity and invention in the second half.
In front of United States head coach Jurgen Klinsmann, 19-year-old Seattle right back DeAndre Yedlin showcased the athletic ability and attacking ambition that suggest he has a big future once experience adds finesse to his defensive play. Not to mention a "faux-hawk" hairstyle so bright it could light a New Orleans Super Bowl.
The Revolution now has five points from five games: an impressive tally considering it has scored just once all season. But New England has also conceded an MLS-best two goals so perhaps a scoreless 90 minutes in Seattle on Saturday should not have come as a shock.
For Seattle, it wasn't a happy ending to a week that saw Sigi Schmid's team exit the CONCACAF Champions League after an aggregate 2-1 semifinal defeat to Santos Laguna. Factoring in the fixtures against Tigres and Santos, Seattle is now 1-5-3 in 2013.
However, pre-season had offered no hints that Seattle would struggle. A week before MLS began, the Sounders won the Diamond Desert Cup in Tucson after beating Real Salt Lake twice, the New York Red Bulls... and the Revolution. Now, one of the favorites to win the Western Conference finds itself heading to Colorado next Saturday seeking its first victory - in week eight.
Match of the day
D.C. United 0, New York Red Bulls 2
D.C. United was indebted to Bill Hamid for several fine stops in the goalless draw between the clubs at Red Bull Arena on March 16.
It was less thankful for his presence in goal on Saturday when he failed to save a Thierry Henry shot from outside the box that bounced just in front of Hamid and then skipped impudently over his outstretched arms. Hamid gestured accusingly at the ground, as if some saboteur had installed a trampoline beneath the grass.
For the second time this season, Henry was able to jog off casually towards the touchline in a celebration so muted it almost seemed cocky. No sprints, somersaults or dances, those rituals for players who appear amazed to score; just routine business for the most talented striker in MLS. Or perhaps at the age of 35, Henry simply wants to preserve his energy.
That 29th-minute goal at RFK Stadium was followed seven minutes later with another from Jamison Olave as the Red Bulls eased past their rivals for their second victory of the season, and Mike Petke's first on the road as head coach. It was more than just a win - it was a solid team display from beginning to end. And that's a novelty for New York.
United conquered the Red Bulls in last year's playoffs but was comfortably contained by the visitors on Saturday, even after the introduction of Dwayne De Rosario off the bench. It was D.C.'s third successive loss and a 1-4-1 record leaves the club bottom of the Eastern Conference. Unexpectedly impressive last year, D.C is taking us by surprise again.
Goal of the day
Olmes Garcia - Real Salt Lake
The Colombian claimed his first goal for Real Salt Lake on Saturday and he is going to find it tough to score a better one. The 20-year-old forward curled a side foot shot from the left edge of the box into the far corner after 65 minutes.
That gave RSL a 1-0 lead over the Vancouver Whitecaps, but spectacular refereeing was the biggest discussion point by the end of the afternoon. With eight minutes left, a weak cross from Kekuta Manneh was intercepted by RSL's Tony Beltran, who then touched it to his teammate Nat Borchers. Like several players before him, Borchers slipped on B.C. Place's artificial surface and slapped the ball with his right hand then knocked it off his right shoulder.
That was enough for a penalty kick, said referee Drew Fischer. Camilo converted to level the match at 1-1 and that was how it finished.
Borchers obviously handled the ball. But that obviousness should not be relevant to an official's thought process when he or she considers whether to award a foul. The rules state that handball (itself a misnomer for an offense encompassing the entire arm) is "a deliberate act." This was a case of a referee confusing "deliberate" with "blatant," ignoring logic and bowing to the pressure of perception, with players and crowd baying for him to blow the whistle having seen the ball strike a hand.
In Fischer's defense, this misinterpretation of the Laws of the Game is common. We often see penalties awarded when defenders leave their arms dangling away from their bodies as they try to make a headed clearance, or when a ricochet catches them by surprise and they do not move their upper limbs in time. But when you think about it, how many players really make a conscious effort to handle the ball in the area? Who would want to live out their NBA fantasies when the consequences are so severe?
Certainly not Borchers, in the closing stages of a tight match, and with no opponent within eight yards of him.