England: Manchester City beats Wigan; United draws West Ham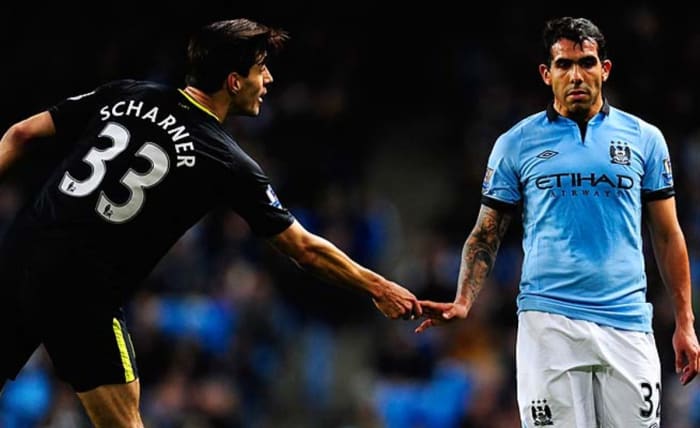 Manchester United was slowed in its drive to a 20th English league title when it was held to a 2-2 tie Tuesday night at West Ham.
Ricardo Vaz Te put the Hammers ahead in the 16th minute but Antonio Valencia tied the score in the 31st with his first goal since April 2 last year against Blackburn.
Mohamed Diame gave West Ham a 2-1 lead in the 55th, and Robin Van Persie retied the match in the 77th. Shinji Kagawa's initial shot hit both posts and Van Persie - who appeared to be in an offside position - put in the rebound for his first goal from open play since Feb. 10.
"It's their job to give the offside decisions that appear in front of them," West Ham manager Sam Allardyce said of the officials.. "This is a blatant one. This is not a position he should or shouldn't be in. He can see Van Persie is 2 yards offside - he should put his flag up. He doesn't."
United manager Alex Ferguson criticized referee Lee Probert for not punishing West Ham's Andy Carroll when the forward crashed into United goalkeeper David De Gea.
"It's an obvious red card, but the referee has seen it differently," Ferguson said. "They're very, very aggressive, so you hope there's a strong referee. I'm not so sure we got that tonight."
United (26-4-3) leads the Premier League with 81 points and would clinch with six points in its final five matches. Second-place Manchester City (20-4-8) closed within 13 points by beating visiting Wigan 1-0 on Carlos Tevez's goal in the 83rd minute.
Chelsea regained third place with a 3-0 win at Fulham. David Luiz put the Blues ahead in the 30th minute, and captain John Terry added goals in the 43rd and 71st.
In the race for England's final two Champions League berths, Chelsea (18-7-7) has 61 points, one ahead of Arsenal (17-7-9) and three in front of Tottenham (17-8-7).