Germany hosts Spain in intriguing Champions League semifinal legs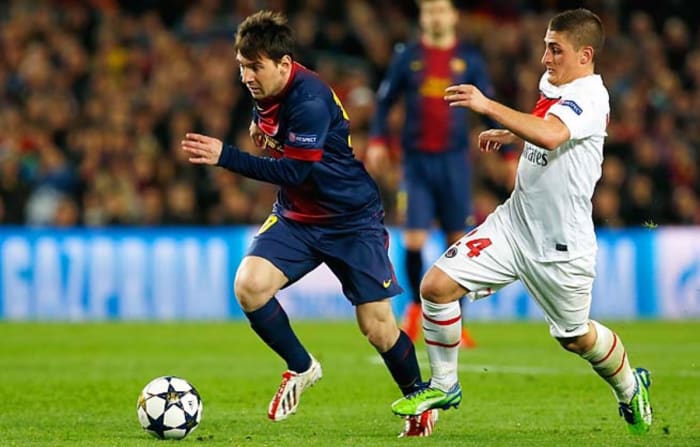 The Champions League semifinals feature the best of Germany against the best of Spain, and which club, and country, will come out on top could depend on a half-fit Argentine and a Portuguese coach. One thing seems certain and unique for this competition: right now, these four teams are the best in Europe. Here are the storylines to follow in what promises to be a compelling week of European football ...
Barcelona at Bayern Munich (Tuesday, 2:45 p.m. ET)
For Barcelona, this game has boiled down to a fitness race: the chatter about Pep Guardiola has quieted, and now it's a question of how fit Lionel Messi will be when the semifinal comes around. Last Thursday, he kicked a ball! On Friday, he trained! On Sunday, he was declared not match fit but named in the squad for the game! Never mind how fit he wasn't when he helped Barcelona get out of jail against Paris Saint-Germain in the last round. It shows how far off the pace he must have been given that game was 13 days ago.
There is of course no doubt Messi will start at Allianz Arena on Tuesday night. But how fit will he be? If he was 40 percent against PSG. He could be 80 percent for Bayern. Will that be enough to hurt the German champion?
The other issue for Barcelona coach Tito Vilanova is who should replace the suspended Adriano in defense: Eric Abidal played 90 minutes in the weekend win over Levante, so Marc Bartra is expected to partner Carles Puyol in defence.
PODCAST: Suarez review, Champions League preview
Bayern boss Jupp Heynckes has a dilemma of his own to sort out: how to replace Mario Mandzukic, the forward suspended for the first leg.
"I have three No. 1 strikers," said Heynckes, and it's true that Mario Gomez and Claudio Pizarro have looked sharp in recent weeks. Pizarro scored twice in the 6-1 away win at Hannover on Saturday, making his tally seven goals in the last five games. But neither he nor Gomez does the work off the ball that Mandzukic does.
"I was impressed when the boss told me he thought the amount of running I do was simply incredible," Mandzukic said earlier in the season.
And while mention of Guardiola will no doubt start again as the game between his past and his future comes closer, it's also worth mentioning Louis van Gaal, who coached Guardiola at Barcelona and, as Heynckes' predecessor, set Bayern onto its current path of success after the disastrous reign of Jurgen Klinsmann.
"I am the founding father of Bayern's success and Pep will continue my work," Van Gaal reportedly said after the Spaniard's appointment as next season's boss.
That comment drew a withering response from Bayern president Uli Hoeness, who said: "Klinsmann was a bad coach, and getting the club back on track after him was not easy. Van Gaal managed that, and of course he has his place in the development of football in Munich. But his problem is not that he see himself as God but as the father of God; before the world even existed, Louis van Gaal was already here."
If anything, Van Gaal brought some of Barcelona to Bayern; the same Barcelona that formed the bulk of the Spain squad that beat Germany in the Euro 2008 final, and in the 2010 World Cup semifinal (there were 13 players in action then who could play Tuesday). At the moment, Barcelona and Spain has the edge on Germany. But the Germans are not for behind. This game could be the moment they move ahead.
WILSON: Suarez's good outweighs the bad for Liverpool
Real Madrid at Borussia Dortmund (Wednesday, 2:45)
It's not often Jose Mourinho gets overshadowed in the coaching stakes, but Dortmund boss Jurgen Klopp is enjoying his moment in the spotlight. After Mourinho's flirtations with English clubs, now a winter staple, the Portuguese is keeping tight-lipped on his future, which could see him end up at Chelsea (I can't see that happening), or France, with Monaco and Paris Saint-Germain (and a possible job swap with Carlo Ancelotti) keen.
Although Klopp is almost certain to be staying in Dortmund, he is the one who has been talking more about his next move.
"I find it funny that my name went round at Chelsea and Liverpool," he told France Football earlier in the season. "Jurgen Klopp, born in the Black Forest, future coach of a big English club. ... That's nice. I prefer that my name is occasionally mentioned in other clubs rather than remain an unknown."
Last week, he went one better and told the Spanish press: "If my name is being mentioned in Madrid as the possible successor to Mou, if he is leaving, then it's an honor. I'm going to ask Jose what he's going to do next year. I'm going to be the coach of Borussia Dortmund next season unless something drastic happens and they get rid of me."
Klopp is brilliant with the media, and like Mourinho, can be charming and funny.
"I bet my arse [sporting director Matthias] Sammer speaks to Pep before the game," he said after the Bayern-Barcelona draw, leading to a public row involving Klopp's recent hair transplant and Bayern CEO Karl-Heinz Rummenigge.
"I thank my players' mothers and my own for making us so nice," he said when asked if Dortmund was a nicer club than Bayern. "We definitely have a more likeable image in the media, but if we are more likeable, I don't know."
Dortmund did beat Madrid 2-1 at home in the group stage, but Klopp has warned this will be a different test entirely (he did say that was because Marcelo was missing from the Spanish lineup: he misses out again through injury). Klopp's biggest challenge will be trying to eliminate his team's nerves, which were clearly apparent in the last round against Malaga. That may have been because Dortmund was the favorite and is more suited to the underdog role.
It could be a position that will change soon -- especially if Dortmund holds onto most of its players next season. Bayern reportedly wants Robert Lewandowski, and Arsenal is after Mario Gotze: but as Klopp said of his squad: "We had a match between young players and older ones. For the olders, there was Ivan Perisic, born in 1989, Mats Hummels, Neven Subotic and Marcel Schmelzer, all born in 1988. In four years, they will all be 28. If they spend that time with us here and continue to progress, I will not tell you what we can achieve."
The fact that Pep Guardiola is moving to Bayern next season should also be a huge factor for Dortmund's players. Bayern-Dortmund will soon be the new clasico. Klopp has already staked his claim as the new Mourinho. Some Germans prefer to call Mourinho, "the Portuguese Klopp," rather than the other way around.