Real Madrid, Barcelona face daunting tasks in Champions League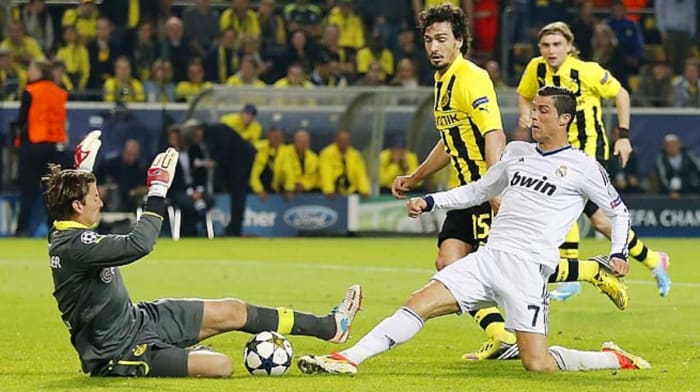 The downside of seeing two such dramatic Champions League semifinal first legs last week is that this week's return matches may lack some drama. But there is no shortage of storylines. Here are a few to keep your eye on ...
Borussia Dortmund (4) at Real Madrid (1) (Tuesday, 2:45 ET)
They might have to stop calling Jose Mourinho "the Portuguese Klopp" in Germany now given how comprehensively the Real Madrid coach was out-smarted by his Dortmund counterpart, both in the media conferences and on the pitch. Even at halftime, after Madrid had just pulled itself back in contention, there seemed the chance for an away result, but within 10 minutes of the restart Robert Lewandowski had completed his hat trick.
Mourinho, described as "listless: a curmudgeon" (Spiegel Online), apparently blamed four players more for the defeat: Pepe (at fault for three of the goals), Xabi Alonso, Sami Khedira and Mesut Ozil.
"We knew everything about Lewandowski, his movement, his touches, everything, and yet we still lost him for three goals," Mourinho moaned after the game.
With Alvaro Arbeloa back from suspension, Pepe will sit out the second leg. The holding pair allowed Marco Reus and Ilkay Gundogan far too much in its half while Ozil played wide right, where he was far less effective than in his normal central position; he will be back there Tuesday.
What of Mourinho? His side did beat Atletico Madrid 2-1 over the weekend, a ninth straight win over its rival to wrap up second place in La Liga. German paper Bild reported during the Dortmund game that Mourinho would join Chelsea this summer, and backed it up the next day by claiming that's what he had told Klopp when the pair chatted on the pitch before the game. It seems unlikely that Klopp would betray that confidence, even more unlikely that he would do so in the hour or so between their conversation happening and the story breaking during the most significant game of his career.
Winning the Champions League this year was meant to be Mourinho's last hurrah, the culmination of three years of controversy, provocation, hassle and fallouts. He left after winning the competition with Porto (2004) and Inter Milan (2010), and with his departure from Madrid all but certain, it was almost accepted wisdom that he would at least reach the final. Instead, Madrid needs an incredible performance -- and for Dortmund to falter in a way it hasn't yet this season -- to pull this one back.
An early goal, some Cristiano Ronaldo magic and a few jangling German nerves might make it interesting, but Dortmund rode its luck with two injury-time goals in its quarterfinal win over Malaga and perhaps it feels fated to reach the Wembley final. If it does so, how will Madridistas look back at three years under Mourinho, with one Liga title, one Copa del Rey and three straight Champions League finals? Was it all worth it? Probably not.
While reports from Paris suggest Carlo Ancelotti is close to replacing Mourinho at the Bernabeu next season, one former Madrid player, who happens to be a compatriot of Lewandowski, had another interesting idea.
"If Mourinho is to leave Real at the end of the season, Klopp would be the perfect choice to replace him," Jerzy Dudek said. "Borussia's pressing, it movement from back to attack and how hapless Real was gave him the best job interview possible."
And a word on Lewandowski, now apparently wanted by Manchester United after his heroic four-goal performance last week. The Polish center forward earned a rare 10 out of 10 rating from L'Equipe (only five players have ever received that before: Oleg Salenko, Lionel Messi, Franck Sauzee, Lars Windfield and Bruno Martini) but claimed after the game he has played better.
"This wasn't the game I felt the best in," he told Polish TV. "I had 100 percent efficiency in front of goal, but I feel I have played better games in my career. We now have to confirm that our 4-1 win was not an accident."
Bayern Munich (4) at Barcelona (0) (Wednesday, 2:45)
The only good piece of news for Barcelona last week was that Real Madrid lost its semifinal as well. As Sport newspaper put it in a cartoon last Friday: "If Bayern eliminates Barça, many will say that it will be an end of cycle ... If Borussia eliminates Madrid, they will say that it is an ... end of ... end of ... end of nothing. Or end of a circus."
To its credit, Barcelona did not complain that two of Bayern's four goals could have been disallowed -- Mario Gomez was offside for the second, and Thomas Muller wiped out Jordi Alba for the third -- because its players knew they had been outclassed. The full extent of Messi-dependence was laid bare.
Barcelona coach Tito Vilanova gave an impressive press conference Friday, insisting that there would be no panic measures as a result of this loss. Barcelona, let's not forget, is on the verge of its fourth La Liga title in five years and has reached six European semifinals in a row.
"I don't think this is the end of an era," he said. "Let's see if we are able to get to seven in a row next season, that would be huge."
He also responded, patiently, to all the newspaper headlines since the game.
Six new players coming in? "Who do you sign, it's not easy to improve this team."
Messi-dependent? "It's normal as he's the best in the world. We hope to be dependent for many years."
Is this tie over? "We have to show we can win, and then we'll see. We never relaxed with four-goal first leg leads [against Bayern 4-0 and Shakhtar 5-1]."
Barcelona does need to learn from this season, which has been uniquely trying on account of the cancers that afflicted Vilanova and Eric Abidal. It must also solve its defensive problems, and can no longer rely on injury-prone Carles Puyol as a regular; and it needs more of a Plan B in case Messi is injured (Zlatan Ibrahimovic, anyone?), as he was for the first time in three years, just when it mattered most.
Messi was back on the score sheet in Barcelona's 2-2 draw at Athletic Bilbao. Would a fully fit Messi have been able to stop Bayern last week? No. When Bayern destroyed Arsenal away in the round of 16, it struggled in the second leg and was unsure of what tactics to play: it will have learned from that and will not just sit back. For once, those looking forward to the game at Camp Nou are not just excited to see the host team.