Landon Donovan looks strong in return, Seattle keeps surging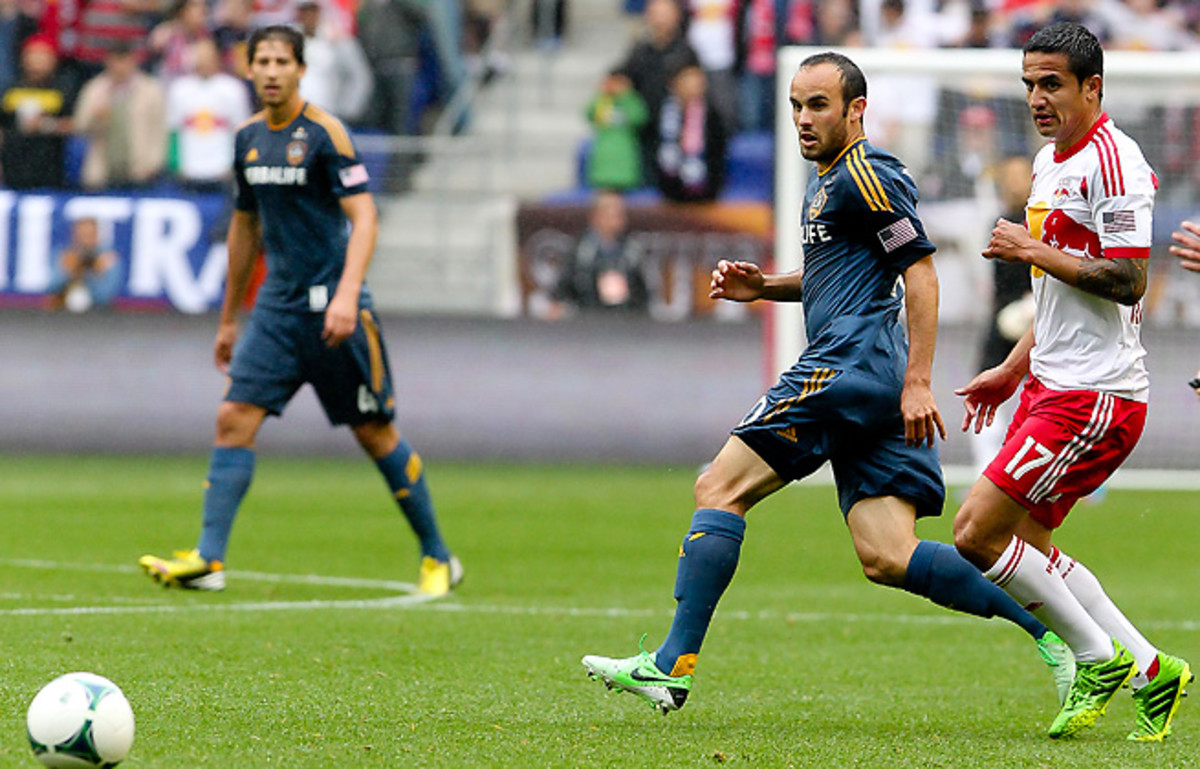 Landon Donovan responded to his critics, Chivas USA picked up even more and Seattle shed its remaining detractors in MLS Week 12:
1. Landon Donovan's immediate response: When Landon Donovan was left off Jurgen Klinsmann's roster for the upcoming U.S. national team training camp, friendlies and World Cup qualifiers, it sparked a debate among all corners of American soccer fans.
For some, Klinsmann is being hypocritical by claiming that Donovan's form isn't up to par while calling up out-of-form and out-of-action players like Brek Shea, Stuart Holden and Danny Williams. For others, Donovan must earn his way back onto the national team despite being the USA's all-time leading scorer. Should Klinsmann's quest to maintain the team's chemistry override what Donovan may be able to contribute right now? Klinsmann may resent Donovan's departure during a time when the U.S. was facing adversity and crucial qualifying matches. Others might feel Donovan is the exception to any rule and should be called in no matter what.
Either way, there is not a more polarizing topic in U.S. Soccer right now, but Donovan himself has appeared to take the news in stride.
Right now, all Donovan can control is what he says and how he plays, and the immediate response on both accounts has been top-notch. His one-goal, two-assist showing in Philadelphia for the LA Galaxy the night before the actual roster release (but after the Grant Wahl report that he would be omitted) was quite telling that whatever message Klinsmann is trying to send has gotten across. In speaking to the press, Donovan's comments have been humbling, professional and have lacked a sense of entitlement.
Donovan has proven to be a candid and open speaker, so when he says that he'll happily accept a place on the Gold Cup roster if granted the opportunity, it sounds legitimate. Even though Donovan followed up his game against the Union five days later with a less emphatic showing in New York, the message is clear: For Donovan to get called up, he'll have to work his way back and earn it at a higher standard than perhaps anybody else.
VIDEO: Donovan discusses sabbatical, USMNT
2. Chivas USA continues to confound:Chivas USA has serious questions to answer in just about every facet of the club's operations.
On the field, Jose Luis "Chelis" Sanchez Sola's unorthodox tactics are no longer a surprise, and his team is getting picked apart by the opposition. Real Salt Lake had its way with Chivas' three-man back line Sunday night by sending runner after runner through gaping pockets of space and keeping the Goats on their back heels with pace, good timing and well-placed passes. Case and point: Ned Grabavoy had not scored a league goal since Oct. 16, 2010, and his career high for a single season is three. He torched Chivas for two goals on Sunday. And what in the world is goalkeeper Dan Kennedy doing 80 yards off his line taking a first-half free kick in a one-goal game? Is Chivas really that low on viable options to resort to such a gimmick at that juncture in the game?
As for how the front office is operating, Chivas made another questionable move last week. Acquiring Gabriel Farfan from the Philadelphia Union is a decent move on the surface. He's a California guy, a tenacious and versatile player who can serve roles in different spots on the field. Giving up a first-round pick in next year's SuperDraft (which is destined to be an early selection) and allocation money on top of that to get him though? That hardly makes any sense. This comes after Chivas shipped Juan Agudelo (and his future MLS rights should he bolt for Europe after this season) for allocation money.
Off-field news also makes it a tenuous time to be a Chivas fan right now, with conflicting reports of billionaire Carlos Slim purchasing parent club Chivas de Guadalajara but not wanting Chivas USA. In terms of the immediate future, one has to ask just what the plan is, or if there is even one in place.
3. Seattle's onslaught:Remember when the Seattle Sounders couldn't buy a goal? Yeah, neither do they, because those days seem like months ago.
Following a second straight four-goal outburst -- this one at the expense of first-place FC Dallas -- it's safe to say the Sounders are back to the feared level most expected they would be at. Sigi Schmid is suddenly overflowing with options to turn to in the attack, with Eddie Johnson's two-goal, slump-busting performance being aided by another standout showing by unheralded local hero Lamar Neagle. Even without Steve Zakuani and Mauro Rosales, Seattle is still red hot on offense. That makes for one heck of a scary proposition for Sounders opponents.
The Sounders enter arguably their most difficult part of their schedule, but the club is unbeaten in six games and on an absolute roll. As a result, there is plenty of anticipation for their Sunday night tilt with the Galaxy in Los Angeles. Each team could be missing a vital piece for that match, though, with it coinciding with the start of U.S. national team training camp. Whether Johnson and Omar Gonzalez are available or will join training camp a day late remains to be seen.
4. Rough week for refs:MLS' official website labeled this past week as Referee Week, with in-depth features about the road to becoming a referee, how disciplinary decisions are made and a look at the Professional Referee Organization a year into its existence. As it turned out, the timing couldn't have been more ironic. Yes, every league in every country has refereeing blunders, but MLS is no exception, and it certainly seems as if the poor calls and wrong decisions in MLS really take things to the limit.
In D.C., one of the most egregious offside calls ever was turned in by assistant Matthew Nelson, who ruled Ike Opara offside on what should have been a first-half goal for Sporting Kansas City. Nelson later fessed up and told a pool reporter after the game that he misjudged the play, but that hardly puts any points on the board for SKC.
In Seattle, FC Dallas striker Blas Perez' elbow to Sounders defender Leo Gonzalez head was deemed worthy of a straight red card by Mark Geiger after some deliberation. Meanwhile, Servando Carrasco had gotten away with a similar offense earlier in the game without even so much as being whistled for a foul (and credit former Sounder and current team color analyst Kasey Keller for his unbiased approach at explaining the call, giving his professional opinion and defending Perez).
The Professional Referee Organization has been open about admitting when calls were blown and offering up explanations of controversial plays. While the transparency is comforting, it still does not prevent some major on-field decisions -- and a lack of consistency -- from impacting results around the league.
5. Team of the Week:
Goalkeeper: Luis Robles (New York Red Bulls)
Defenders: Jamison Olave (New York Red Bulls), Ike Opara (Sporting Kansas City), Jose Goncalves (New England Revolution)
Midfielders: Landon Donovan (LA Galaxy), Michel (FC Dallas), Ned Grabavoy (Real Salt Lake), Will Johnson (Portland Timbers)
Forwards: Eddie Johnson (Seattle Sounders), Camilo (Vancouver Whitecaps), Federico Higuain (Columbus Crew)
WAHL: Beckham looks to buy MLS team,Chivas owner struggling with reputation