Drama-lacking Premier League season sets up compelling 2013-14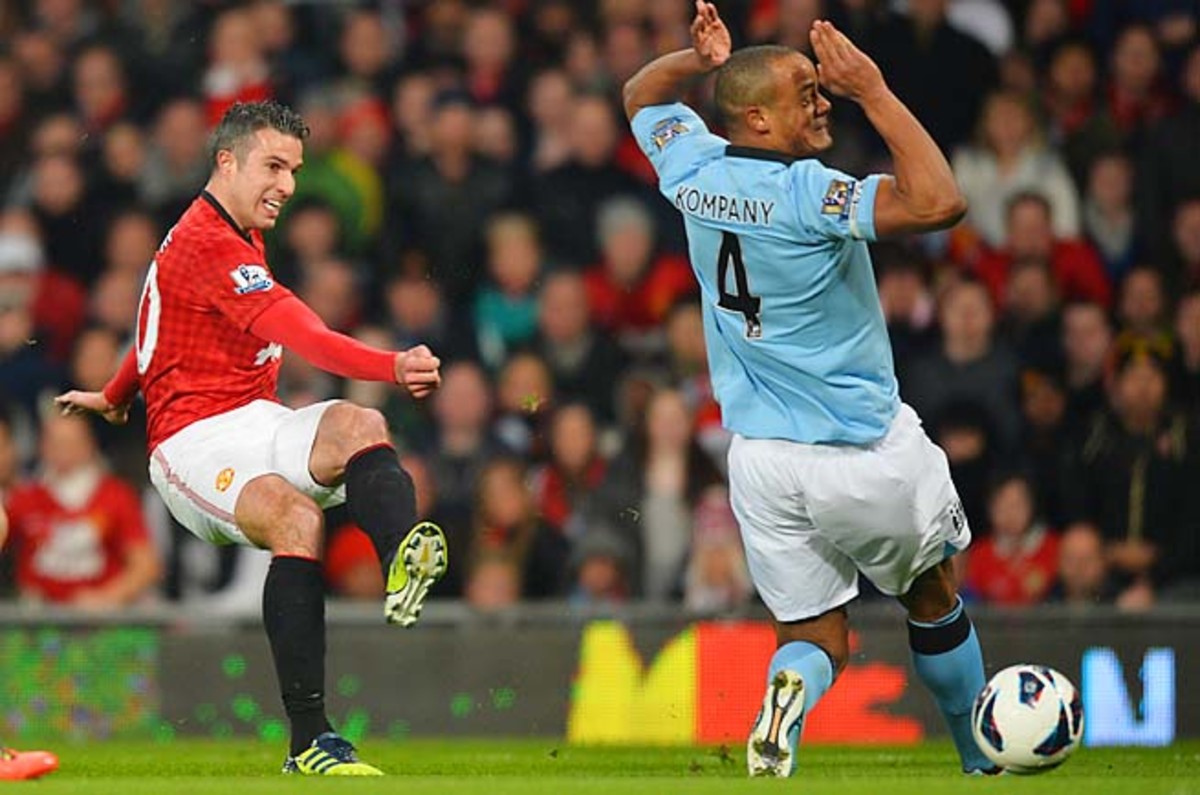 It was not a vintage season. By the final day, all that remained to be settled was whether Arsenal or Tottenham would finish in the top four and although there was drama at White Hart Lane, with Spurs battering on the Sunderland door for 88 minutes before it found a breakthrough, it was rendered largely irrelevant by the fact that Arsenal was 1-0 up at Newcastle. For the 18th season in a row, Arsenal finished above its north London rivals. Elsewhere, it was a day of goodbyes.
And really, the amount of attention paid to the retirements was indicative of how little else was going on. Jamie Carragher, Paul Scholes and Sir Alex Ferguson deserved their sendoffs, of course, having diligently served their clubs for well over a decade. Scholes went in typical fashion: quietly, after a yellow card for a late challenge -- the 97th of his career, two behind the Premier League record. Carragher departed with a clean sheet and almost with a goal, hitting the woodwork from 25 yards; he remains, though, at minus-three for his career, his seven career own-goals set against just four at the right end.
The sadness was the exit of Michael Owen. In 1998, the forward, then 18, came back from the World Cup as a hero having scored a wonder goal against Argentina, while David Beckham was hung in effigy for having been stupidly sent off in the same game. This weekend, Beckham received an emotional ovation from fans at the Parc des Princes, despite having played just 10 games for Paris Satin-Germain -- an indication of his standing in the world game, while Owen, although both sets of fans chanted his name, departed with rather less fanfare, playing 17 minutes as a substitute for Stoke against Southampton. He himself admitted he never quite recovered from an injury suffered when he was 19, unable or unwilling to adapt his game. It's been about a decade since he last appeared really to enjoy football.
BERLIN: Familiar table positions as EPL season closes
Ferguson bid farewell having made himself the most successful manager in history over the preceding 35 years -- first with Aberdeen and then with Manchester United. He insisted this side is as good as the one that won the treble, and in time it may be. It is young and developing but far from perfect: the five goals conceded at West Brom on the final day came as a reminder of the defensive shakiness of the early part of the season. The ease with which it won the title said less about United than about its rivals: City, Chelsea and even Arsenal all underperformed.
Roberto Mancini remains hugely popular with City fans, a charismatic manager who last season led the club to its first league title in 44 years. This season, though, there was stagnation, too many players who seemed weary, too little invention, too many soft goals conceded. The title race was effectively over by mid-February, back-to-back draws against Queens Park Rangers and Liverpool and then a defeat to Southampton fatally undermining its challenge.
Worse, though, was the behind-the-scenes unrest. City was much mocked for saying it needed a "holistic" approach, but when a club has invested as much as City has in an academy, it makes sense: Ferran Soriano, the CEO, wrote in his book, "Goal: The Ball Doesn't Go In By Chance," of the need for "harmony" and "virtuous circles," of every aspect of a club working together. He praised Frank Rijkaard at Barcelona for the way he took an interest in players off the pitch, helping them with personal problems.
Mancini's spikiness was never going to lend itself to that sort of approach, and it was that as much as results that led to his dismissal. A new manager -- probably Manuel Pellegrini -- is the first priority, after which, Soriano said, there will be "three or four" major signings as the club looks to make the squad better rather than bigger, which he acknowledged is what happened last summer.
Chelsea's season finished relatively well, with a third-place finish and a Europa League title. The truth is that it probably never quite had the squad for a title challenge, but it was top of the table and playing stunning football after eight matches before the usual power struggles intervened. Seven games without a win through November -- four before Roberto Di Matteo's dismissal and three after -- ended any thoughts of the title.
For Arsenal, meanwhile, it was a familiar pattern: a close to the season that gives reason for optimism -- just one defeat in the last 16 games, and the second-best defensive record in the league over the course of the season -- coming after a start that made anything other than scrapping for fourth impossible. Arsene Wenger will apparently have more money to spend this summer than ever before; it must be spent early and well.
Andre Villas-Boas denied it, but Tottenham essentially was undone by a lack of spending in January: just one forward might have transformed a couple of draws into wins in the run-in. At least, though, there was the sense of a team shape emerging this season and, even if it did end up a position lower than last season, no capitulation at the end.
At the other end of the table, a lot of teams were grateful that Queens Park Rangers and Reading were as inept as they were. Reading simply wasn't good enough, a lack of investment meaning it was never likely to be able to compete. QPR, meanwhile, was a shambles: a wanton spending spree destroying morale.
Wigan, in the end, found economic reality caught up with it, but it's had a fine eight years in the Premier League and signed off with an FA Cup. That clutch of sides above Wigan -- Sunderland, Newcastle, Aston Villa, Southampton, Stoke, Fulham, Norwich -- all know that, to an extent, they got away with it this season thanks to the weaknesses of others. They can revel in the substantially increased TV revenues next season but need radical improvement.
Perhaps, after the drama of last season's finale, this season was always going to feel a little flat. But what the Premier League has always done well is soap opera. Next season, there will be a new set of characters -- and, in Jose Mourinho, a returning antihero from a previous series.