Robbie Rogers' return is biggest story in MLS this week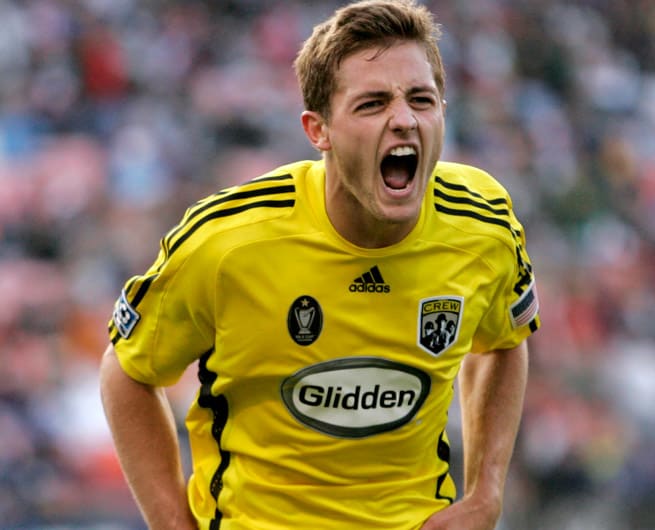 A major trade and a goal-laden contest in Montreal were among the highlights while D.C. United lost yet again on a busy Saturday of MLS action.
Player of the day
Robbie Rogers, Los Angeles Galaxy
He may not even step on a field this weekend. It does not matter. Rogers became the most significant soccer player on the continent when it was announced Saturday that he has signed with the Galaxy.
The first openly gay athlete competing in a major North American professional sport should be on the active roster when L.A. hosts the Seattle Sounders on Sunday night. It's more huge news generating international headlines to end a week when the league announced that a second New York franchise run by Manchester City and the New York Yankees will start play in 2015. And it's a long stride down the path toward the ultimate goal of a day when a player's sexuality will generate zero interest because no one will consider it relevant. Until then, the publicity is valuable and potentially inspirational.
The 26-year-old former Columbus Crew winger struggled in England after joining Leeds United in 2012 and was loaned to Stevenage, a small third-tier club. He retired in February after coming out and has not played a competitive game since Dec. 8. But L.A. hopes that his hometown will provide a supportive environment that can make the most of his undoubted talent.
During a press conference at the Home Depot Center today, Rogers sounded happy, ready to embrace the attention and to take on the responsibility of being a pioneer and a role model. "I was afraid to put myself back in a situation where I felt like I was kind of an outcast, I guess, or just different from people," he told reporters. "But after this whole process, I've realized that everyone is a bit different, everyone has their issues."
MLS may be a young league, but for tolerant and progressive attitudes, it is as mature as they come. Rainbow-colored flags were waved in Gillette Stadium on Saturday as the New England Revolution beat Toronto FC as part of a Pride Night in support of the LGBT community organized by the Midnight Riders supporters group.
Incidentally, the newly-retired former Galaxy midfielder David Beckham did more than most to help foster a more open-minded climate. Back when the subject was taboo among soccer players, Beckham gave interviews to gay magazines and told the BBC he was "very honored to have the tag of gay icon" back in 2007.
The on-field ramifications? Considerable. L.A. traded Mike Magee to the Chicago Fire for the right to sign Rogers. Magee made key contributions in the postseason and was the team's top scorer so far this year with six goals.
Losing the 28-year-old Chicago native is a steep price, but head coach Bruce Arena wanted a rapid winger to replace Christian Wilhelmsson, who failed to impress last year. With Landon Donovan and Robbie Keane in the side, the Galaxy are unlikely to find themselves short of firepower, and youngsters Jose Villarreal and Gyasi Zardes are developing fast.
If he stays fit, Magee could revitalize Chicago's bid to reach the Eastern Conference playoffs. Frank Klopas' men earned a credible point with a 1-1 draw away to Real Salt Lake on Saturday. But the Fire have only eight points from eleven fixtures, largely down to their inability to score. Chicago has found the net only seven times and has been shut out on six occasions.
Game of the day
Montreal Impact 5, Philadelphia Union 3
Hate the Scottish band The Fratellis? You might want to steer clear of Saputo Stadium. "Chelsea Dagger" is the song Montreal blares over the P.A. system after each home goal. It was played to death Saturday night.
Pre-match hype distilled this contest into a duel between two of the top goalscorers in MLS, Jack McInerney and Marco Di Vaio. The hypemongers had it right. Di Vaio gave the Impact the lead after two minutes only for McInerney to equalize three minutes later. But the Italian added another two to claim his hat-trick and probable MLS player-of-the-week honors after just 32 minutes. He even missed a simple chance for another goal before halftime.
Antoine Hoppenot's mis-hit cross from the right floated into the net after 69 minutes to put the Union back in the contest, but Andrew Wenger restored the two-goal advantage five minutes later. There was still time for Sebastien Le Toux to give Philadelphia fresh hope that was finally extinguished by Blake Smith on a stoppage-time breakaway.
Crowd-pleasing, irrepressible and inventive, flawed but flamboyant and set to a thumping soundtrack: This was soccer as directed by Baz Luhrmann. Di Vaio and McInerney are now tied at the top of the scoring chart with nine goals each. Di Vaio will be 37 in July, while McInerney does not turn 21 until August.
There will be concern that the Impact's results will dip later in the year if those ageing legs grow tired. After all, Di Vaio has provided nearly half the team's 20 goals. But at this rate, Montreal will qualify for the playoffs with games to spare and be able to rest its star to keep him as fresh as possible for the post-season.
Goal of the day
Fabian Castillo, FC Dallas
On an evening with several good close-range finishes from dangerous crosses, this goal was a little different: An example of a quick and lethal counter-attack down the middle. The 33rd-minute strike proved to be the winner as the Western Conference leader responded well in soggy conditions to its 4-2 defeat by Seattle last week.
The San Jose Earthquakes continue to struggle, but came close on several occasions in Texas and fell victim to a swift breakaway as they pressed hard for a goal.
Rookie Dallas center back Walker Zimmerman cleared a cross to David Ferreira, who burst forward on a terrific 40-yard run and found Castillo, who cut inside Jason Hernandez and curled a low shot beyond goalkeeper Jon Busch.
Stat of the day
1 - Unbeaten teams on the road
The Portland Timbers' 2-0 win over D.C. United at RFK Stadium was predictable on current form, yet it would have been unthinkable last year, when D.C.'s sole home defeat came on the season's opening day. Portland, meanwhile, had the worst road record in MLS, mustering only one win. In 2011, they had zero victories outside of Oregon.
Now, under new head coach Caleb Porter, the Timbers are the only team yet to lose on their travels in 2013. Every other club has lost at least twice. Portland's sole defeat came at home to Montreal on Mar. 9. No need to show off its ability to bounce back this time, as the visitors took the lead and held on in relative comfort against the most feckless team in MLS.
Coming into this game riding a one-match unbeaten streak (yes, the crumbs of comfort are that microscopic in D.C.), head coach Ben Olsen shuffled the decks again, giving Carlos Ruiz his first start of the season after the Guatemalan forward publicly questioned his lack of playing time earlier in the week. Former talisman Dwayne De Rosario came off the bench in the second half.
Ruiz and his teammates were perky enough in the early minutes of each half, but while D.C.'s personnel may change, slack defending and conceding early goals are constant bad habits. United might have the most aloof attitude toward marking in MLS. Chris Korb was nowhere near Rodney Wallace as the former D.C. man gave Portland a 21st-minute advantage that was doubled by Darlington Nagbe three minutes before the hour. United look willing, but little mistakes are equaling big problems.
Last year, Portland had the ponderous target Kris Boyd up front. This season, Porter has prioritized pace and direct running in attack, and that makes the Timbers dangerous on the counter-attack. Former West Ham United striker Frederic Piquionne was an able deputy for the injured Diego Valeri on Saturday.
Coupled with a resilient mentality, Portland's tactics are a formula for road success. Of course, so is simply facing United, which has lost eight of its past nine games.