Robbie Rogers plays in Galaxy's win over Sounders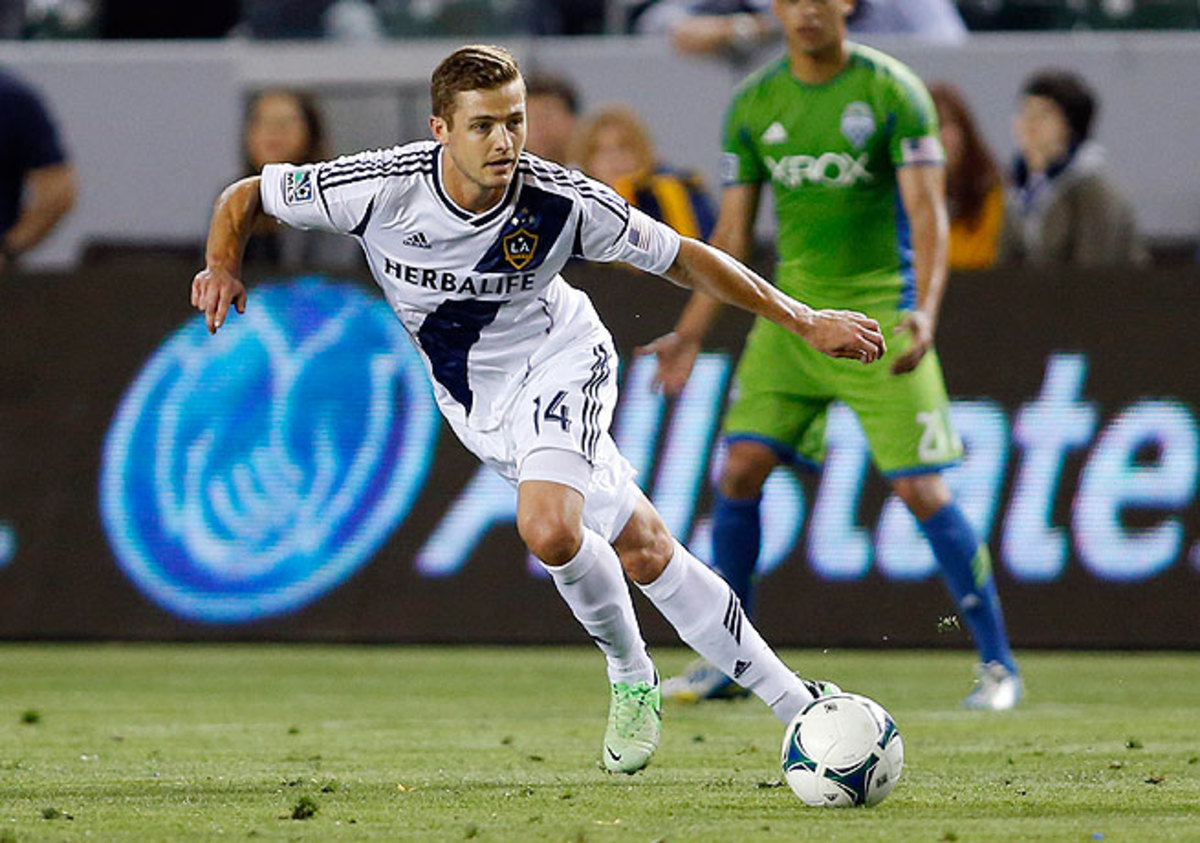 Galaxy 4, Sounders 0
Robbie Rogers became the first openly gay male athlete to play in a U.S. professional league on Sunday night, making his Major League Soccer debut with the Los Angeles Galaxy.
Rogers entered as a substitute in the 77th minute with the Galaxy leading the Seattle Sounders 4-0, which turned out to be the final score. He received loud cheers from the crowd of 24,811 as he ran onto the pitch, with fans chanting his last name. Rogers ran by teammate Landon Donovan, who slapped his hand and patted him on the back as he took his position.
Rogers touched the ball a couple times in the closing minutes of the Galaxy's victory that ended a three-game winning streak for Seattle (4-4-3)
Rogers' signing on Saturday was so recent that he wasn't listed in the game day program, which featured a picture of Mike Magee in the centerfold. Magee, the Galaxy's leading scorer and a fan favorite, was traded to Chicago, which held Rogers' MLS rights.
Rogers, who spent the last two seasons in England, trained with the Galaxy for a month while hoping to continue his career not far from his hometown of Huntington Beach.
Robbie Keene had his first career three-goal game in MLS for Los Angeles (6-4-2).
RED BULLS 2, CREW 2
Defender Jamison Olave blasted home a shot in the opening minute of injury time and the New York Red Bulls tied the Columbus Crew 2-2 and extended their unbeaten streak to seven games, the longest in 10 years.
Thierry Henry also scored for the Red Bulls, who are 5-0-2 in their best run since 2003.
Frederico Higuain appeared to give Columbus the game winner on a penalty in the 74th minute.
However, Olave settled a crossing pass by Jonathan Steele in the box and ripped a shot high into the left corner. Dominic Oduro also scored for the Crew, who are 0-3-3 in their last six games against the Red Bulls.
SPORTING KC 1, DYNAMO 1
Kei Kamara scored his first goal since returning from a loan to England and Sporting Kansas City got a 1-1 draw Sunday against the Houston Dynamo.
A first-half penalty kick against Sporting was waved off, a week after a bad offside call denied them a goal in a 1-1 draw at D.C. United.
Brad Davis scored in first-half stoppage time for the Dynamo (6-4-3), who avoided their third straight loss to Sporting (6-4-4).
The Dynamo were awarded the penalty about eight minutes before Davis' goal, when Uri Rosell brought down Davis in the box. But after conferring with his assistant, referee Drew Fischer reversed his initial call.
Kamara, who returned earlier this month from Norwich City, came on as a second-half sub and equalized in the 68th minute.