Morgan leads U.S. women over Canada in friendly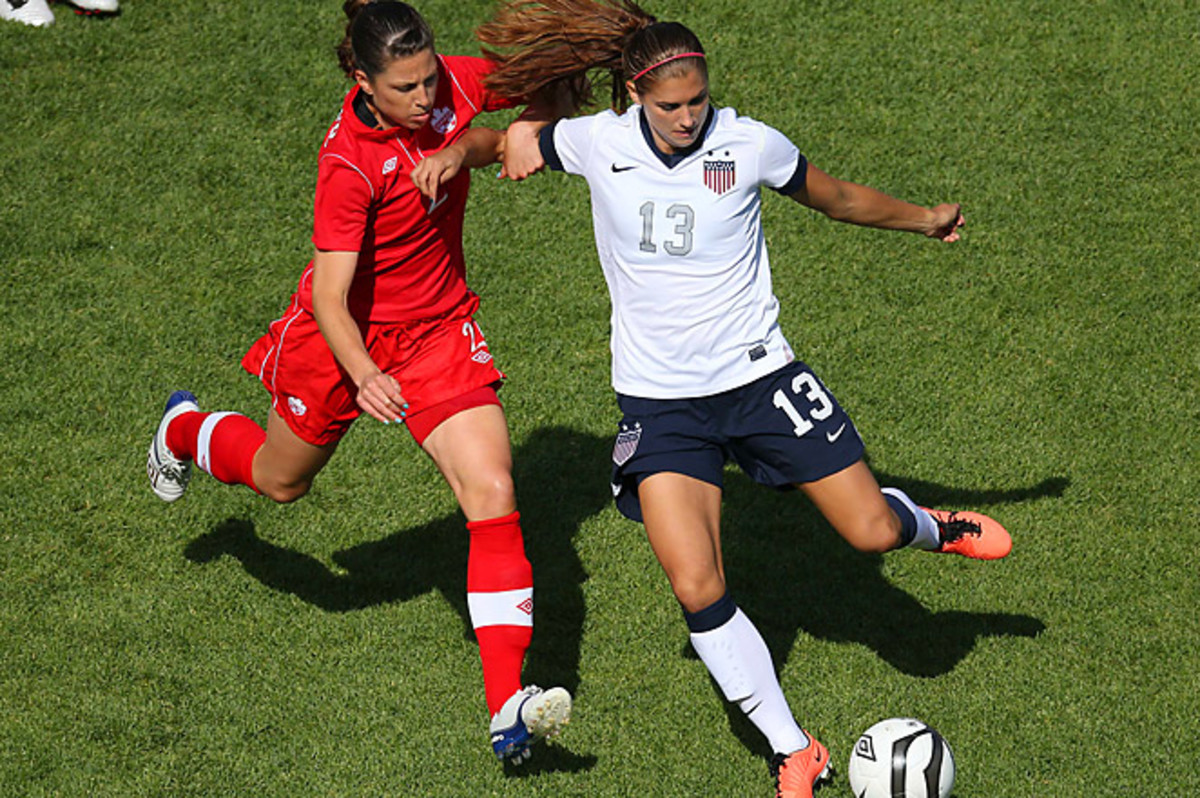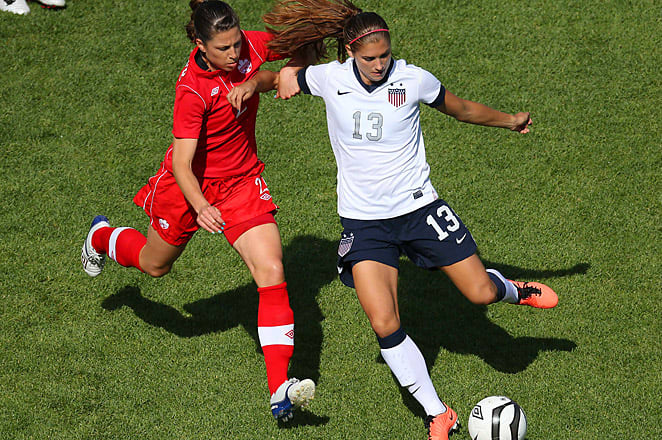 Alex Morgan scored twice and Sydney Leroux added a goal to lead the United States over Canada 3-0 Sunday in their first meeting since the Americans' 4-3 overtime victory in the semifinals of last year's Olympic women's soccer tournament.
"Having that pace up front, it's an unbelievable asset," U.S. coach Tom Sermanni said. "At times in the game, I thought the Canadians defended very, very well for long parts of that game, but at some stage in that game, (the U.S. strikers) are going to break free. And Syd and Alex are very good finishers, so when they get those chances, they tend to score. The chances Alex got today, she made them look easier than they were. Those weren't easy chances, but they were terrific finishes."
Morgan scored for the top-ranked Americans in the 70th minute when she cut inside defender Emily Zurrer and from the top of the penalty area slotted past goalkeeper Erin McLeod. Morgan scored from the same spot two minutes later, her 44th international goal.
Last August, Morgan's goal in the third and final minute of stoppage time in overtime sent the Americans to the gold-medal game, where the U.S. defeated Japan for its third straight gold medal. Sunday's lineups included 15 of 22 starters from the semifinal.
Leroux scored in the third minute of stoppage time on a breakaway. Born in Surrey, British Columbia, she moved to Scottsdale, Ariz., when she was a teenager and became an American citizen. She drew boos from the record crowd of 22,453 at BMO Field when she popped the U.S. logo on her jersey after the goal.
"Maybe not the classiest of moves," Canadian captain Christine Sinclair said about the gesture that drew a yellow card. "She scored on us, and an individual can do what they like. I probably wouldn't have done the same, but we move on."
Leroux accelerated away from a defender, got McLeod to commit, then rounded her to the left and stuffed the ball into the open net from close range. It was her 17th international goal.
"From her perspective, of all the international goals she scored so far, this far is probably the sweetest one for her and that's probably a way to silence a crowd," Sermanni said.
Leroux bristled when asked about the hostile reception.
"Come on ... how many American-born players do you have on Canada?" Leroux said.
Canadian defender Lauren Sesselman was born in the U.S.
The Olympic semifinal turned on a controversial free kick, awarded when Norwegian referee Christina Pedersen determined McLeod took longer than the allowable 6 seconds to put the ball back into play.
The crowd Sunday loudly counted off the seconds, sometimes to as high as 10, each time American goalkeeper Nicole Barnhart took a goal kick.
"It was unbelievable, eh?" Canadian coach John Herdman said, laughing. "There should have been about 20 free kicks, shouldn't there? Bring back the Norwegian referee, we would have been in heaven."
The game, along with the men's 4-3 win over Germany at Washington's RFK Stadium, marked the USSF's 100th anniversary year.
U.S. forward Abby Wambach remained at 155 international goals, three behind Mia Hamm's record. Midfielder Carli Lloyd started in her first national team appearance since breaking a bone in her left shoulder against Iceland in the Americans' Algarve Cup opener on March 6.
Barnhart played for the U.S. while Hope Solo recovers from left wrist surgery. No. 2 goalkeeper Jill Loyden, who broke a bone in her left hand during training March 7, dressed but didn't play.
The United States prevented Canada from getting a shot on goal.
"I thought we defended very well today," Sermanni said. "Canada is a difficult team to play against. They play quickly. They play a tempo that upsets you and at times doing very well catch teams on the break. I thought all of our defenders did very well today and limited Canada to not that many chances."
Canada last beat the U.S. at the 2001 Algarve Cup, a 3-0 victory.
"I'm proud that this is a rivalry. Not too long ago it wasn't," Wambach said. "Not too long ago these games weren't games we looked forward to, and now they are. Now they're getting sold-out crowds, and I think that does nothing but push the women's game forward."
Canada played its first home game since returning from London, where it beat France to win the bronze medal.
"As a team, we're proud of our performance, but disappointed for our fans that came out," Sinclair said. "It's tough to swallow a 3-0 defeat, even though it didn't feel like that."