Uruguay president rips FIFA for Luis Suarez ban
Uruguay president José Mujica ripped soccer's governing body, calling FIFA "a bunch of old sons of bitches," in light of Luis Suárez's suspension for biting Italy defender Giorgio Chiellini during a World Cup match.
Suárez was fined $112,000 and banned from competing in any soccer-related activities for four months, leading Mujica to call the suspension a "fascist ban," according to The Guardian. Mujica did admit that Suárez deserved to be punished for the bite.
Suárez has said that he did not deliberately bite Chiellini's shoulder during Uruguay's 1-0 victory over Italy in a group-stage match. Uruguay's football federation told FIFA it will appeal Suárez's ban.
WILSON: Luis Suarez challenges Tabarez to restore Uruguay's reputation - again
Columbia eliminated Uruguay 2-0 in the round of 16 this past weekend. 
More from the Guardian:
Mujica, who had said previously that Suárez was being punished by Fifa because of his humble background, continued his verbal assault at a reception for the Uruguay team after they returned home from the World Cup following their 2-0 defeat to Colombia in the last 16.

The president then covered his mouth to feign shock at what he had just said, but when asked if he wanted to rectify his comments, he responded: "Publish it."
GALLERY: Biting in Sports
Biting In Sports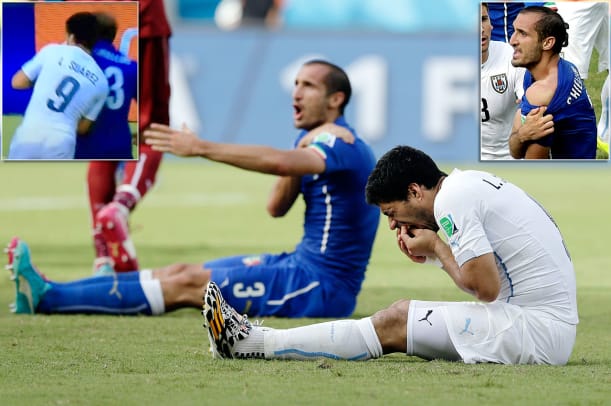 ~Scooby Axson