EPL Notes: Why Wenger should stay as Pellegrini says goodbye
Arsène Wenger shouldn't be fighting for his job as manager of Arsenal, while Manuel Pelligrini moved aside at Manchester City to make room for Pep Guardiola.
Arsène Wenger is glass half-full kind of manager.
On Sunday, there were clearly positives after Arsenal twice came from a goal behind to gain a 2-2 draw away to Manchester City.
Leicester City's Premier League title celebrations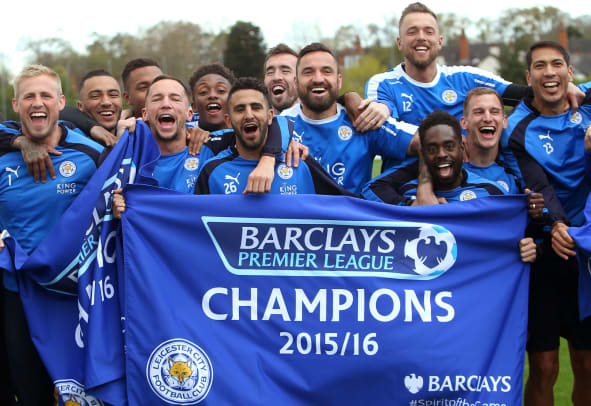 For much of the match Arsenal was completely outplayed—which is rarely pleasant for fans to watch—but it showed guts and grit as it stretched its unbeaten league run to nine games. It only needs a draw from its last match, at home to hapless Aston Villa, to secure a Champions League place. Indeed it might still finish as high as second.
Yes, Danny Welbeck limped off injured, again. But in his place Jack Wilshere played 66 minutes and, although he fell over an awful lot, did not get injured.
Yet this late surge only gives more grist to the "Wenger out" faction. Once again, Arsenal has only found some backbone once its hopes of winning either the Premier League or the Champions League had ended.
Is it really the manager who is preventing this Arsenal squad from winning the league and the Champions League every year? There might be a few better managers out there than Wenger, there are certainly a great many who are worse.
Manchester City is already finding out change comes with a price.
A polite wave goodbye — Arsenal fans believe their club should, by right, win every trophy every season.
While most Manchester City supporters know from bitter experience how fickle the sport can be, their ownership from Abu Dhabi has fewer scars and less patience. It shares the impatience of Arsenal fans.
That is why, after three seasons, Manuel Pellegrini bid farewell to the Etihad on Sunday. The Etihad bid an affectionate farewell back. Fans brought a huge banner with a picture of the manager with the caption, "this charming man," a warm sentiment even it if is also a rather ambiguous Manchester cultural reference.
Leicester City's Top Moments of 2015-16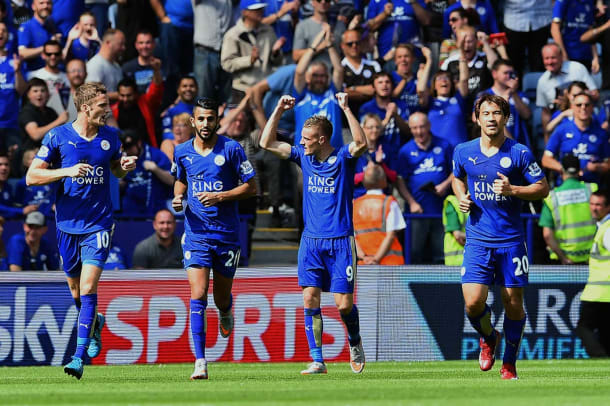 The fans respect Pellegrini as a man, but they can hardly wait for Pep Guardiola, officially the greatest sports coach in the cosmos, to take over.
So powerful is Guardiola that he has shaped City's results while managing another team. Since the start of February, when Pellegrini revealed that Guardiola would take over at the end of the season, Manchester City has had its best ever run in the Champions League and its worst recent run in the Premier League.
While City reached the Champions League semifinals (matching Guardiola's performance in each of his three seasons at Bayern) it only picked up only 21 points in 14 league games.
The last of those, Sunday's draw, means City no longer controls its destiny. It has one match left. Meanwhile Manchester United, now two points behind, has a game in hand. If United wins twice and if Arsenal does not lose to Villa, City will drop to fifth even if it wins at Swansea.
Pellegrini rather let the charm slip after the game Sunday when he told the media: "If there's no Champions League football next year that's Guardiola's problem, not mine."
Man City a no-show as Real Madrid returns to Champions League final
​Pellegrini knows better than to feel sorry for Guardiola. No Champions League place means no need to worry about losing in the semis again. It would also mean he could chuck out everyone except Sergio Agüerro, Kevin de Bruyne, Fernandinho and, maybe, Kelechi Iheanacho and start again.
City may need a rebuilding season. But often one can turn into two or three, as the spoilt fans down the road are finding out watching Louis van Gaal slowly and carefully reconstruct Manchester United.
City is going to start again, albeit with a huge pile of cash to speed the process. So is Chelsea, with Antonio Conte. If United axes Van Gaal, it too will go forward before it goes back.
Arsenal fans might want to contemplate the problems of its recent rivals before letting go of nurse Wenger's hand.
Spurs subside — Nearly all soccer players can read. Tottenham players know there is a word in the Urban Dictionary coined for their club. Perhaps it affects them. A picture from Tottenham's 2-1 home defeat to Southampton on Sunday could be pasted in the dictionary next to the word "Spursy".
For the third straight game, Tottenham dominated early on, took the lead, could have scored more, then let its opponent back into the match and blew the victory. Against West Brom and Chelsea, Tottenham ended up with the draws that choked its league challenge.
On Sunday, despite enjoying 70 percent of possession, it lost and missed its chance to seal second place for the first time in 53 years.
Insider Notes: Why Leicester can compete in Champions League
What is most bewildering about this little run is the way Spurs start games by slicing opponents open and finish by tamely pummeling the same defenses with as much menace as a punctured beach ball.
Perhaps the problem is physical. But Mauricio Pochettino's team is famously the fittest in the Premier League. So, it is more likely to be mental.
Tottenham keeps doing Spursy things. It cannot beat Arsenal, even when one goal up and playing against 10 men. It cannot beat Chelsea, even when two goals up. Last Monday, Tottenham, perhaps consciously trying to be unSpursy, set a Premier League record with nine yellow cards in one game. The result was the same. Spurs unraveled. Chelsea fought back for a draw.
The big question ahead of Sunday was whether Tottenham could win and ensure it finished above Arsenal for the first time since 1995. Perhaps, inevitably, it did something Spursy.
The later result at Manchester City assured Tottenham of third place, its best finish since 1990, and direct qualification to the Champions league for the first time (unless we count the Champions Cup in 1961). That's good. But Arsenal's point means that if Tottenham loses at Newcastle next week, the Gunners can overtake their neighbor on the final day - again.
If that happens, perhaps the Tottenham players should get "Spursy" tattooed on their foreheads.
Simple Sam — Seventeenth place is the lowest position a Premier League team can occupy and survive. It is also the highest place Sunderland has occupied at any stage this season.
With just a week to go in the season Sunderland regained the bottom secure rung on the ladder on Saturday as it bear Chelsea, 3-2, while fellow cellar dweller Newcastle drew, 0-0, at relegated Aston Villa.
Sunderland gained its edge for two reasons. It put forth the necessary effort, while Newcastle, after its recent Rafa revival, flat-lined. Also, Sunderland's designated goalscorer scored while Newcastle's could not.
One consistent characteristic of Sunderland's escapes over the last eight years has been inconsistency. The Black Cats swing inexplicably between inept and quite good. No wonder the club churned through eight managers, including caretakers, in less than five years.
Atletico the favorite in all-Madrid Champions League final rematch
Under Sam Allardyce, who took over in October, the team has finally begun to turn up for work every week. At first the players might have wondered if the extra effort and discipline was worth it, as more sweat yielded the same disappointing results.
Yet on Saturday Sunderland beat the reigning champion to take its unbeaten run to four whole games. Sunderland is far from the finished article. Its defense is much better but is still far from good. It fell apart twice to allow Chelsea two easy first half goals.
For Newcastle, Papiss Cissé was again missing in action at Villa. Cissé seems to have developed an allergy to the penalty area. Yet Rafa Benítez has started him instead of the less mobile but more single-minded Aleksandar Mitrovic, who has eight goals this season. Perhaps the coach cannot bare the pain of watching Mitrovic get into the right positions and then miss, narrowly, as he did twice in the last 30 minutes on Saturday. 
Big Sam does not need to play striker roulette. At 33, more than two years after being deported to MLS, officially a washout, Jermain Defoe has stayed fit and scored 15 goals – his second highest total in a Premier League season (he his 18 for Spurs in 2009-10).
"We've crawled out of the bottom three by the number of goals that he's scored," Allardyce told the BBC on Saturday. "Without him I dread to think where we'd be as a team."
Just stick it in the net — Norwich manager Alex Neil should listen to Big Sam.
Part of soccer's global appeal is that it is such a simple game. Kick a ball over the line, in between the posts, and you score a goal. Score more goals and you win. You don't need a FIFA coaching badge to understand that.
Middlesbrough promoted to EPL after draw with Brighton
Yet week in and week out Neil picks Cameron Jerome in attack. The alternatives available over the course of the season may not have been attractive: Dieumerci Mbokani, Steven Naismith, Patrick Bamford, Kyle Lafferty and, for the first few games, Ricky van Wolfswinkel.
Even so, Jerome must have qualities invisible to the normal human eye. Managers clearly like him. He has appeared in 210 Premier League matches. That's enough to know he cannot score. He has hit just 32 goals in the Premier League. That's barely one in seven games. This season he has scored three league goals in 33 appearances, or once every 558 minutes on the field. The traditional par for a striker is one every 180 minutes (Defoe is at one every 164 minutes this season).
Before Saturday's game against Manchester United, Jerome had appeared in 15 league matches since scoring (against United). Maybe Neil was playing crude mathematical probability. It never looked like working. Like Mitrovic, Jerome had two excellent chances. He squandered both with tame headers. Even Jerome knows he cannot score.
Naismith is a lightweight. Mbokani plays like a tased buffalo. Yet this season both have scored at twice the rate of Jerome. They would have given Norwich a slim hope.
As it is Norwich have tried to beat relegation without scoring goals. Mathematically, it still has a chance if pulling it off. That would be a miracle.