Continuity key for Klinsmann, USA in final tune-ups for World Cup qualifying Hexagonal
While the October friendly opponents might usually dictate Jurgen Klinsmann calling in new faces, the looming World Cup qualifiers in November means you should expect to see a familiar U.S. roster on Sunday.
For much of the planet, the October international break is big one, circled on the calendar as a potential launch pad or turning point on the way to the 2018 World Cup.
The final round of qualifying begins in Africa, where Nigeria, Algeria, Cameroon and Zambia kick off their group of death. Australia and Japan meet in a massive Asian qualifier on Oct. 11 in Melbourne and the South American marathon continues with 10 games. There, the top seven teams, led by Uruguay, are separated by just five points. Europe, home of the past three World Cup winners, is just getting underway but a pair of matches that seem almost too big to happen so early will take center stage: On Oct. 6, Italy will host Spain in Turin and four days later, the Netherlands welcomes France to Amsterdam.
Meanwhile, CONCACAF pauses. The semifinal stage has ended and the Hexagonal, which will send three teams to Russia and a fourth to an intercontinental playoff, doesn't start until November. For the U.S., however, the Hex starts with a bang. First, there's the quadrennial showdown with Mexico in Columbus. Then, the Americans visit Costa Rica, where they've never won.
Roadmap to Russia: The USA's 2018 World Cup qualifying Hexagonal task
Stumbles are survivable in the Hex. But for a U.S. squad that seems to have rediscovered some of its swagger following a tough 2015 and early '16, letting momentum slow or doubt intrude isn't a good idea. A good start is crucial. And that puts Jurgen Klinsmann in an interesting situation this week as he selects a squad for two upcoming friendlies that, considering what's going on around the rest of the world, appear quite anticlimactic.
Klinsmann is scheduled to unveil his team on Sunday. The Americans will gather and train in South Florida and then travel to Cuba for the first time in eight years. After an Oct. 7 game against the "Lions of the Caribbean," the U.S. will head to Washington, D.C., for a couple more days of practice and then an Oct. 11 exhibition against New Zealand at RFK Stadium.
• SI VAULT: Goal Embargo–U.S. men eke out World Cup qualifying win in Cuba in 2008
Neither game will present much of a test. Cuba hasn't played a full international since March, when it was eliminated from the Caribbean Cup (and thus the 2017 Gold Cup) after finishing last in a three-team group featuring heavyweights Bermuda and French Guiana. New Zealand, ranked 88th in the world, was scheduled after a potential game against Ghana fell through. The All Whites will bring a relatively inexperienced squad to the US, with only seven players (led by Leeds United forward Chris Wood) on at least 10 caps.
Typically, games like these might prompt a manager to take a few chances or try out players or combinations that might establish a foundation for the long-term future. But Klinsmann's focus on post-Copa América continuity and the importance of those November qualifiers all but rules out that possibility.
• WAHL: LAFC, Swansea eye Bob Bradley; Dempsey expects 2017 return
There's no reason to complicate matters at this point, and he's already got a few key decisions to make thanks to the emergence (or re-emergence) of several promising players and the absence of veterans like Clint Dempsey and Jermaine Jones. Klinsmann probably will call in as many familiar faces as possible while opening the door for a select number of players closer to the edge of the U.S. picture who might contribute in November. The manager's interest in keeping his European players in frame for their clubs for games on Oct. 15-16 likely will lead to some roster replacements following the trip to Cuba.
U.S. Soccer in 2016: USMNT and USWNT year in photos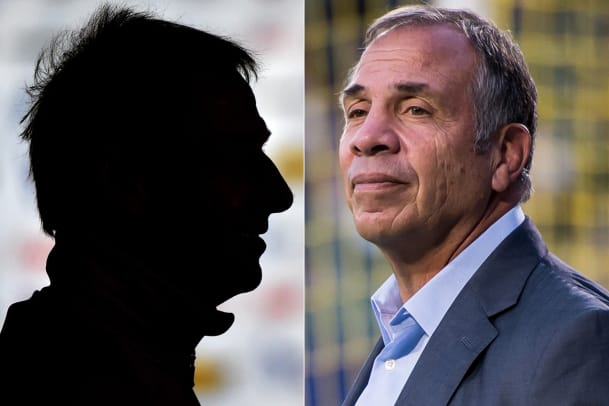 All eyes will be on Christian Pulisic, who impressed in last month's qualifiers and continues to take advantage of his opportunities at Borussia Dortmund. The clamor to see the 18-year-old in Klinsmann's first 11 is growing and with Gyasi Zardes out with a broken foot, the only attacking incumbent who seems a more likely October starter is Alejandro Bedoya.
In central midfield, veteran Sacha Kljestan has returned from international exile and staked his claim to additional minutes alongside captain Michael Bradley with strong performances for the New York Red Bulls and in the September qualifiers against St. Vincent and the Grenadines and Trinidad & Tobago. Newly-minted Heart of Midlothian skipper Perry Kitchen and Reading's Danny Williams may be ready to challenge Kyle Beckerman for minutes in defensive midfield, and Fabian Johnson may get a look on the flank if Klinsmann can find another answer at left back. The manager started FC Dallas's Kellyn Acosta there against St. Vincent.
Christian Pulisic provides spark, optimism in first USMNT start
Klinsmann has almost too many options at center back and may have his plans determined by John Brooks's recovery from a groin injury that recently confined him to the bench at Hertha Berlin. If Brooks is called in and able to play, the focus could focus be on cementing the his Copa América partnership with Geoff Cameron. Otherwise, the door might open for Omar Gonzalez or Steve Birnbaum.
Up front, the national team appears equipped to handle the absence of a player like Dempsey more comfortably than at any point in its recent history. Jozy Altidore and Bobby Wood are the likely starters. Jordan Morris has hit his stride in Seattle (without Dempsey) and should be called in, although the Sounders may ask for his early return with an MLS game scheduled Oct. 12. AndKlinsmann now has the opportunity to get another look at the likes of Aron Jóhannsson, who's finally back on the field for Werder Bremen, and Rubio Rubin.
Mailbag: Pulisic's present and future; USMNT hex home sites, more questions answered
The players knocking on the door will be closer to proven than to prospects. There is room over the next couple of weeks for Klinsmann to offer opportunities to some of the latter, whether it's Philadelphia Union defender Keegan Rosenberry, midfielders Paul Arriola (Club Tijuana) and Lynden Gooch (Sunderland). But continuity will be prioritized. Despite the nature of the October opposition, the challenge coming November renders the time Klinsmann will have with his players more important than the schedule suggests. If that means training is tougher than the games, so be it.
The Americans' upcoming friendlies will be overshadowed during this international break, but they'll help set the stage for when the spotlight shines on Columbus and Costa Rica.