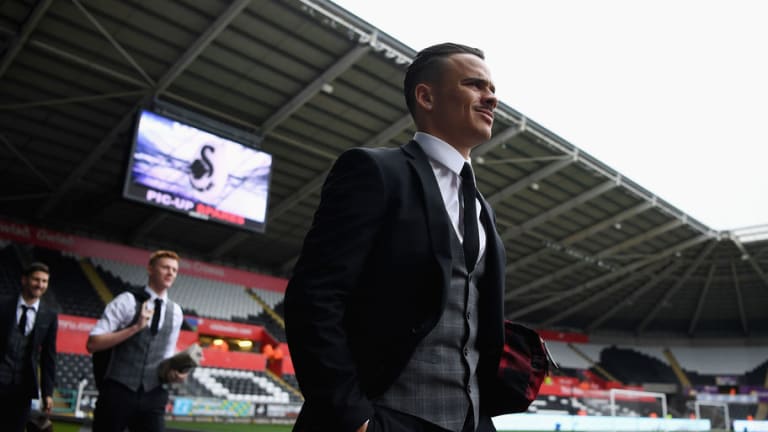 FanView: £30m Worth of Players Out on Loan Shows the Complete Incompetence of Swansea City FC
As Roque Mesa inches closer to a loan switch with La Liga outfit Sevilla, the Spaniard represents yet another failure of Swansea's recruitment. Gone are the days of a £2m Michu signing that will readily light up the Premier League; instead, the club are hellbent on panic buying an expensive foreign player in an attempt to appease fans with a high profile signing (well, high profile in terms of little old Swansea).
Did you know, once Mesa signs his deal with Sevilla - which, let's be honest, is almost guaranteed at this point - Swansea will have £33.6m worth of players on loan in La Liga? Pretty gruesome reading for a team sat at the foot of the table, isn't it?
Those players come in the form of Mesa himself (£11m), the club record signing of Borja Baston (£15.5m), with Jordi Amat (£2.6m) and injury prone Jefferson Montero (£4.5m).
Now, for the two latter players - Amat and Montero - their loans are actually somewhat smart. Until that bloody hamstring of Montero's started playing up, he was quite an integral part of the Swansea set up on that left wing; and his season away from the Liberty was to serve a purpose of building up game time before coming back to the physicality of the English top flight. That was in theory, anyway.
He's played a total of 54 minutes for Getafe. Laughable. Four appearances at the end of January and he's made absolutely no impact.
Amat isn't quite so depressing. 12 games under his belt with Real Betis this term is certainly more than he would've received in Swansea, and with a pretty solid set of centre-halves within the squad at the moment, Amat is unlikely to ever play for the Swans again. He arrived into SA1 with promise, but with limited opportunity - and some very poor performances when handed them, Amat has been a failure. But for £2.6m, these risks are okay.
However, the problem isn't with Montero or Amat - who both at least seem to have served a purpose with the club.
The most frustrating pair are Borja Baston and Roque Mesa. Baston, the marquee signing that the Jack Army loved when he arrived, immediately fell second string to Fernando Llorente last season and was never handed ample opportunity to prove himself - scoring one goal in the entirety of last season as Swansea were dragged out of relegation almost single handedly by Gylfi Sigurdsson.
Mesa has very much been the same. He was an obvious signing from the board, and Clement refused to give the Spaniard a chance under him. Whenever Mesa played, he actually impressed, but for some reason the club have decided to ship him off back to his homeland.
It's rather mind-boggling, trying to figure out exactly who can be blamed for this comedy of errors that has left the club £30m out of pocket at a time where they probably need it the most.
There's a high degree of incompetency lurking within the club, and from the outside its almost impossible to pin down exactly where that stems from - though many would slap all the blame on Huw Jenkins.
That's a story for another day. Jenkins has a huge amount of flaws, but how can one man be blamed for the entire workings of a club? From the recruitment team's recommendations, to whichever manager has refused to play the players (don't forget, the signing of Baston goes right back to the days of Francesco Guidolin).
The current situation is merely another example of how poorly the club has been run over the last few years.
One thing is for certain; if Carlos Caralhal fails to bring any new players in before the January deadline (and in his defence, he seems to be working his socks off to sign someone), and the club get relegated with these players out on loan, there is going to be literal anarchy in the streets of Swansea come May.
Financially, the Swans have had a nightmare over the last two years - funnily enough, ever since the American owners came in. Imagine that £30m of loanees, coupled with the £60m earned from Llorente and Sigurdsson in the summer.
That's a £90m war chest.
Yet, what do the club have to show for it? Nothing. A failure to sign Nicholas Gaitan. Hindsight really is frustrating; but someone, or some body of people has to be blamed for this, and action needs to be taken. Be it fire as many of the board members as possible, improve the recruitment team, improve the data analysts and the scouts; sign a director of football. Do something other than fire the manager, for once.
As a Swansea fan it is heartbreaking to see all of this go on and have no opportunity to fix it. It's actually depressing to sit here and type it up. We've had Jenkins moaning about how little money the club has. £90m is not a small amount of money. Two years ago that would've broken the world record transfer fee.
You can't help but feel that as long as the inner club hierarchy stays as it is, Swansea are doomed.