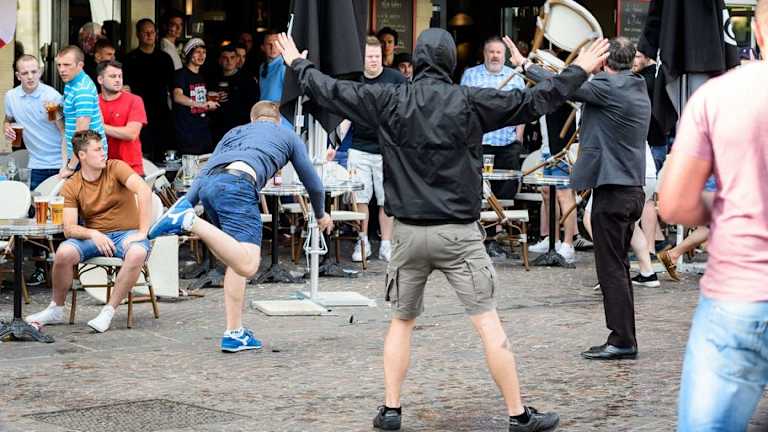 Russian Hooligan Wanted for 'Attempted Homicide' of England Fan Arrested After Extensive Manhunt
A Russian hooligan blamed for the 'attempted homicide' of an England fan was finally arrested on Wednesday, following a manhunt that spanned the entire European continent.
According to The Telegraph, an unnamed 31-year-old male suspected of beating UK resident Andrew Bache in the head with a metal bar and leaving him paralysed on the left side of his body, was detained at a Munich airport while trying to attend Spartak Moscow's Europa League fixture at Athletic Bilbao.
German Police have reportedly declared that the previously wanted suspect "now sits in jail" following the search. And he is believed to be staring up at a 15-year prison sentence in France for his alleged, gruesome attack on Bache before England and Russia's opening game in Marseille nearly two years ago.
A warrant was issued for his arrest after Bache helped British and French Police identify his assailant two months ago. 
German prosecutor Joachim Ettenhofer has since revealed that the suspect could be extradited to France within the next two weeks. 
"These things usually go pretty quickly," he is quoted as saying.
Three Russians were thrown in jail, with over 20 more getting deported from France as a result of the rioting in Marseille. And both England and Russia were threatened with disqualification from the tournament.
A Russian MP even sickeningly praised his violent compatriots following the bloody incident.
There are obvious concerns over the upcoming World Cup, set to take place on Russian soil, but the country's feared FSB security service have already begun cracking down on football gangs and blacklisting some of their leaders ahead of the prestigious competition.