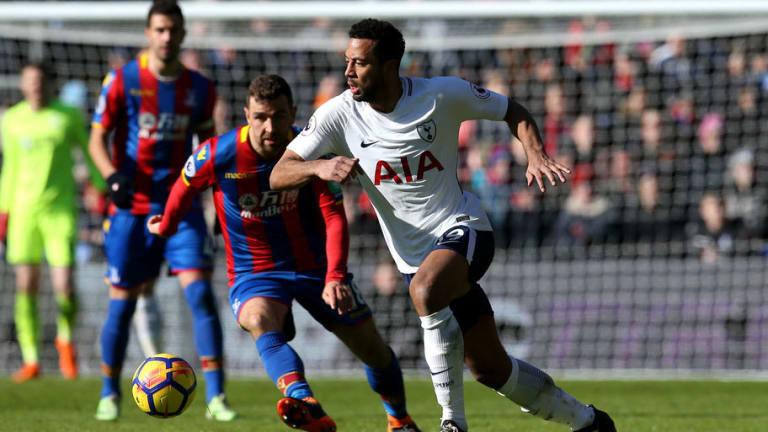 Spurs Midfield's Contrasting Performances in Palace Battle Hint at Trouble on the Horizon
The spine of Spurs' modest title challenge last season, Mousa Dembele and Victor Wanyama started only their second Premier League game together of the season against Crystal Palace in Sunday's lunchtime kickoff. 
The pair have both endured stop-start seasons after spending most of last season as the league's most effective midfield pivot, starting just 15 league games between them before Sunday. 
Injury has been a factor for both, but Dembele finally looks as though he's overcome a knock which kept him out for a few weeks in September and October - regaining full fitness and form after two months of disappointing and truncated performances.
The Belgium international has played a full 90 minutes just seven times in the 33 matches Spurs have played since he picked up an ankle injury back in September, but three of those came in the four games leading up to this trip to Palace - completing full games against United, Arsenal and Juventus and playing 79 minutes away to Liverpool. 
Wanyama, meanwhile, was starting just his second Premier League game of the season; despite being fit enough to complete 90 minutes in three of Spurs' four FA Cup ties stretching back six weeks, and playing 78 minutes in the other. 
The obvious implication is that, whether it's for reasons of formation, form or otherwise, the genuine Team of the Season contender from nine months ago is simply out of favour since coming back from a ligament injury the best part or eight weeks ago. 
An unexpected selection forced by Eric Dier dropping into centre-back in the absence of Jan Vertonghen and Toby Alderweireld, Wanyama looked instantly off the pace, committing a foul midway inside his own half after just two minutes; stretching for a tackle that was never there. 
A couple of simple passes were misplaced early on, belying the rustiness of a player who hasn't started against even a Championship quality side since August, but it was his decision making which was the most troubling. 
A dribbler nowhere near the quality of Dembele - possibly the league's most efficient with the ball at his feet - the Kenyan seemed determined to run down blind alleys at every opportunity, losing the ball by driving straight into a crowd of red and blue shirts with other options available. 
To directly compare the pair's performances may seem a little unfair - they are, after all, different players with different skillsets - but it seems the only way to treat their respective games when Wanyama seemed so intent on trying the things that his Belgian teammate has made a career of pulling off with ease. 
While Dembele drove through opponents with the ball at his feet, Wanyama drove at them. While Dembele's passes penetrated and made space, Wanyama's found the nearest available white shirt - or else an opponent. He dropped back for headers that his teammates had covered, confusing the situation enough to give Palace's dual battering rams the sniff of a chance they needed to steal the ball. 
A switch midway through the first half saw Erik Lamela and Christian Eriksen switch wings with some success, but an attempt at similar fluidity with the positions of Wanyama and Dembele never really took root. 
A two-minute spell in the second half saw flashes of the Wanyama of last season; a smart turn to hold off a Palace defender and an interception made to look easy with excellent body positioning, as the hosts backed off in the face of heavy Spurs pressure. 
Wanyama's sudden decline isn't necessarily terminal - he's 26 years old and less than a year removed from the best season of his career - but it does give Mauricio Pochettino a headache in the coming summer's transfer window. If he can no longer rely on the Kenyan to provide a genuine option in his midfield then it will be hard to avoid spending heavily on a midfielder in the summer. 
With the sum total of his other options being Eric Dier (an actual defender), Dembele (turning 31 in the summer and in need of a partner), Moussa Sissoko (bad) and Harry Winks (not a defensive enough player to fit the role), one of Spurs' major strengths could turn into a problem spot in time for next season. 
A revitalised Wanyama could solve that problem. But he looks a long way off that right now.