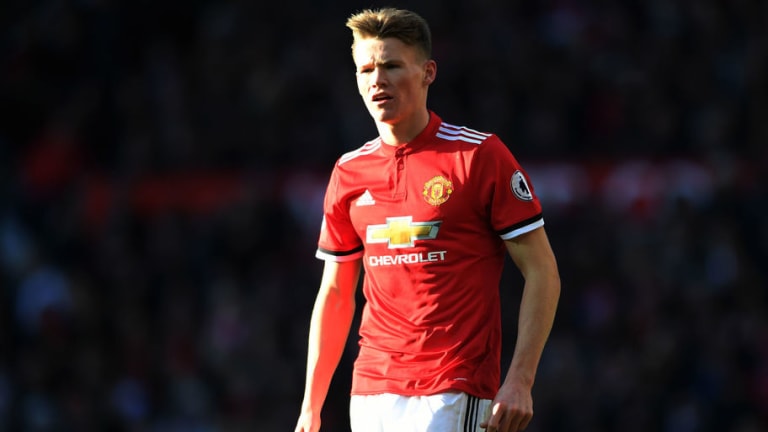 Manchester United Fans Praise Scott McTominay Following One Particular Aspect of Mature Display
Manchester United fans praised young midfielder Scott McTominay for another beyond-his-years display during the Red Devils' 2-1 win over Chelsea on Sunday, picking one incident in particular with teammate Nemanja Matic and Antonio Rudiger which displayed his levels of maturity. 
The Manchester giants secured the Old Trafford victory after both Romelu Lukaku and Jesse Lingard's strikes overturned the Blues' initial advantage, which was given to them when Willian drove his attempt past David de Gea in the first-half. 
However, despite the all-important three points, attention turned to the 21-year-old midfielder on social media for his part in extinguishing what could have been anything from a player-to-player spat to a sending off. 
As the Chelsea defender barged Lingard off the ball, and, in his eyes, was wrongly penalised for it, Matic elected to grab Rudiger with both hands in an attempt to reason; something the German was not too keen on. 
Things quickly escalated into a bit of a shoving contest, however, before they could go any further McTominay jumped in between the two opposing men to diffuse the situation, pushing Antonio Conte's centre-back away being the priority. 
The level-headedness of the youngster claimed much praise on Twitter, with many noticing, including his manager Jose Mourinho, just how much of a well-rounded talent the player is.
"He is a fantastic player, a player that is a modern midfield player, he can do everything", the Portuguese manager told reporters after United's 2-1 victory.
"The only thing he's not doing yet is scoring goals, which he can, the only reason he isn't is because of the job I am giving him. I think in the future he can, we saw that in pre-season, but I am very happy with him today."