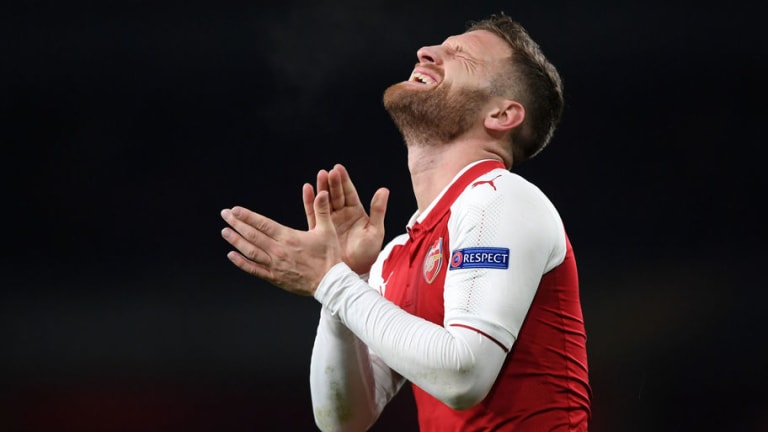 Shkodran Mustafi Reveals That a Team Meeting Helped Get the Gunners Back on Track Following Slump
Arsenal defender Shkodran Mustafi has revealed that a team meeting helped the Gunners make their way out of their recent slump in form. 
Arsenal have picked up three wins - including two over AC Milan - since their disastrous defeat to Brighton. Before this improvement in form, Arsene Wenger's men had lost eight games in all competitions since the start of 2018. 
Mustafi explains to Arsenal Player, via the Evening Standard, how a team meeting helped them get out of their poor form: 
"Everyone knew it was a difficult period. The meeting was about trying to listen to different opinions, different ideas and different feelings, and I think we found a way to try to change a bit.
"It's not that easy because one meeting is not going to change a lot, especially not during the season when you're playing every three days, but it was important to speak our opinions out loud. Overall it was about giving 110 per cent to try to get out of it, and I think we managed it well."
The focus on the remainder of Arsenal's season should be on the Europa League, with the competition being the most realistic route into the Champions League for the North London side. They face CSKA Moscow next week in the quarter finals. 
However, Mustafi believes that they should be targeting more than the Europa League: "To be honest, this season has been more disappointing for us because we had bigger targets. 
"One really big positive thing is that to be able to recover from such a period when everything goes bad and you're not in form, to be close together and come out of it as a team is a really big, massive thing.
"I've been playing in a lot of teams across Europe and I've been playing in teams where we have been doing well, I've been playing in teams where we've been struggling, and it's not easy to come out especially when you're a big team.
"You find yourself fighting in every game against every opponent. I think you have to give credit to the team because we managed to come together and go back to the basics. Everyone was fighting for each other to try to get back on a winning streak."