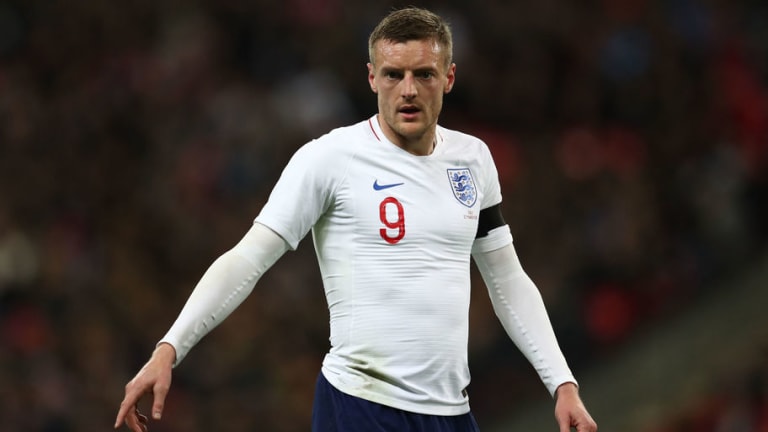 'I Don't Know What it Stands for': Jamie Vardy Hilariously Weighs in on Latest VAR Controversy
Leicester City's Jamie Vardy has admitted to knowing very little about VAR, as he conceded he does not know what it stands for, or understand how it works, after the technology was once again brought into question following England's draw with Italy on Tuesday.
Vardy's opening goal for the Three Lions - his first in a year - was cancelled out with only minutes remaining after Lorenzo Insigne netted a penalty for the visitors after the referee awarded Italy the spot kick via the video assistant referee.
Confusion reigned for both fans and players inside Wembley as the referee consulted with VAR on the touchline following James Tarkowski's foul. England manager Gareth Southgate was one of the first to question the process after the game, as he complained the incident did not fulfil the 'clear and obvious' criteria for the technology to be used.
With VAR set to be deployed at the World Cup, Vardy conceded England's opponents will understand the process better having played under it more regularly - with trials having already taken place in the Bundesliga, Serie A and Portugal's Primeira League. 
Before a question could be asked in the press conference, Vardy said, via the Telegraph: "Don't ask me about VAR. I don't know what it stands for. I wouldn't be able to give you an answer if you asked me.
"It just says VAR's in use and if you are on the pitch, you are just stood around not knowing what's going on and the crowd is just sat there waiting. That's the worst thing about it.
"I know they use it in other sports where it's actually up on a big screen so that everyone can see what the video ref is looking at, but, at the minute, we're all just standing there waiting."
With one experience of VAR under his belt during Leicester's FA Cup clash, the striker admitted he is concerned with the time taken to make a final decision. 
He added: "We had one in the FA Cup against Fleetwood where Kelechi Iheanacho's scored, the ref's gone to VAR, he's literally not had the chance to celebrate with his team-mates and then at the end of it all it's just like school kids running around everywhere, 'yeah, we've scored, where is he, let's go celebrate'. It's got a lot of work that needs doing to it."
Despite the confusion, the Leicester striker is adamant that England players do not need further education on the process as he said: 
"We've had as much instruction as what can be given out. It's obviously a work in progress in the competitions in England.
"It's just one of those things we have to deal with and, hopefully, it will be spot on come the World Cup. Other countries have already got it in their leagues and it's worked for them, so why can't it work for us?
"It's still down to the referees to try to get to the right decision in the first place. There is pressure on them, too. They don't want to go to VAR all the time to change the decision they have made, so it's all about practice."