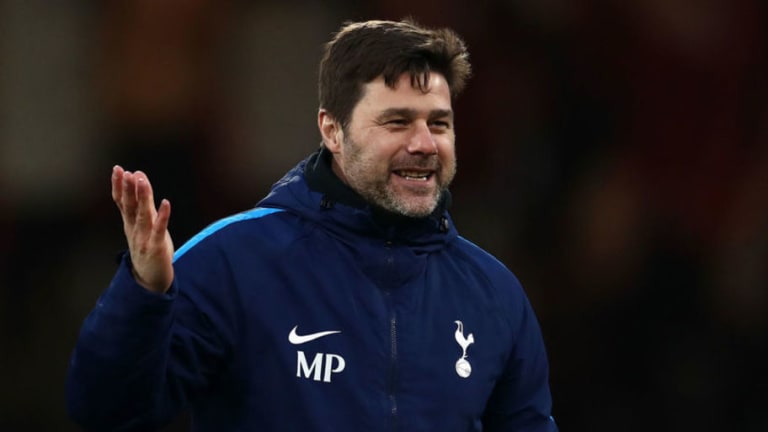 Chelsea Look to Inflict Double Blow to Tottenham By Recruiting Their Manager After Securing Top 4
Chelsea will target Tottenham manager Mauricio Pochettino in the summer, but only if they beat Spurs in the race to secure a Champions League place.
The Blues are out of the Champions League this season after losing to Barcelona in the round of 16, so their only means of qualifying for next season's competition is if they make the top four.
They meet Tottenham this Sunday in a game which could have a significant impact in who finishes in the top four. Chelsea are fifth in the Premier League table as it stands, five points behind fourth-placed Tottenham, with eight games remaining.
But even if they qualify for the Champions League, Chelsea manager Antonio Conte could still leave in the summer. If that happens, they apparently already have a number one target to replace him. According to the Telegraph, the Blues' ideal replacement would be Spurs boss Pochettino, with Conte expected to depart the club.
Other managers like Luis Enrique and Thomas Tuchel are reportedly unlikely to be put off by the job even if Chelsea fall short in the race for the top four.
However, Chelsea realise the difficulty in convincing first choice Pochettino if they fail and believe they must qualify for the Champions League if they have any hope in bringing him to Stamford Bridge.
Ahead of this Sunday's big clash Conte praised Pochettino for how he has improved Tottenham. According to Talk Sport, he said: "I consider Mauricio Pochettino a really good manager. I think that, if Tottenham grew a lot in this period, he has a lot of credit for that.
"We are talking about a team who, in the last period for many years now, they are competing to win the title. Two years ago, they were very close to winning the title when Leicester won it. Last season they tried to compete with us. Don't forget that only one team can win the title. 
"You start every competition with six teams, six top teams who are ready to win something during the season. For example, last season, Chelsea won the title, Manchester United won the Carabao Cup, and Arsenal won the FA Cup.
"This season, probably Manchester City will win the title, but they dropped in the FA Cup. It's not simple."