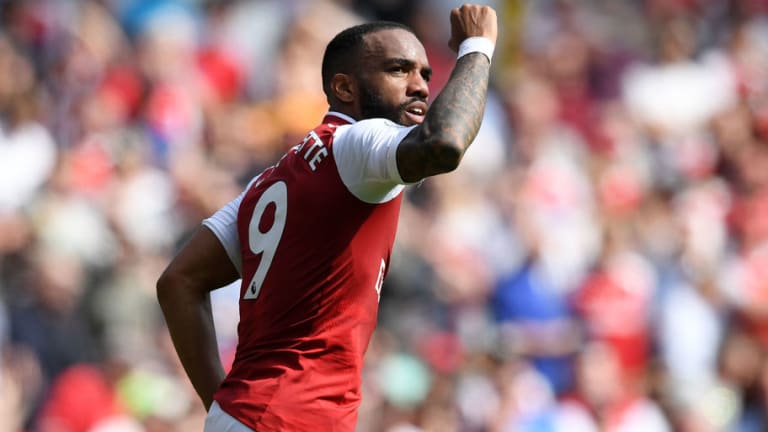 Former Arsenal Star Claims Alexandre Lacazette Is Key to Gunners Chances Against Atletico Madrid
Former Arsenal forward Charlie Nicholas believes that Alexandre Lacazette could be the man that leads the Gunners to victory over Atletico Madrid on Thursday night in the first leg of the two side's Europa League semi-final tie at the Emirates.
In his column for Sky Sports, Nicholas wrote (via the Sport Review), that despite the current circumstances at Arsenal, with Arsene Wenger's announcement that he will leave the club at the end of the summer, the team was not overly convincing on the weekend against West Ham United.
"I thought it was a really strange selection not starting Pierre-Emerick Aubameyang. Alexandre Lacazette has found himself some scoring form but he's probably still thinking he wishes his move to Atletico Madrid had gone through in the summer," said Nicholas who made over a 150 appearances for Arsenal in the 1980's.
Arsenal's important 4-1 win over West Ham United on Sunday saw the 26-year-old Lacazette continue his fine goal scoring form of late, scoring twice in the second half. Lacazette has scored six goals in his last six games for Arsenal in all competitions and looks to have finally found the form that made him a wanted man by Arsenal in last summer's transfer window.
Nicholas however, believes that although there's not much to separate the two teams, Atletico Madrid could be the better team defensively; an area that has caused a lot of problems for Arsenal this season.
"Atletico are heavy favourites for me with their defensive strength and Arsenal's backline constantly making me nervous. How Shkodran Mustafi is still in the team is beyond me, but the competition isn't really there."
Arsenal would be desperate to finish Wenger's career on a high and winning the Europa League will place them back in the Champions League for next season.