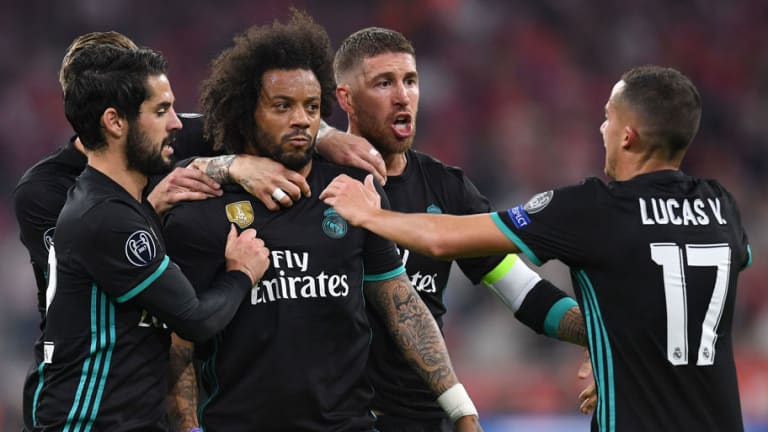 'My Goodness': Twitter Reacts as Full Backs Grab the Headlines in Real Madrid's 1st Leg Win
Finally! A UEFA Champions League semi final between two of the best teams in Europe. 
'But there was a Champions League semi final last night too?' Yes, but it was between Liverpool and AS Roma... Liverpool and AS ROMA.
Last night's 'clash' between England and Italy's fourth best teams was, in truth, more worthy of the Europa League than the Champions League. Thankfully tonight however, we were blessed with a genuine heavyweight meeting between to European giants, and it's fair to say that Twitter was fairly excited by this: 
Within ten minutes of kick off Bayern Munich fans' pre match excitement from Bayern Munich turned to dread, sadness, dejection (insert more sadness synonyms here), as they watched their star man Arjen Robben being carted off with an apparent muscle strain: 
Despite Robben's injury, Bayern continued to beat on, boat against the current, borne ceaselessly into the past*, and ensured that the aforementioned woe felt by Bayern Munich fans all across Twitter didn't last too long. On the half hour mark, a powerful right foot strike from Joshua Kimmich and some horrendous goalkeeping from well known horrendous goalkeeper Keylor Navas, gave Bayern a 1-0 lead: 
*words courtesy of F. Scott Fitzgerald
Just as I finished collating Tweets for Kimmich's opener, another full back decided to pop up with a goal. Despite Bayern Munich's first half dominance, it wasn't Kimmich or Rafinha (it's never Rafinha), it was Real Madrid's Marcelo, who grabbed a crucial - and brilliant - away goal for Los Blancos. 
The Brazilian international's goal was so crucial in fact, that some Real Madrid fans went full cap locks on Twitter to celebrate. Because that's how we celebrate goals nowadays? 
Ten minutes into the second half, a third and final full back decided that he too wanted to make the headlines. 
With the tabloids in mind, Rafinha decided to play a square ball directly into the path of Lucas Vazquez, who was subsequently able to tee up Marco Asensio for Real Madrid's second goal of the evening: 
After Rafinha's costly error, through self-nullification rather than great defending form Real Madrid, Bayern's hopes of grabbing an equaliser petered out. Los Blancos were genuinely bad, but the Bavarian's - somehow - found a way to be worse:
A 2-1 away win at the Allianz Arena will look impressive in the history books. But with Bayern Munich being explicitly hampered by injuries to some of their star players, and essentially just shooting themselves in the foot in the second half, a questions remains: is the 2017/18 Real Madrid good, or just unbelievably lucky?