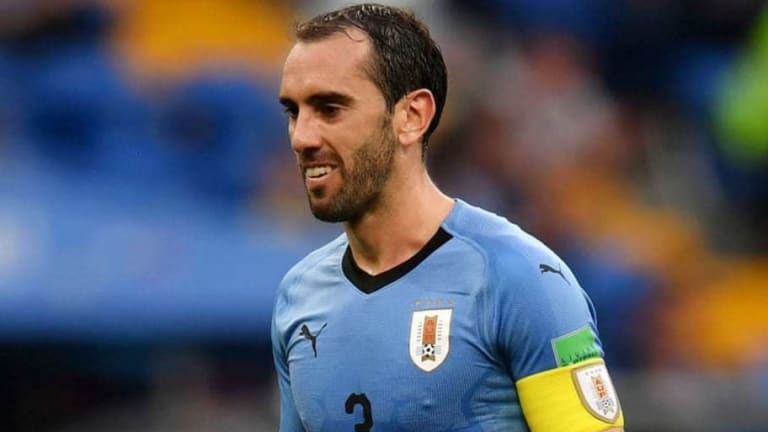 Initial Reports Shown as False After Story Links Atletico Madrid's Diego Godin With Man Utd Move
Reports in the UK are currently claiming that Manchester United are targeting Atletico Madrid centre back Diego Godin. The 32-year-old has a release clause in his contract that allows him to leave the Wanda Metropolitano for around £18m, but these claims seem to be sorely mistaken.
Godin is enjoying his World Cup right now, and his performances in a Uruguay shirt could easily be catching the eyes of any potential suitors. Alongside Atletico teammate Jose Gimenez, he forms one of the tournament's strongest defensive partnerships, and it looks like some news outlets have gotten a little carried away in the midst of a hectic transfer window.
According to Manchester Evening News, Spanish news outlet AS has claimed that Manchester United are keen to sign Godin at a bargain price of £18m in the coming months, with only a year left on his Atletico contract. The report also states that Juventus are interested.
Understandably, this would excite Untied fans. Godin is one of the finest defenders on the planet, and even at 32, he's still at the top of his game.
However, don't believe everything you read. In actual fact, the real AS report on Godin on Tuesday morning has absolutely no mention of his possible departure from the Spanish capital.
Instead, the Spanish outlet explains how he's close to agreeing a new deal with Atletico, and has one more big contract in his career before retirement. His £18m release clause is mentioned, but it seems as though a new deal is as good as signed by the way the AS report reads.
With that said, MEN's claims could well have come from the printed version of AS' Tuesday paper, couldn't they? While United fans would be clutching at straws for that one, Sport Witness took to Twitter to quash it.
Apologies Red Devils fans, it looks as though you've had your hopes brought up for nothing.