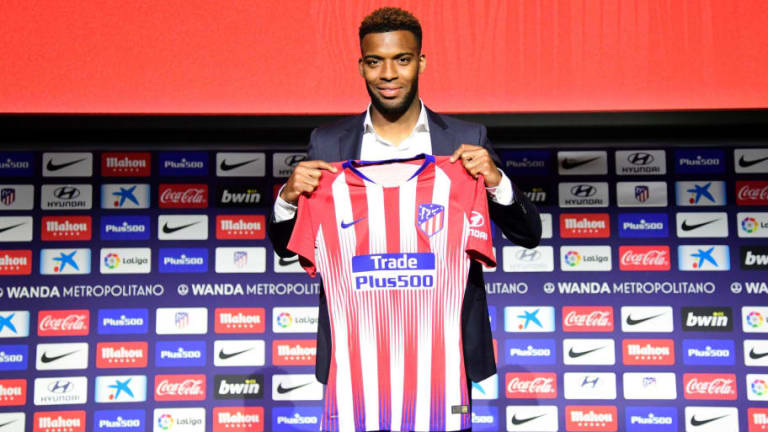 Thomas Lemar Says Atletico Will 'Give Everything' to Win the Champions League Next Season
New Atletico Madrid midfielder Thomas Lemar has vowed to give everything for the club, as he embarks on a new journey in Spain following his summer move from Monaco.
The Frenchman officially joined Los Rojiblancos last week, having been agreed over by the two clubs in mid-June, and was unveiled to the press on Tuesday.
He will now seek to improve the side's prospects in La Liga, but is also aiming to help them get over the Champions League hurdle and finally get their hands on the coveted trophy.
"Sure, can be and is a goal," he said in quotes cited by Mundo Deportivo. "We will do everything, we will give everything to go as far as possible and try to win the Champions League that will be played at home, in our stadium."
The player has also said that the possibility of winning the Champions League wasn't his main motivation for joining Atleti, also revealing that conversations with compatriots Antoine Griezmann and Lucas Hernandez were key in convincing him.
"It has not been decisive for my choice but it did weigh to come. Antoine and Lucas have told me about the club, how it works and I really liked it. I am very happy with my choice."
"They told me it was a club that was going to help me make a lot of progress with this technical staff, coach and teammates. and a template to win titles and that's why I came. I hope it stays the same because they have recently won the Europa League."
Lemar also claimed to be fully aware of the demands being in a team like Atletico places on players.
"Antoine and Lucas had already told me [the challenges], I'm living it," he continued. "This is much more difficult, more demanding than what lived in Monaco. I will have a season to adapt. 
"It does not bother me. I have the ability to run a lot and cover a lot of field. I know that here there is a requirement with the team. If you have to run more I'll be happy.
"I hope to provide a plus, something more, as I said I put myself at the service of the collective I do not like to talk about me personally. I'm going to give everything for the club. "