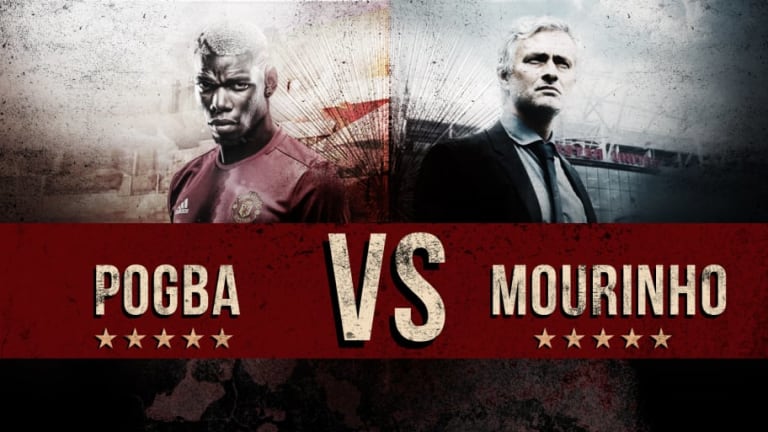 Paul Pogba & Jose Mourinho Are Tearing Manchester United Down and Neither Deserve to Stay
Jose Mourinho was sure to tell us over the summer that this season would be difficult for Manchester United.
It was his very public way of demanding more money to invest in his first team to keep pace with the top teams in the country. And given how United have started the new campaign; leaking goals, losing games and lacking any idea of how to formulate an attack, he was right to do so - it is his answer to everything after all. Chuck a bit of money at it and things will be alright.
But facing facts, Mourinho has had more than enough funding to take United higher than seventh place in the Premier League after six games and out of the Carabao Cup in the third round - at the hands of Derby County, no less. HisManchester United find themselves in turmoil, in crisis, in all of those cliched terms you can imagine that translate to "a bad time".
Lack of performance on the pitch is a concern, but it's not the biggest one for those who make the decisions at United these days. The club reported revenues of £590m earlier this week and project them to reach as high as £630m for the current financial year, so executive vice-chairman Ed Woodward is doing fine - no issues there. Woodward's instead doing the right thing taking his photo opportunities in the stands with a face like thunder after a bad result.
Sarcasm aside, it's two of Woodward's chief picks for commercial (and on field, have to say that) success who are steering this club into the ground. 
Mourinho has spent the majority of his stay publicly tearing his players down whether they've performed well or not, but his post-World Cup warning to golden boy Paul Pogba to repeat his form from Russia in United red appeared to be - for a time at least - one of the final times he'd take issue with the French midfielder.
It seemed Mourinho had realised that publicly challenging his players wasn't the right way to go about things. He'd shifted his tactics, even for a brief few weeks, offering praise and trust in a central figure. Pogba has captained United three times this season and been a match-winner relatively frequently, while Mourinho has bought two midfielders in the last two years to get the best out of him.
Pogba's reaction? To pick up the baton and beat his manager over the head with it. 
His first outburst of "saying what I actually think will get me fined" after scoring in the 2-1 win over Leicester was, while laced with truth and elements of frustration, needless and unprofessional. He couldn't control himself after drawing with Wolves on Saturday either, telling his manager to attack - even though he admitted he doesn't get to make those decisions.
He feels suffocated by a manager who he feels doesn't have his best interests at heart, and suffocated by outdated tactics which are leaving United streets behind two of their biggest rivals. But there's something bigger on his mind - the pull of Barcelona.
Having told the club seven weeks ago he wanted to leave and repeating it to Mourinho recently, the manager reacted correctly and stripped Pogba of his leadership duties. He should lose his place in the team too. It's normal for a player to want to leave for another club - that's modern football - but when said player deliberately undermines his manager and team for personal gain, he deserves to be cast aside. 
He's important, of course, but there's a line. And Pogba's crossed it. That other cliche of "no player is bigger than the club" is one mantra Man Utd still live by, barely, and it's up to Mourinho to continue enforcing that. The old "we don't sack managers" and "we play attractive football" lines aren't true anymore.
Some will cry double standards - undermining your club to make yourself look better is classic Jose Mourinho. It is. But Jose, as flawed as that method may be, is manager, and will run the club in the way he sees fit until he's told not to.
The bizarre thing on Pogba's part is the timing. There's three months until the next transfer window, and Pogba has no option but to stay until January. Even then, nobody can convincingly state that Barcelona have anywhere near enough money to pay the £200m asking price. Their last offer was as pathetic as United's performances this season.
Picking back up on performances, Pogba's behaviour doesn't mean there's no truth in what he's been saying.
Manchester United fans clamour for the swashbuckling football of Sir Alex Ferguson's heyday to return, and most feel - quite rightly - that if Mourinho can't bring the desired results with his style of play, then he has no business in the job. If you're not going to win anything, at least have some fun trying to.
United are best served cutting their losses as soon as they can, because the ship under Mourinho is sinking fast. You could even say it's already sunk. Making a change before this season's damage is irreversible is the smartest move to take - there's still the top four and the Champions League to play for.
But Pogba has this week inadvertently swung the momentum in favour of Mourinho with an upload on Instagram. As innocuous as it might have been, seeing a senior member of the playing staff and two of the team's brightest prospects laughing minutes after getting outplayed by and losing to a lower league club is, well, inexcusable.
Word that Mourinho has apologised after the details behind the upload were revealed (taken in game, uploaded after full time by accident) following a very public training ground spat might paper over the cracks, but Pogba's carelessness is a symbol of his disrespect for the manager and the club. A video like that, in this isolated case, has no business on social media.
Ed Woodward is now in a very difficult position. It seemed before this week that it was only a matter of time before Mourinho's dismissal or resignation given results and performances, but what message would parting with the manager before a player who has shown such disrespect - intended or not - send out? The pressure will only further intensify with a bad result at a resurgent West Ham on Saturday.
Making a statement and picking Pogba over Mourinho would compromise the "no player is bigger than the club" ideal, while the reverse leaves an unhappy player in the ranks for three months at least - presumably continuing to clash while performances on the pitch continue as they are. There's little chance they'll improve in these conditions. 
Both men are dragging this club down in their own unique way. It's a depressing symbol of what Manchester United have become through mismanagement from top to bottom, a choice to invest in a series of strong personalities, and a refusal to stick to their own principles.
Most United fans will tell you they'd stick by Pogba over Mourinho - the Frenchman of course could flourish under the right manager at Old Trafford - but it's getting to the point where Pogba doesn't even deserve that chance either. That's whether he'd consider staying under different management or not.
Mourinho, meanwhile, has lost his touch and passed his usual point of no return. He might have won this week's battle with his star man, but that means little considering he's already lost the fans and, seemingly, the rest of his players when it matters most.
For Manchester United's own good, their traditions and their morals, they're better off without them both.