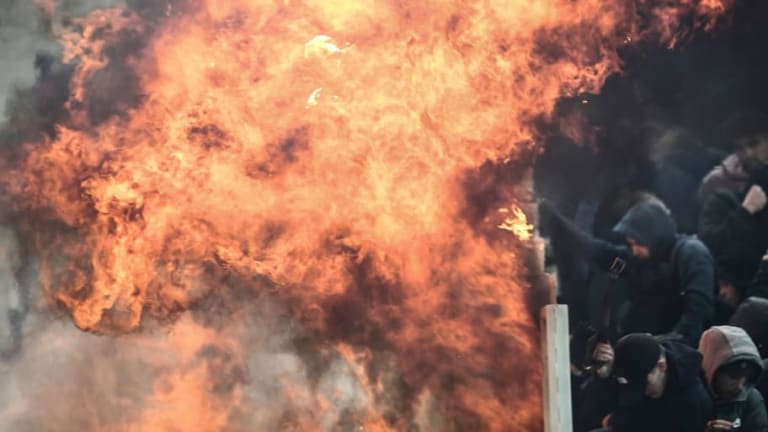 Video: Violence Erupts at Athens Olympic Stadium as a 'Petrol Bomb Is Thrown at Ajax Fans
Violence erupted prior to tonight's crucial UEFA Champions League meeting between Ajax and AEK Athens at Athens Olympic Stadium, with flares and a 'petrol bomb' being thrown at travelling de Godenzonen supporters. 
Shocking fan footage shows how fans ran onto the running track of the Olympic Stadium with a flares and what has been cited as a 'petrol bomb', before launching them directly into the away end, causing a huge ball of flames to erupt in the stands.
Following this, riot police were forced to intervene in the situation, with truncheons and shields being utilised in order to 'control' the away fans. This, as expected, sparked yet more crowd trouble as a number of Ajax fans were left bloodied and bruised due to the heavy handedness of the riot police. 
The stadium violence is a culmination of hooligan violence which has marred the lead up to the Tuesday night fixture in Athens. 
As reported by, Ekathimerini Ajax and AEK Athens fans had clashed in the Greek capital on Tuesday afternoon, with fans from rival from Panathinaikos said to be at the centre of the crowd trouble. 
'Petrol bombs' was also said to have been thrown outside Panathinaikos' stadium on Alexandras Avenue earlier on Tuesday. Riot police were also forced to intervene and disperse the crowds on that occasion.