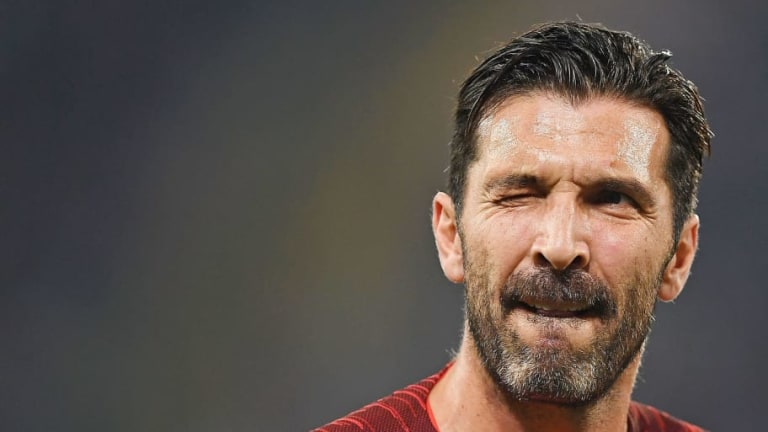 Gianluigi Buffon Makes Surprising Claim About Liverpool's Front 3 Ahead of PSG Showdown
Veteran Italian goalkeeper Gianluigi Buffon believes Liverpool's front three of Mohamed Salah, Roberto Firmino and Sadio Mané are currently the most devastating strike force in world football.
The former Juventus stopper, who has played alongside and against some of the most lethal attacking trios, made the claim ahead of the two sides' crucial UEFA Champions League meeting at the Parc des Princes on Wednesday. 
The Reds were prolific in front of goal in last season's Champions League campaign, setting a new record for the competition with 47 goals (including qualifiers), and Buffon, who is set to make his first start in the competition at home for the Parisians, hinted that he was expecting to come under-fire against the Reds.
Speaking to the Mirror, Buffon said: "Liverpool have a very strong team - but I do especially look at their front players.
"With Salah, Mane, and Firmino they have so much pace, so much creativity, and of course they are all big goal threats."
Buffon also admitted that his own side's front three of Kylian Mbappé, Edinson Cavani and Neymar were second best to the Reds' equivalent.
"Throughout my career I have always wanted to test myself against the best - and at the moment you really can't think of any teams in Europe who have a better front three than Liverpool."
Liverpool's trio of Salah, Firmino and Mané cost an approximate £100m, not even half the estimated price tag of Neymar, let alone the addition of the likes of Cavani and Mbappé.
Nevertheless, the Italian tipped the Anfield outfit as one of the favourites to lift the trophy by the end of the season, while also insisting he would love to win the competition, which eluded him on numerous occasions at Juventus.
"This season, I see the favourites for the Champions League as Barcelona, Juventus, and Manchester City. Liverpool as well have a big chance and you can never forget about Real Madrid.
"Of course it is still a dream of mine to win the Champions League - last season I thought would be my last chance, but now I have another one."