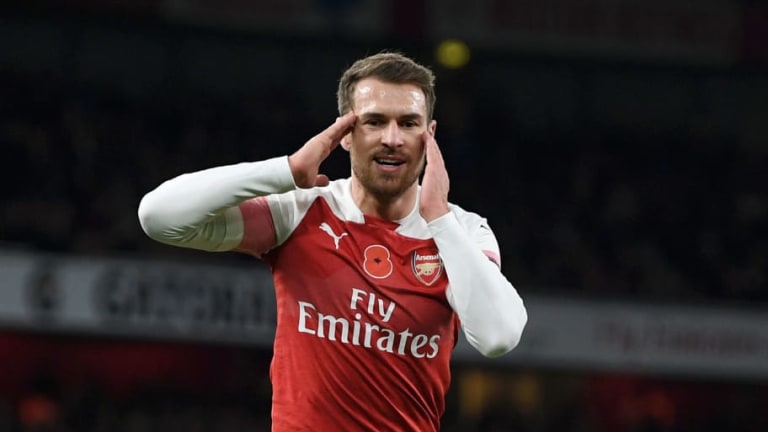 Arsenal Legend Lauren Explains Why Aaron Ramsey Would Fit Perfectly at West Ham
Arsenal legend Lauren has claimed that Aaron Ramsey should move to West Ham once his contract with the Gunners expires in the summer, with the midfielder's future still undecided.
The Welsh midfielder, who joined the north London club back in 2011, has struggled for consistent game time in recent seasons and has often found himself played out of position to accommodate bigger names in Arsenal's star-studded squad.
After much speculation surrounding Ramsey's future that has seen him linked with a host of Premier League sides and clubs in Italy, he confirmed earlier this year in an interview with The Guardian that he would be leaving the Gunners at the end of the season, saying: "I just have to carry on playing my football and do my best for Arsenal this season and I'll leave the rest with the club."
Lauren, who was a part of Arsenal's renowned Invincibles, told Sporting Bet that a move to the London Stadium would see the midfielder given more responsibility and become a big name at the club.
"West Ham could be a great fit for Ramsey should he leave the Gunners. He's settled in London so he won't want to move, but West Ham gives him the chance to get first team football whilst becoming a leader in the dressing room.
"Ramsey has been a fantastic player and role model at Arsenal, but it seems like he wants to move on now. There has been mixed messages coming out of the club and he'll be a great asset wherever he decides to go."
A move to West Ham certainly wouldn't be out of the question for Ramsey, with Hammers manager Manuel Pellegrini already doing business with Arsenal twice over the summer, signing Jack Wilshere on a free and wantaway striker Lucas Perez for a reported fee of around £5m.