Notre Dame's Lindsay Allen learning to become a more vocal leader
Notre Dame point guard Lindsay Allen is learning to speak up and take on a larger leadership role.
It was, Niele Ivey says now, not what she expected.
When the Notre Dame women's basketball recruiting coordinator and head coach Muffet McGraw went looking for the point guard who would have to replace Skylar Diggins, they fell immediately for Lindsay Allen, a 5-foot-7 guard in the class of 2013 from Mitchellville, Md. Ivey, herself a former All-America point guard for the Irish who led Notre Dame to its first national title as a senior in 2001, loved Allen's IQ, handle and court vision. She was ultimate floor general, Ivey says, and she looked like the perfect fit for Notre Dame.
Then the Irish got Allen on campus in South Bend in summer 2013 and realized one thing would be very different about this leader: Allen didn't like to talk.
"It has been an adjustment," Ivey laughs. "Obviously, it's very different from our last point guard. As a coach, it challenges me, too."
Named the starter in her first collegiate game of the 2013-14 season -- something no Irish point guard had done since 1994 -- Allen followed perhaps the most beloved player in Notre Dame women's basketball history. Diggins never brought a national championship back to South Bend, but she is widely credited with lifting the Irish into the upper echelon of women's college basketball, establishing Notre Dame as the second best program behind only powerhouse UConn. Diggins, now with the WNBA's Tulsa Shock, oozed charisma and personality, charming media and fans while leading the Irish to three Final Four appearances. She also talked nonstop, often loudly. Even now, when she returns to practice at Notre Dame once or twice a week and "puts the beat down" on current guards, Allen says Diggins tells people what to do. She's "bossy in a good way."
• SETH DAVIS: How Power 5 autonomy is already benefiting athletes
"Sky wore her heart on her sleeve for us," says Ivey, who tutors Notre Dame's point guards. "All that passion and determination, it came to her naturally. Sometimes we had to reel her in a bit."
Allen has been a different type of challenge. Quiet and introverted, her first inclination is to defer to others, both during locker room talks and on the floor. As a freshman surrounded by seniors, Allen let veterans speak in huddles and set a Notre Dame record for first-year point guards, handing out 150 assists. Her smarts, not her words, stood out to the coaching staff.
"She is one of the best players I've ever been around when it comes to going from a huddle to carrying out the plan," Ivey says. "Whatever coach McGraw drew up, she walked out and did it as a freshman. That's something I was really surprised by -- and it impressed me."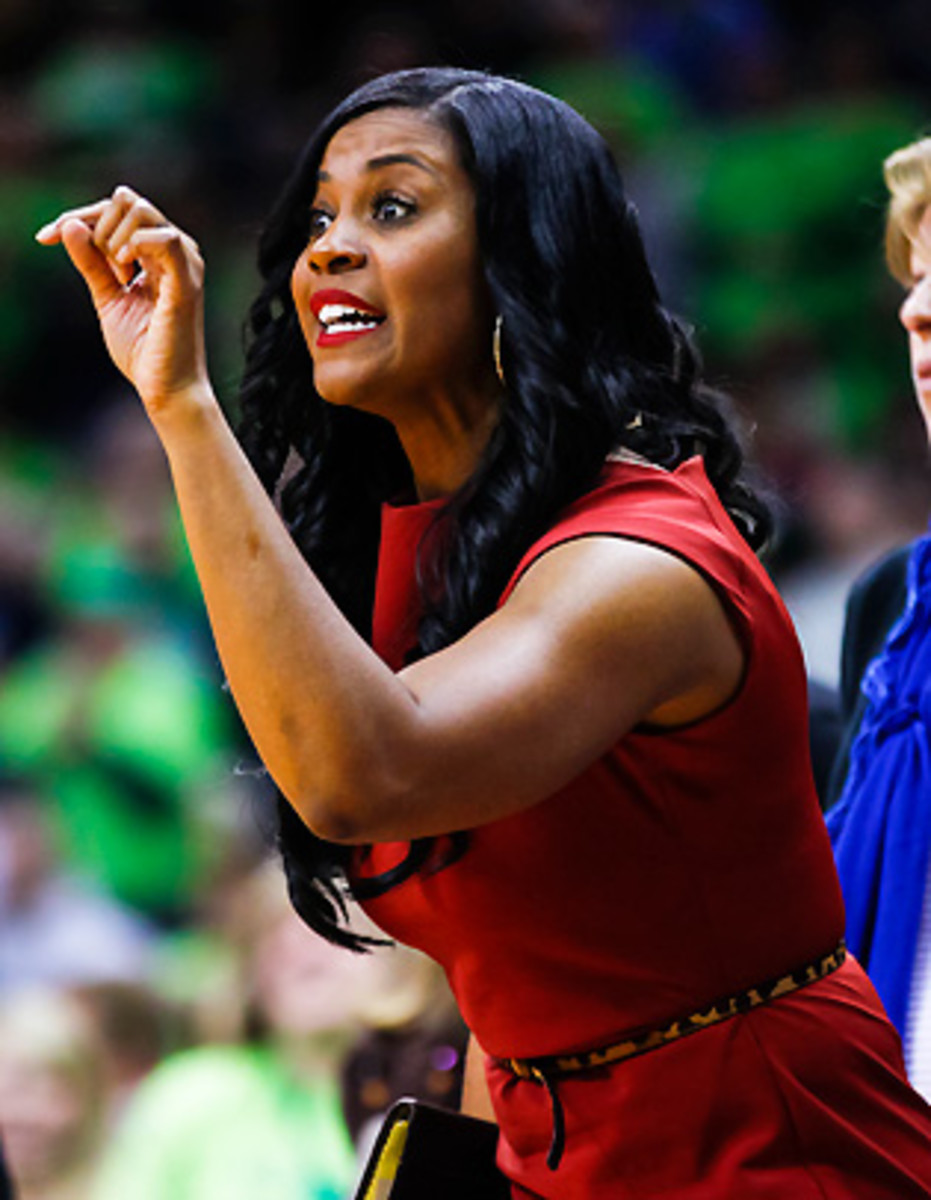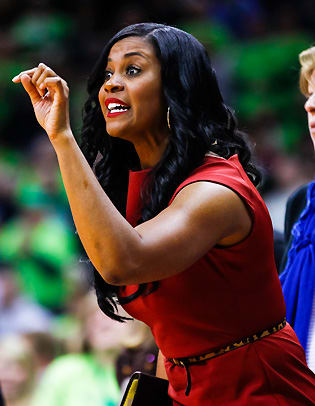 Then Notre Dame graduated two of its leaders, guard Kayla McBride and post Natalie Achonwa, and Allen's role had to change. Along with junior shooting guard Jewell Loyd, Allen would have to lead a group of youngsters through the brutal ACC -- six teams are currently ranked in the top 25 -- as well as a non-conference schedule not built for the weak-willed. The Irish have already played Connecticut, Maryland and North Carolina, and have a Big Monday date tonight with Tennessee. Besides looking more for her own shot, Allen would have to force herself to become more vocal.
A few playful threats from the coaching staff helped. McGraw and Ivey warned Allen that they'd be checking in with Loyd during offseason workouts and pickup games, asking if Allen was talking more. The prodding helped.
"It's sort of instinctual now, to speak up in the huddle," Allen says. "Almost."
Being "bossy in a good way" is something McGraw preaches every day, Ivey says. But everyone on the Notre Dame staff, as well as the team, understands it's easy for bossy women to get labeled another five-letter word that starts with the same letter, and isn't a compliment. Facebook's Sheryl Sandberg, the author of a best-selling book on leadership, Lean In, led a movement last year to "ban bossy." With help from superstar Beyonce, the phrase "I'm not bossy, I'm the boss," grew popular on social media sites. At Notre Dame, they're not ready to outlaw the adjective; they want players to embrace it.
"As a point guard, you're an extension of coach McGraw on the floor, and maybe sometimes your teammates don't want to hear what you have to say, but you have to be OK with that role," Ivey says. "Coach McGraw is always talking, with everyone in our program, about being a strong woman, about being a leader, being confident."
Being naturally quiet and withdrawn occasionally works to Allen's advantage. Where Diggins sometimes had to be told to cool down, Ivey likes that opposing teams never know for sure if they've rattled Allen. "She's got a poker face," Ivey says. If someone had watched only Allen, and her stoic demeanor, during last week's 89-79 win at then-No. 10 North Carolina, they never would have known the Irish at one point trailed by as much as 11. With 3:51 to go in the first half, Allen got an outlet pass and raced up the floor, choosing to ignore shooters on both sides of her and instead exploded to the basket, stretching up and under a UNC defender to bring Notre Dame within four, 34-30.
Pioneering coach George Raveling's surprising connection to MLK
"Our best offense is our transition game," Ivey says. "We needed an attacking layup, and she recognized that. Her poise in that transition, it was awesome. It ignited us."
In the second half, UNC went on an 11-2 run with 10 minutes to play that brought the Heels within two. When UNC's Stephanie Mavunga hit a deep three with 4:29 left to cut the lead to 78-77, Allen answered the next possession with a pretty pull-up in traffic. Through it all, her expression -- which communicates a feeling of "I'm not worried, and you shouldn't be either" -- didn't change. She finished with a career-high 24 points, shooting 9-of-12 from the field.
As they study video together, Ivey encourages Allen to look for more shots. Narrowing the gap between Allen and Loyd -- the junior Loyd averages almost 21 points per game and typically draws opponent's best defender -- will be critical if the Irish are to make another deep postseason run. Already Allen is one of the best in the country at taking her defender off the dribble. Ivey says becoming one of the best at clamping down defensively is next on the to-do list.
Allen will get a chance to try that tonight against No. 6 Tennessee. The Lady Vols (15-2) boast one of the top point guards in the country in senior Ariel Massengale, who leads her team with an 11.8 scoring average.
The sophomore doesn't anticipate having to be too vocal at home, where the crowd often stays quiet to help the Irish communicate. Still, she understands her role as a leader is ever-evolving, and the more she practices talking, the sooner she'll perfect it.
"Last year, someone would usually beat me to it," Allen says. "Right now, I'm trying to learn the ropes (of leadership) and that means being more of an encourager because I'm not that bossy. Yet."