Foreign players bolstering women's college hoops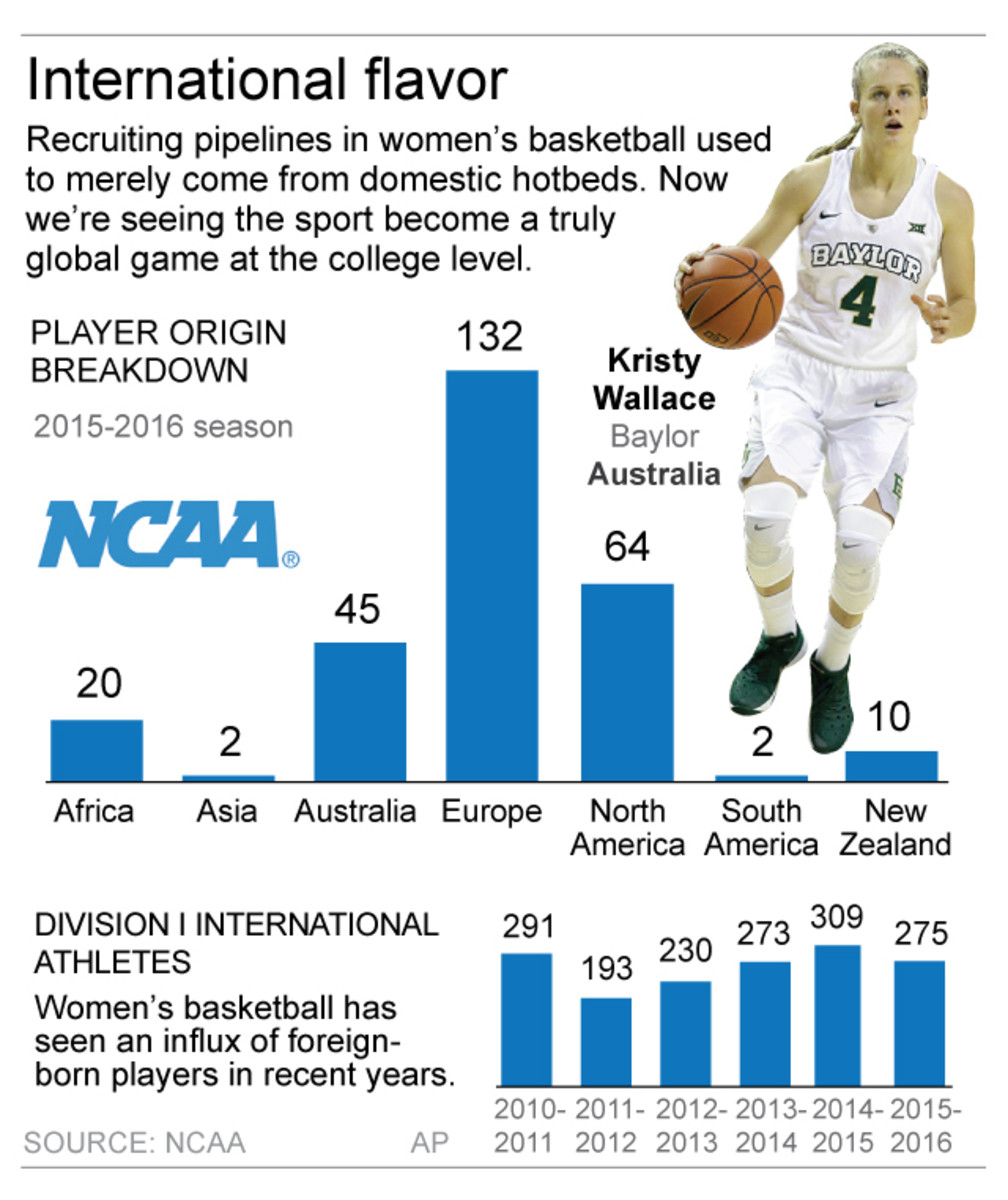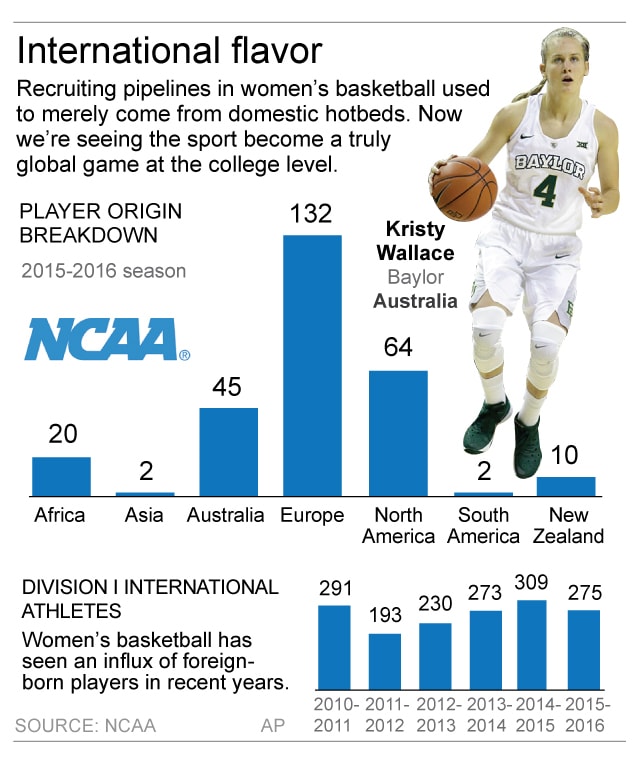 Chen Yue had little trepidation about coming 6,000 miles from Beijing to Cal to play for the 21st-ranked Golden Bears.
The 6-foot-7 freshman center, who is believed to be one of the first Chinese basketball players to play at a high college level, wanted to challenge herself both on the court and in the classroom. So heading to the U.S. was an easy decision.
''American colleges have a high level of basketball and academics,'' she said. ''It helps you not only with basketball, but for your whole life. It develops your whole character for the future.''
She is one of 275 international players competing this season in women's Division I basketball. Nearly 50 different countries are represented, including Russia, Spain, Australia, Brazil, Senegal, Canada and China. While that number is down a little bit from last season when over 300 foreigners were playing, there has been an upward trend over the past few years. Last season 4.9 percent of women's players were from foreign countries.
Daniel Prince, who runs Passion Hoops International - a company that helps foreign players connect with American colleges, said that number will keep rising. He has helped over 120 of the current women's international players find schools, including Chen. The schools pay a fee for Prince's scouting services, getting access to a vast database of international players.
''There's a lot more talent down the road wanting to come here and that will only help the game grow,'' he said.
Prince heard about Chen and knew she'd draw a lot of interest from top colleges. Her parents played professionally in China and she wanted to get a great education. Her transition to Berkeley has gone smoothly so far. It helps that nearly 20 percent of Cal's freshmen class is Chinese.
''It's not that different from home,'' said Chen, who grew up in Beijing. ''It definitely makes a difference that there are a lot of Chinese students here.''
On the court, Chen is still adjusting. She's played in eight games so far, averaging 2 points. The biggest difference for her is the physicality of play in the U.S. where players are stronger and there is a lot more contact allowed.
''It definitely is more physical here,'' said Chen, who has a smooth jump shot. ''It's something I'm learning to play through.''
While Chen is blazing a trail for Chinese players, Spain has been a hotbed for recruiting for the past few years. Twenty-one Spaniards are currently playing in the U.S., including Florida State star Leticia Romero and her teammate Maria Conde. While going so far away from home can be a challenge, especially around the holidays, the Spanish players try to help each other out.
They have a group chat in Spanish using the phone application WhatsApp where they can lend each other support, joke around and have a taste of home.
''It's a great way to keep in contact with each other,'' said Romero, who is spending Christmas in Canada with teammate Adut Bulgak and her family.
The downturn in the Spanish economy is a big reason why so many players from that country have come to the U.S. Spain used to be one of the top leagues with players earning thousands of dollars a month. Romero played in that league when she was in her teens going up against WNBA stars such as Maya Moore and Lauren Jackson.
''A lot of those players now that used to play in the top Spanish league want to get an education,'' said Prince. ''Their parents are doing their homework on playing in America now. They are crunching the numbers, why not get the best of both worlds. It's the best situation possible.''
The influx of foreign talent has also helped create more parity among schools.
''There really is so much talent all over the world that it's great to have a broader recruiting pool to choose from,'' said South Florida coach Jose Fernandez.
Fernandez has been finding international stars for years, and the 20th-ranked Bulls have players on their roster from Spain, Portugal, Latvia and Kenya this season. Fernandez takes a few trips overseas to watch tournaments hoping to find his next star.
Playing in tournaments helped Duke freshman Angela Salvadores get discovered. She led Spain to the U18 European championship this past summer. That came a year after the tournament's MVP scored 40 points against the U.S. in U17 world championship. It put her on the radar of many of the top teams in the country, including the Blue Devils.
''I wanted to get a great education,'' Salvadores said of coming to Duke. ''It's taken a little adjusting so far.''
The Blue Devils' third leading scorer may miss some of the comforts of home, but she has found a Spanish restaurant or two in the area that definitely has helped ease the transition.
''It makes it a little easier,'' said Salvadores, who was able to go home to Spain for a few days over the holidays.
---
Follow Doug on Twitter at http://www.twitter.com/dougfeinberg