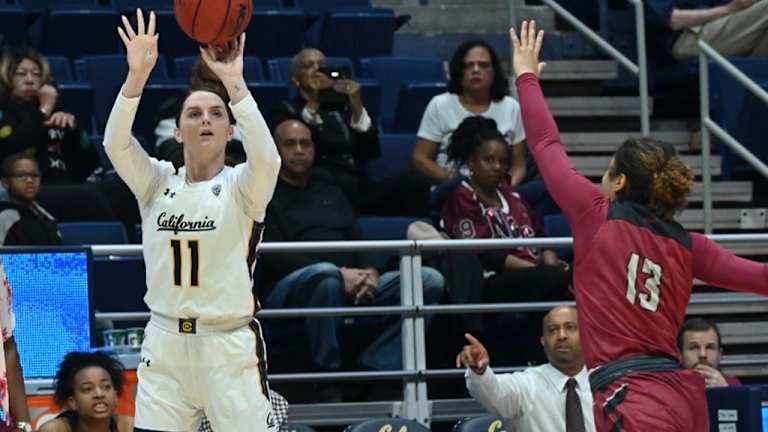 Cal Women's Basketball: Bears Breeze Past N.C. Central and into Classic Title Game
Five players score in double figures in 90-69 first-round tournament triumph
Five players score in double figures in 90-69 first-round tournament triumph
Jaelyn Brown scored 20 points to lead five players in double figures as the Cal women's basketball team opened play in its 2019 Cal Classic with a 90-69 win over North Carolina Central on Friday afternoon.
The win was the fourth in a row for Cal (5-2), which will play in Saturday's 3:15 p.m. championship game against Long Beach State, which defeated Penn State 64-56.
Brown, the reigning Pac-12 Player of the Week and espnW national Player of the Week, shot 7-for-10 from the field and made all five of her free throws.
Sara Anastasieska contributed 15 points and a career-high eight assists, Alaysia Styles scored 15 points, CJ West scored 14 and Jazlen Green had 11. Leilani McIntosh added seven of the Bears' season-high 27 assists.
Despite all that, first-year coach Charmin Smith was less than thrilled by the way her squad performed, especially given the Bears' 20 turnovers.
"We're happy to get the win today, but not happy with how we played collectively," Smith said. "We need to be better in how we take care of the ball and in our decision making. There are definitely some things we need to clean up and do better to have a chance to win a championship in our tournament tomorrow. We're excited to get back out there and make those improvements."
The Bears shot 64 percent from the field, outrebounded their visitors 37-23 and built a 51-35 halftime lead on the way to a season-high scoring total.
Justina King scored 16 points and Ma'Qhi Berry added 14 to lead Long Beach, which toppled Penn State despite failing to score in the final 3-plus minutes.
The 49ers (2-4), broke a three-game losing streak that included a 35-point loss to UCLA. They opened their season with a loss to Cal Baptist and their only previous victory came at the expense of Westcliff, a non-Division I program.