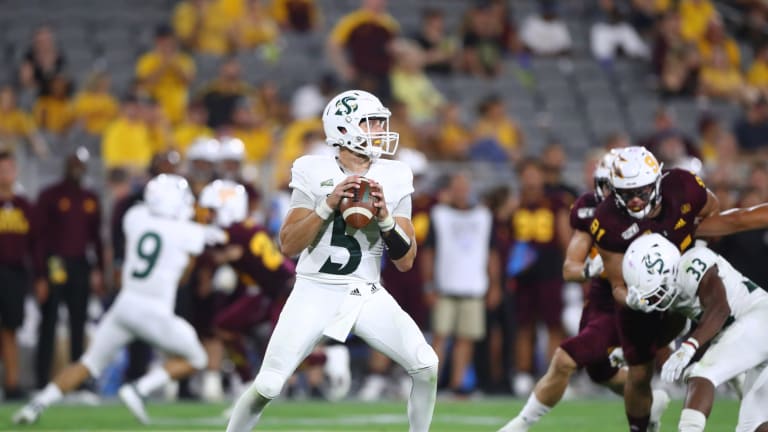 Washington Won't Name Starting Quarterback Until Kickoff at Cal
Golden Bears will have to guess which of the four players competing for the job will be the starter for Cal's season opener in Berkeley on Nov. 7
Washington head coach Jimmy Lake has not named a starting quarterback for the Huskies season opener at Cal on Nov. 7, and now it appears he won't announce his starter until the kickoff of that 7:30 p.m. game in Berkeley, according to a report by Husky Maven.
This is not unexcepted. There is no reseason for the first-year Huskies coach to reveal to the Bears which of the four Washington quarterbacks competing for the starting job Cal will be facing. It will make it that much more difficult for Cal defensive coordinator Peter Sirmon and the Bears defenders to prepare for the Huskies' offense.
"It doesn't do us any advantage to announce that publicly," Lake said to reporters on Wednesday, according to Husky Maven. "That's not going to help us win the football game."
(To see Lake's Zoom interview, click here.)
A decision on a starting quarterback is likely to be made Thursday after the Huskies' fourth and final game-simulated scrimmage, but Lake is not likely to reveal the choice publicly.
Dan Raley of Husky Maven believes Sacramento State grad transfer Kevin Thomson is the leading candidate for the job, ahead of sophomore Jacob Sirmon, redshirt freshman Dylan Morris and freshman Ethan Garbers. Jacob Sirmon is the nephew of Cal defensive coordinator Peter Sirmon, and Ethan Garbers is the brother of Cal quarterback Chase Garbers.
"As you've seen on film, the guy can run and he can throw it," Lake said regarding Thomson. "He's smart. He's definitely made some veteran moves. He's been there and he's seen it because he's played college football."
Thomson was named the Big Sky offensive player of the year last season after completing 58.9% of his passes for 3,216 yards, 27 touchdowns and eight interceptions. He also ran for 619 yards in 2019. Sac State is an FCS team that played two FBS opponents last year -- Arizona State and Fresno State. Thomson completed 32 of 50 passes for 263 yards, one interception and one pick in the 19-7 loss to Arizona State, and he was 22-of-41 for 233 yards, three touchdown and no interceptions in the 34-20 loss to Fresno State. He had negative rushing yardage in both games.
Thomson started his college career at UNLV in 2014 before moving on the Sac State.
With the Huskies having a new head coach and new offensive coordinator (John Donovan) and mystery at the quarterback position, Sirmon must look at a lot of different film to try to get a sense of what the Huskies might do on offense.
"I don't think it's going to be halftime adjustments; I think it's going to be first-quarter, second-quarter adjustments," Sirmon said last week. "This is as unique of a preparation that I've ever been a part of. I mean, there's no spring ball, There's no media there. There's nothing. I'm watching film from -- goodness gracious, the years back that we've gone to try to get a bead on what might happen or what could happen . . . I mean, it is the width and the breadth of what we're watching right now and what's in our system is pretty extensive."
Follow Jake Curtis of Cal Sports Report on Twitter: @jakecurtis53
Find Cal Sports Report on Facebook by searching: @si.calsportsreport
Click the "follow" button in the top right corner to join the conversation on Cal Sports Report on SI. Access and comment on featured stories and start your own conversations and post external links on our community page.