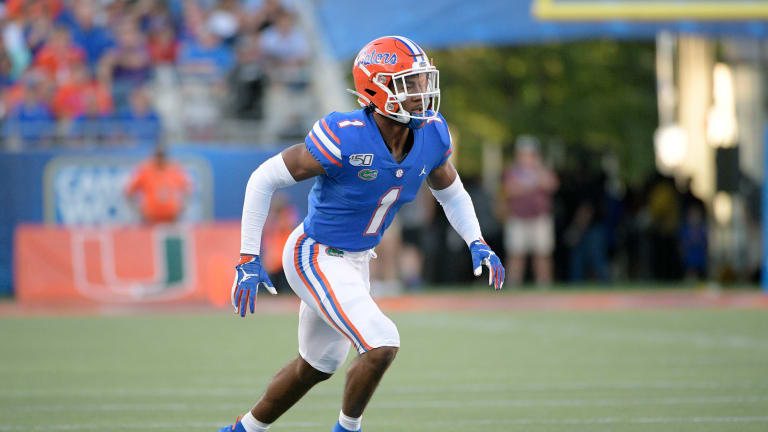 C.J. Henderson is the Next Shutdown Cornerback in the NFL
The University of Florida's star cornerback C.J. Henderson is the next shutdown cornerback in the NFL.
Shutdown cornerbacks are one of the most coveted positions in todays NFL. The University of Florida has sent some great cornerbacks to the NFL over the years and C.J. Henderson is ready to be the next one, and maybe the best one.
The 6'1", 191 pound junior cornerback burst onto the scene during his sophomore season, locking down wide receivers and also getting crafty and sacking the quarterback on blitzes. As he entered year three, Henderson had complied six interceptions, five tackles for a loss, and three sacks. He also had nine passes defended, but so far through 2019, he has matched that total with an additional nine. He also has added another sack and tackle for loss.
Stats are stats though, but for the football junkies of the world; turn on the film. However, I will warn you to be careful because you will fall in love with Henderson and he could become your new draft crush.
Henderson's weaknesses
The big knock on Henderson is his tackling in the run game. Now, I do not know about you, but I think when the biggest knock on a potential shutdown cornerback is his tackling in the run game, I am not that worried. I am not drafting a cornerback to help in the run game; I am drafting a cornerback to lock down wide receivers. Henderson has been questioned for his lack of effort in the run game as well, but I disagree with this narrative. He does try, he just isn't an elite run game defender, which is okay.
I think the biggest con for Henderson is his play strength. Henderson needs to add some strength and bulk at the next level because covering Julio Jones or DeAndre Hopkins is no easy task. I think the added bulk would also help him while he is mixed up in the run game as well, allowing him to shed blocks easier and also bring ball carriers down. He would just need to make sure it does not compromise his play speed and agility.
This might be nitpicky, but his motor can be on cruise control sometimes. He can fly all around the field and make plays, but then you also see him coasting, not straining to make the extra effort on some plays. I do not question his "motor," but just more about keeping the motor running high all game.
All in all, there are not many vital weaknesses in Henderson's game, which means the strengths should be great - and they are.
Henderson's strengths
Henderson is a stud in coverage. It is a joy to watch. According to Pro Football Focus, Henderson did not give up a touchdown in 343 coverage snaps last season, while only giving up 18 receptions. 
Sheesh.
He has picked up where he left off and has been locking down receivers all season.
"It's all in the hips!" - Henderson's hips are the big reason why he is so successful in coverage, When you watch potential NFL defensive backs run drills at the NFL combine, watch their hips. You will see the difference between the men and the boys, and Henderson will be one of the men in that aspect. He is so clean and fluid moving around in coverage and you just can't teach that.
Speed kills and Henderson is a murderer on the field with his. He flashes on film as a burner, but his play against Tennessee last year should make you drool. The Vols went for it on 4th and 1 and had a big play that likely should have gone for a touchdown, but Henderson used his speed to track the tight end down and strip the football. The ball went out of the back of the end zone for a touchback. Those are the type of plays superstars make!
Henderson is also a technician when it comes to the position. He does the little things that you can coach 100 times, but it's only the best that make it work on game day. He is always using his hands trying to force incompletions, turning the right way in transitions, and putting his body in the right spot as well. He just plays a really, really clean game from a technique standpoint.
He gets knocked for his run defense, but Henderson is an awesome blitzer off the line. He uses that elite speed to get to the quarterback and make plays when he asked to do so.
Overall
Henderson is a legitimate first round talent. 
He isn't one of those guys that will sneak into the first round after a great draft process; he is already cemented in the first round in my eyes. The run game nonsense is mainly caused by trying to find something to knock him with because he is that good in coverage. 
I am always intrigued to see how coaches talk about players and defensive coordinator Todd Grantham said the following to the media (via Lauren Reynolds of Gator Territory), "He's a really good player. He's the best player that I have coached, college or pro..." 
One media member followed up by saying, "You have coached some really good players." Grantham followed up by saying, "Mhm, I have and he is good." 
I agree, Coach.