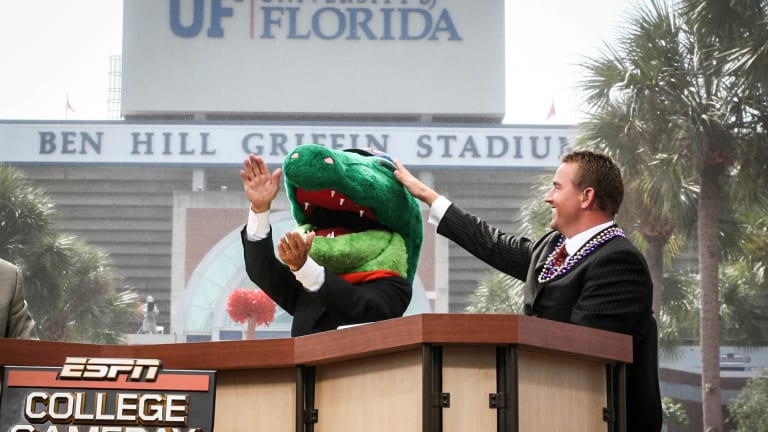 UPDATED: ESPN College Gameday is coming to Gainesville for Week 6
ESPN's College Gameday will be coming to you live from Gainesville at 9 A.M.
College Gameday is comin' to our city.
ESPN announced late on Saturday night that the weekly pregame show will air live from the University of Florida prior to the ninth-ranked Florida Gators' contest with the No. 7 Auburn Tigers.
This marks the first time that Gameday has trekked to Gainesville since October 20th, 2012, when Will Muschamp's old, third-ranked squad beat his current team - No. 9 South Carolina - by a score of 44-11.
Florida and Miami hosted Gameday in Orlando for their "Week Zero" matchup on August 24th. The Gators prevailed by a score of 24-20, and put a bit of a sloppy start behind them en route to their current 5-0 record.
Florida announced that the event will take place at the Plaza of the Americas on UF's campus, just east of Ben Hill Griffin Stadium. The show will begin at 9 A.M, but expect fans to show up well before - perhaps before daylight.
"Saturday will mark the 40th time Florida has appeared on GameDay, the third-highest total in the country. The Gators' 25-14 (.641) record ranks fifth-best in the nation for schools who have played in 10 or more GameDay contests."
Students and Florida fans will undoubtedly bring their best signs for the show's backdrop, but will they all present mild humor? Host Kirk Herbstreit was quoted saying...
"So much for maturity. So much for showing he's the CEO of that team and that offense."
... in regards to quarterback Feleipe Franks celebrating on the sidelines throughout the Miami game. Herbstreit's comments were not well-received by Gators fans, as Franks had clearly shown a spike in maturity entering the 2019 season compared to year's past. That much was evident when his teammates spoke of him to the media, and holds true now while he battles his season-ending ankle injury.
We'll make sure to feature the best signs seen on Gameday here at GatorMaven, as well as keep you updated on the set location and all news during the week.