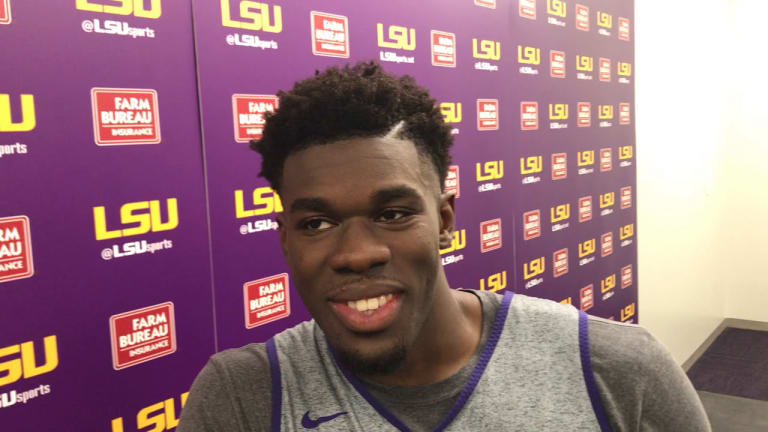 LSU Basketball Players Provide First Glimpse of What to Expect from 2019 Team
Watford, Williams talk improvements, learning under Will Wade
LSU sophomore forward Emmitt Williams is not one to shy away from telling it like it is. 
That's because Williams understands how special this No. 22 ranked Tiger team can be. After going through the NBA process once his freshman season ended, Williams called returning to LSU the "best decision I've ever made."
The sophomore, who as a freshman, was known more for his grit and toughness, has not only expanded his range but improved in all areas as the 2019 season approaches. Williams said during the offseason he would make approximately 300 three-pointers a day trying to perfect his newfound jumper.
One of the questions heading into 2019 is how the team will adjust to having a smaller, quicker roster with more shooting and more pace. Williams said it'll certainly look different on both ends of the court but for the better.
"It's going to be hard to guard us at the five, at the four," Williams said. "We run faster and we run stuff that most fives and fours can't do on the court."
One of the newcomers that will be eating up a large chunk of the minutes at the five and four positions will be freshman forward Trendon Watford. The 6-foot-9, five-star recruit out of Alabama chose LSU over Alabama, Memphis and Auburn and has impressed in the early stages, leading the team in scoring on the Spain trip at a little over 18 points per game.
"He's a phenomenal player, another guy that can help me on the glass," Williams said. "He's a phenomenal offensive player."
"He has shown me a lot, being able to guard better forwards, he can dribble, he can shoot it and really do a lot of stuff," sophomore forward Darius Days said of Watford. "We haven't really seen too many guys that can do all of that at his size other than Naz last year but he's even more versatile than Naz."
Throughout the entire recruiting process, Watford was reassured by coach Will Wade that he'd be the beneficiary of Wade going through the process of designing plays for a similarly skilled big like Naz Reid in 2018.
Wade said Monday how tough at times it was to get Reid into spots where he could be successful.
"With last year's team, it took us a little while to gel and get going," Wade said. "I wish I had done a better job earlier on with some of those guys. Now I have a better picture of how it needs to go and what we need to do, and they need to do to be successful and how big of a jump it is. Not just the physical part, but the mental part is the main thing. As we continue to get really good players, hopefully I'll continue to get even better helping those guys out."
"He's been really very helpful to me, we watch film a lot and just point out things I still need to work on," Watford said. "He's a coach and coaches are going to be hard on you, try to push you but I've enjoyed it and it definitely helps me."
Watford prides himself on his versatility, saying his rebounding and ability to guard multiple positions on defense is what he thinks attracted so many schools like LSU in the recruiting process.
"I feel like a lot of people know I can score the ball and make plays but I feel like I can bring rebounding to this team and guard any position," Watford said. 
One of the big adjustments Watford said he's had to go through is the speed of the college game and the physicality that it takes to be successful on both sides of the ball. 
Days has been one of the veteran players on the team that Watford likes to go up against in practice because of his physicality on the offensive glass and his versatility on the offensive end. 
Days is expecting a big year two leap after a freshman season showed promising signs but was inconsistent in minutes because of constant foul trouble. 
The team is making adjustments in how they defend to help some of the bigs like Days not be forced into switching on quicker guards and as a result getting into foul trouble.
"Mostly just move my feet, don't use my hands and my chest," Days said. "A funny thing we do in practice is I get a towel and hold it over my head so I don't put my hands on the offensive player. It works because I feel I'm getting better on the defensive end."
Days was the best three-point shooter on the team in 2018, shooting at a 42% clip in 2018 and has the green light from Wade every time he has an open shot in 2019.
"I feel like I'm going to be taking more shots in the game," Days said. "I feel more comfortable playing this year and coach has told me when you're open, shoot it. So I'm going to do what he says."
No. 22 LSU will open up its season on Nov. 8 when the team hosts Bowling Green at 7 p.m. The Tigers will travel to Ruston, Louisiana on Saturday for an exhibition match against Louisiana Tech for a "Hoops 4 Disaster" event after the city was ravaged by a tornado in the Spring of 2019.