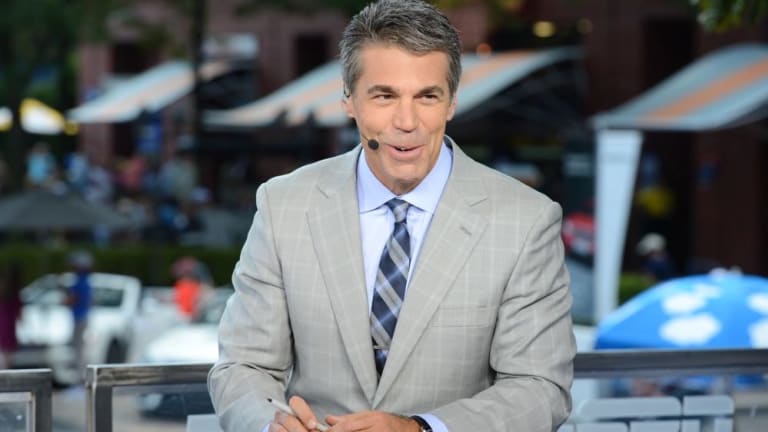 Chris Fowler: Michigan Must Get Over Hump And Beat Ohio State
Quarterback play will be key to helping Michigan finally defeat Ohio State this season according to ESPN analyst Chris Fowler.
Quarterback play will be key to helping Michigan finally defeat Ohio State this season according to ESPN analyst Chris Fowler.
Over the offseason, Michigan's top priority has likely been to replace the starting quarterback position with a competent yet talented player whether that be Joe Milton or Cade McNamara. But the Wolverines are also tasked with replacing a host of other players after 10 U-M athletes were selected in the 2020 NFL Draft.
Such a monumental task may temper the expectations for Michigan's squad this fall, but ESPN analyst Chris Fowler is of the mindset that the standard in Ann Arbor has not changed even the slightest bit due to the offseason attrition.
"The expectations are always high because of what Michigan is and the track record that Harbaugh has," Fowler told Wolverine Digest. "This is not a revelation. Michigan's season to most people comes down to a few games. It comes down to consistency. Week in and week out, you have to take care of business. Michigan fans sometimes get frustrated when you play down to the level of a team they should have handled easily."
Throughout Harbaugh's tenure at Michigan, red letter games have been of pinnacle importance. Though Harbaugh is 0-5 against Ohio State, he has found success against other rivals, such as Minnesota (2-0), Michigan State (3-2) and Notre Dame (1-1). And this season, U-M will have three rivalry games on its schedule with Michigan State at home and Minnesota and Ohio State on the road.
"With Wisconsin coming in there, Ohio State at the end of the season, if you think about how many trophies and how many big moments have been denied just by Ohio State in the last 15 years-- you don't have to hear that from me," Fowler said. "You guys live it. So, getting over that hump and finding a way to play your best in that game is essential, and that's what they have to do. They have to get Ohio State out of their head and just play their best in those big moments."
Since Harbaugh has been unable to pick up a victory over the Buckeyes as of yet, some discussion about his job security and the proverbial hot seat tends to pop up each offseason, but in reality Harbaugh is firmly entrenched at his Michigan post even though pressure is mounting for him to finally take down Ohio State.
"I'm not a big believer in the hot seat," Fowler said. "That's something with the people who hire and fire. Jim's a legend there. He's been a great coach wherever he's gone. I think you're judged by what you do in the biggest games. That's no different at Michigan or any other powerhouse program with that kind of tradition. It would be better for him if he won the game, I'll put it that way."
While Michigan's defense has arguably been at its weakest against OSU in recent years, the Wolverines could have received cleaner efforts from the quarterback position. On the contrary, the Buckeyes have fielded excellent playmakers at the QB position, and that's helped create a sizable gap between the two programs. 
"It's the most important position in sports, so quarterback play now more than ever in college football [is important]," Fowler said. "It's not the only guy, he needs a lot of help, but obviously people are watching Milton and McNamara to see who is going to emerge. It's up there. I don't think you can have better quarterback play than Ohio State has had those years, and it's been important. It's not the only thing, but it is one of the most important things. Jim has been a quarterback whisperer. I think he has a lot to offer a quarterback. You've got to get better at that position though, there's no question about it, and less mistake prone."
If Michigan can take a step forward with Milton or McNamara this season, perhaps the Wolverines can escape Columbus with a victory in what is sure to be a season that is unique for many reasons. That's a tall task, but it starts with quality play from the quarterback position. 
Do you think Harbaugh can pick up a win on the road against Ohio State this season? Would a loss put him on the hot seat? Let us know!