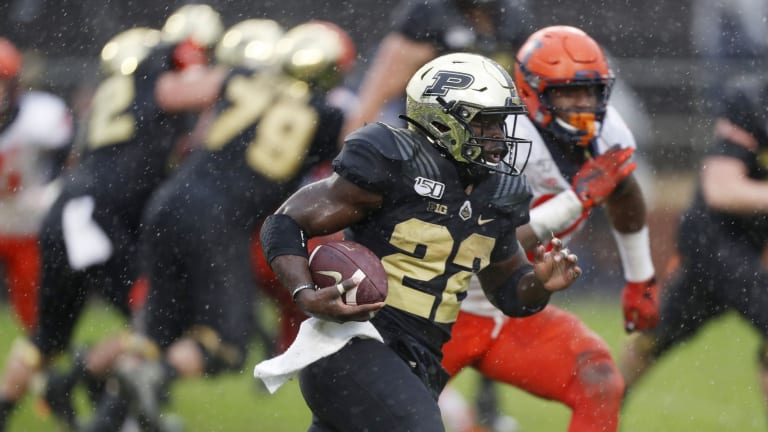 Purdue Football: Bad Loss to Illinois Sums Up Entire Season
Bad weather conditions, a quarterback controversy and the inability to run the ball led to Purdue losing 24-6 to Illinois.
WEST LAFAYETTE, Ind. — Saturday's game against Illinois can be summed up in one simple word — ugly.
On a gloomy, dreary day in West Lafayette, Purdue fell to the Fighting Illini 24-6 to fall to 2-6 on the season. And what went wrong Saturday sums up perfectly what's been going wrong all year for the Boilermakers.
"We got exposed in many areas," Purdue coach Jeff Brohm said. "It was a bad day."
Illinois may have won the game, but Purdue's biggest enemy might have been the weather conditions.
On a day in which the temperature hovered in the mid-40s and it rained hard enough to flood parts of Ross-Ade Stadium, the Purdue offense had no answers.
For a team that leans heavily on the pass, it was a worst-case scenario for Brohm and company.
"I can't think of anything that went correct, to be honest with you," Brohm said.
Purdue opened the game with Jack Plummer at quarterback, but after a bad turnover, he was replaced by backup Aiden O'Connell. Early in the second quarter, Plummer tried to force a pass to his left, and was intercepted by Illinois for a touchdown. That throw prompted Brohm to make the switch.
"You can't throw an interception in that game for a touchdown," Brohm said. "You just can't do it. That really changed the momentum of the game, put them in the driver's seat and it was not good from there."
The interception gave Illinois a 10-0 lead, which in those conditions seemed like much more.
O'Connell lasted two short drives before Plummer was given the opportunity to come back into the game. It wasn't the last of O'Connell's day, though.
Following another Plummer turnover, this time a fumble in the third quarter, O'Connell was given another chance. He played the entire fourth quarter and led Purdue on its lone scoring drive of the day — a 99 yard drive capped off by a Payne Durham 11-yard touchdown reception.
Brohm's problems with Plummer stem from what he's been preaching to his young quarterback for the past few weeks, finding check downs or running with the ball — two things Plummer failed to do on Saturday.
"Every once in a while they're going to cover some things and you've got to find a check down or step up and run," Brohm said. "It's kind of the same thing we've been saying for the past couple of weeks so that has to get better, and if not someone else is going to play."
The quarterback problems weren't the only thing wrong with Purdue. Facing weather conditions as bad as Saturday's, the game plan for both teams was to run the ball. But Purdue struggled both running the ball themselves, and stopping the run of Illinois.
"In those conditions, I think both teams wanted to run the ball," Brohm said. "If you can't run the ball you're probably not going to win the game, and we weren't effective running the ball."
Purdue did run for a season-high 135 yards but it took them 44 carries to get to that mark, and a majority of the yards came near the end of the game. Starting running back King Doerue had a particularly bad day, carrying the ball 15 times for just 37 yards.
It was the complete opposite for Illinois on the ground. Lovie Smith's team was able to run for a whopping 242 yards, which contributed to nearly all of their 268 total yards of offense. Dre Brown was the standout for Illinois, running the ball 18 times for 131 yards, including a game-long 44 yard run early in the day.
"I think the weakness of our defense has been the interior of the line being able to get some penetration and knock people back," Brohm said. "In those conditions you've got to be able to stop the run, it's what the team's going to do."
Saturday's game and weather, in a shell, is what Purdue's entire season has been like.
Since the injuries to Elijah Sindelar and Rondale Moore, it's been a gloomy, dreary time for Purdue football, who will now have to win out to make a bowl game for the third consecutive season.