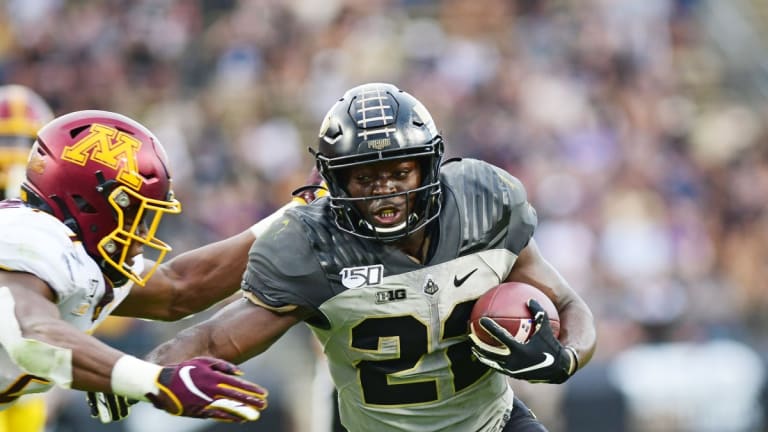 Purdue Football: Injuries forcing Boilermakers to turn to youngsters
Purdue will have to turn to several true freshman with injuries depleting the roster.
Purdue will have to turn to several true freshman with injuries depleting the roster.
WEST LAFAYETTE, Ind. — Next man up. That's the motto Purdue and coach Jeff Brohm will have to adopt for the rest of this season.
"When guys go down, the others have to be ready to play," Brohm said.
Quarterback Elijah Sindelar and wide receiver Rondale Moore suffered significant injuries during last Saturday's loss to Minnesota. Add those to the already existing injuries to Lorenzo Neal, Markus Bailey, Tario Fuller, Richie Worship and Jared Sparks, and the Boilermakers will have to turn to the young guys sooner than expected.
Purdue will head into Saturday's matchup at Penn State with freshmen playing at multiple positions, especially on offense. Redshirt freshman Jack Plummer will play quarterback with a multitude of true freshmen around him.
Wide receiver David Bell has played in every game so far this season, but he needs to step up and become Purdue's No. 1 receiver now that Moore is out. King Doerue will have to carry the load in the backfield, and he seems up to the task after gaining 126 total yards and scoring three touchdowns. On the offensive line, freshman Cam Craig will get snaps now that DJ Washington was lost to injury.
That's a lot of change.
"You've got to play with the cards you're dealt with," Brohm said. "There's no excuses whatsoever, and there's no complaints."
All teams deal with injuries, but for Purdue, this season that statement has reached another level. The amount of injuries to Purdue's best players is remarkable. Sindelar was leading the NCAA in yards and touchdowns, Bailey was the team's leader and best defensive player and Moore was arguably the NCAA's most exciting wide receiver and an eventual high NFL draft pick.
Those are difficult losses to overcome but, according to Brohm, the team can't focus on that.
"It creates some challenges, but I expect our guys to compete and work hard and get better," Brohm said. "I expect us to take the field and the guys that are out there want to get it done, show that they have toughness, show that they're more ready than people think, and go out there and compete."
To an extent, Plummer, Bell and Doerue already have shown Brohm and Purdue fans that they have the ability to compete.
Plummer entered the Minnesota game after Sindelar's injury and threw for 245 yards and two touchdowns while almost completing a miraculous comeback. Doerue had a career-day for the Boilermakers and seems to have cemented himself as the first option in a running game that had been struggling all season long. Bell caught eight passes for 114 yards, his most yards in a game this season. On the season, he has 244 yards and a touchdown.
Those three guys should continue to improve with more and more experience and playing time.
It may be early in their careers, but the freshmen are the next men up. Bright future? Well, now the future is here.