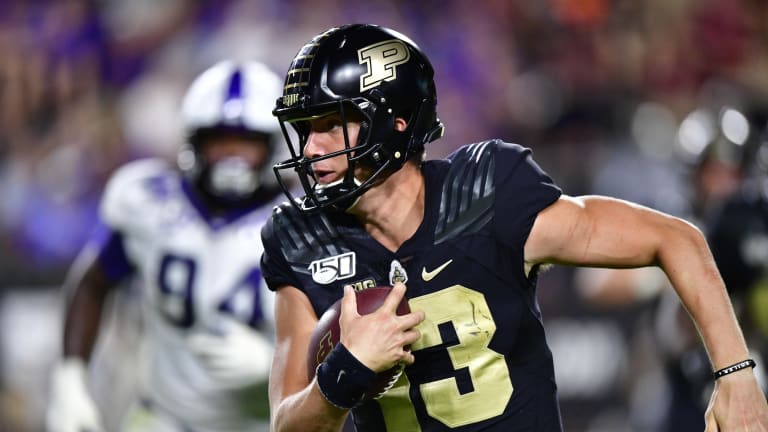 Purdue football: Despite rocky start, future is bright for QB Jack Plummer
With starter Elijah Sindelar still in concussion protocol, Plummer is the Boilermakers' starting quarterback for the time being.
WEST LAFAYETTE, Ind. — Jack Plummer got thrown into the fire two weeks ago when Elijah Sindelar, Purdue's starting quarterback, couldn't answer the bell for the Boilermakers' game with TCU because of a concussion.
Plummer, a redshirt freshman who hadn't thrown in a pass in game action since high school, got toasted around the edges a little bit in his first live reps in nearly two years. His first start wasn't always pretty.
He struggled at times, completing just 13 of 29 passes for 181 yards and had two critical interceptions in the Boilermakers' 31-13 loss It was a rough start, but the people who know him best — both at Purdue and back home in Gilbert, Ariz. — know that the one start won't define him.
So let's not judge after one start. There's a lot to Plummer's game, and there are good things to come. Everyone who knows him is sure of that. Absolutely sure.
Squaring off against TCU's perennially tough defense made for a difficult debut. It was a tough spot for Plummer to be thrown into, facing a veteran TCU team and getting little to no help from his offensive line and rushing attack.
Live and learn. One down.
"I think the game Jack played was a great experience for him. He hung in there and played to the end," Purdue coach Jeff Brohm said. "He's the quarterback, the guys around him have to play well for him to succeed and look good, and that's kind of true with most quarterbacks."
The one lackluster performance doesn't tell the whole story of the 6-foot-5, 220-pound redshirt freshman. Talk to anybody who knows Plummer — his teammates, the Purdue coaching staff, or even former coaches — and they'll rave about how great of a guy Plummer is, both on and off the field.
"He's one of the greatest people I've ever had the opportunity to coach," said Derek Zellner, Plummer's head coach at Gilbert (Ariz.) High School. "He's the type of person you really enjoy coaching and being around."
Plummer was a three-year starter at Gilbert for Zellner, where he threw for 6,913 yards  and 69 touchdowns. He also added 572 rushing yards and nine touchdown runs in his three years. His senior season in 2017 was his best, throwing for 2,822 yards and 35 touchdowns while only turning the ball over seven times. 
Plummer — who is not related Jake Plummer, the former NFL quarterback with a similar name — was heavily recruited prior to that senior season, with offers from Arizona, Oregon State, Memphis and others. He has a big body. and coaches from all across the country saw his potential. 
So did Brohm, of course.
"For us, he's the top quarterback in the country. We liked him from Day 1,'' Brohm said back in 2017 after Plummer committed. "When we got him, we shut it down. And when we were recruiting others, really, he's the one we wanted."
That confidence in Plummer to eventually become a No. 1 quarterback at Purdue stemmed from his build, skill set and, most importantly, his intelligence. Coming out of high school, people labeled him as a "pro-style quarterback," with great height, a good arm, escapability, and off-the-chart smarts.
"I think he's got a good arm and he's very accurate, but the greatest thing he has is he's so damn smart," Zellner said. "He challenged us as coaches because he's so cerebral and so smart with the game."
Plummer is also a guy who is very dedicated to the game and obsessed with improving each and every day. According to Zellner, Plummer would come over to his house every Sunday during his senior season to go over the game plan for the upcoming week and watch film with his coach.
"He would come over and we would sit and go through film one-on-one," Zellner said. "Those are the memorable moments (coaching him) for me, not just him on the field but his work off of the field as well."
Those traits are what made Plummer a highly touted recruit coming out of high school. And, for now, that's the type of guy Purdue has leading its team until Sindelar returns from injury, starting with Saturday's home game with Minnesota (3:30 p.m. ET kickoff; TV: ESPN2). Sindelar, who had a setback late in Purdue's bye week, is day-to-day and no decision likely will be made prior to kickoff on Saturday afternoon.
Whether we see Plummer again this season, the next, or even further down the line, Purdue fans can rest assured they are in capable hands.
"He's a great kid and Boilermaker Nation is very, very lucky to have him," Zellner said. "When he gets his opportunity as a full-time starter, he's not going to let people down."