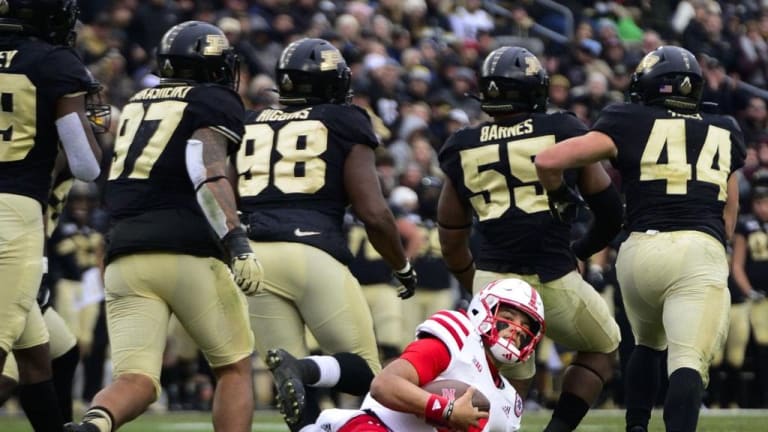 Purdue Football: Heart shown in a Season Full of Adversity
Purdue fought through adversity once again to beat Nebraska 31-27 on Saturday.
WEST LAFAYETTE, Ind. — Purdue showed something that it hadn't shown all season in Saturday's 31-27 victory over Nebraska — heart.
A Purdue team that has had a rough go of things this season with both injuries to key players and disappointing performances on the field, didn't let any of that affect them in the big time win over the Cornhuskers that kept their bowl hopes alive.
"This was something that we needed," Brohm said. "I think are guys came and competed, played hard, and played to the end and that's what we had to do."
The epitome of that heart came out during the fourth quarter. After losing quarterback Jack Plummer to a leg injury early in the quarter, backup Aidan O'Connell, a walk-on, came in and led Purdue to the victory. With him under center, Purdue scored twice, including the game-winning touchdown with just 1:08 remaining in the game.
"I'm very proud of Aidan. He came in here and just worked his tail off and got himself ready to compete and play," Purdue coach Jeff Brohm said. "I think he was relaxed when he came in and made some big throws. It was a tremendous job by him."
O'Connell completed six of seven passes on the day for 62 yards and led Purdue 82 yards on the final drive. The drive was capped off by what may be Brohm's most impressive play call of the season, a wide receiver reverse to David Bell on third and five that fooled everybody in the stadium and led to Bell walking in untouched for the go-ahead score.
"This is a play we've worked on in that plus ten-yard area quite a bit," Brohm said. "You'd like to get an all-out pressure blitz and hope that they bite down on the fake. It worked exactly the way we'd hoped."
After some early turnovers and blocked punts, the game could've gotten out of Purdue's reach early, but the defense stood strong. After a Plummer interception gave Nebraska the ball on the two-yard line near the end of the first quarter with them already leading 7-0, the defense kept them out and limited them to a field goal. The Cornhuskers next drive ended in a Cory Trice interception - his third of the season - on a pass that would've moved them inside the five-yard line.
"Early on, even though they had a few big plays, they kept us in the ball game," Brohm said. "They kept them to some field goals, and they did a good job in the red zone when they got into scoring areas."
The Boilermakers listened to Brohm's repeated instruction throughout the week of just taking it one game at a time and working on improving. They looked sharper in nearly every area on Saturday. The run game saw some success finally, utilizing Plummer on both designed runs and scrambles when things broke down in the passing game. They finished with 145 yards and two scores rushing. The passing game was just as sharp. The two quarterbacks combined to throw for 304 yards and two touchdowns as well.
This was a much needed victory, and a huge boost of confidence for an extremely young team that has dealt with some adversity this year.
"It has been rough at times this year," Brohm said. Any time you're not winning it's not a whole lot of fun, but really if you want to win it's not supposed to be a whole lot of fun."
Well, this one was surely fun for Purdue. But if this past week of preparation was any indication, the Boilermakers will be back to taking things one game at a time come Monday.