LIVE UPDATES: No. 16 Tennessee at South Carolina
The Vols begin their 2020 all-SEC season on the road in Williams-Brice Stadium, where four current Tennessee players shined as South Carolina natives. Follow along here for updates throughout the night, as Jeremy Pruitt and Co. will look to clinch a statement win under the lights in Columbia.
PREGAME NOTES:
The September 29 opener is the latest on the calendar for Tennessee since opening the 1962 season on September 29 against Auburn. It's also the first time UT will begin a season against an SEC team since facing Georgia on Sept. 3, 1988, according to the UT media relations staff.

Tonight, Tennessee will look to continue its trend from the end of the 2019 season. The Vols capped the year with a six-game win streak and a win over Indiana in the TaxSlayer Gator Bowl.
In its South Carolina series, Tennessee leads 26-10-2 but snapped a three-game losing skid against the Gamecocks last year in Knoxville with a 41-21 win. 
The Vols are also 0-2 in their last two trips to Columbia. Tennessee's last win at a Williams-Brice came in 2014, with a 45-42 win in overtime.
Prior to kickoff for the 2020 matchup, Tennessee defensive lineman Darel Middleton revealed he will be sidelined due to "health issues." 
Defensive back Shawn Shamburger will also be out tonight for academic reasons. 
Safety Jaylen McCollough has also been "shaken up" according to the Vol Network, removing him from the starting lineup.
IN-GAME UPDATES:
Offensive line starters for Tennessee: Jahmir Johnson, Trey Smith, Brandon Kennedy, Jerome Carvin, Darnell Wright
The Gamecocks get the ball first.
South Carolina wide receiver Shi Smith comes up injured after the second play from scrimmage, which could be a big loss for Carolina going forward.
Smith back in later in the drive, now with three catches already to put South Carolina inside the red zone. 
Kevin Harris with three straight rushes, and he punches it in from three yards out. 11 play, 75-yard drive for the score. Gamecocks lead 7-0 after the PAT with 9:59 left. 
Here's a look at stats from the Gamecocks' offense:
Tennessee takes over on offense with 9:59 to go in the first frame.
Vols go to Ty Chandler for the handoff at running back, and a connection to Ramel Keyton puts Tennessee at its own 46. 
South Carolina forces three-and-out, and the Vols will punt from the 41 after a false start on special teams.
Paxton Brooks tries to throw after being pressured from a rolling snap, and the Vols turn it over on downs. 
Here's a look at Tennessee's start on offense: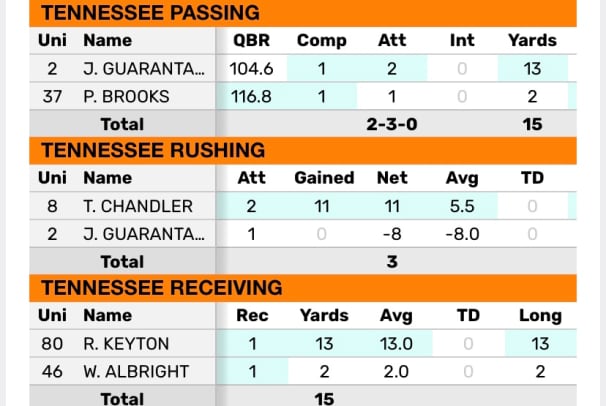 South Carolina ball at the Tennessee 38.
Gamecocks punt it away, and Eric Gray takes a fair catch at the 10 to start the Vols' second drive on offense.
Velus Jones Jr. takes a 10-yard pass for a first down, and Ramel Keyton gains six before no gain from Eric Gray.
Brandon Johnson with an INCREDIBLE one-handed catch to move Tennessee across the 50 and into Gamecock territory on 3rd-and-short.
Now a 31-yard pass to Eric Gray on a flea-flicker to the one-yard-line, and Jarrett Guarantano goes over the top for the Vols' first touchdown of the 2020 season.
Tennessee forces three-and-out on defense, and the Vols have a shot to take their first lead of the season here.
The Vols punt it away, using a different long snapper this time in Matthew Salansky, who replaced Will Albright. 
South Carolina ball at its own 20.
END 1Q: Tied at 7 in Columbia
Henry To'o To'o takes his first career interception the other way for six from 32 yards out.
Vols lead 14-7 with 13:22 to go in the second quarter. 
Tennessee forces another three-and-out and is set to take over at its own 16.
Guarantano with an incomplete pass on third down, and the Vols punt it away. 
Freshman Doneiko Slaughter comes up with a sack, and the Gamecocks punt once more. Tennessee ball in Carolina territory.
Vols go three-and-out, and Jarrett Guarantano narrowly avoids a fumble on third down. South Carolina to start at its own 15.
End of the first half: Tennessee 14, South Carolina 7.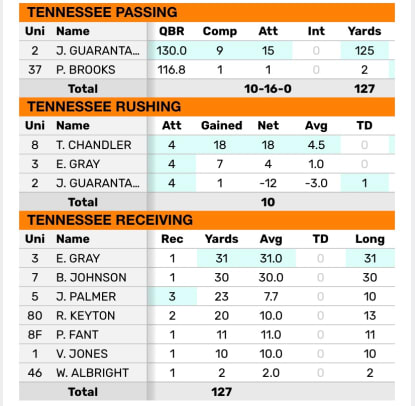 Tennessee starts the second half at its own 26 after a strong return from USC transfer Velus Jones, Jr.
Eight plays and 74 yards later, Tennessee is in the end zone after a 12-yard run from Eric Gray. 
Now 21-7 Vols, 12:28 left in the third quarter.
Carolina takes over and quickly moves inside the opposing 40-yard-line for a first down.
Touchdown, South Carolina: Shi Smith takes a pass from Collin Hill 29 yards for the score. 4 plays and 75 yards on the scoring drive, and Smith has over 100 yards receiving. 
Velus Jones, Jr. with an impressive return to the Tennessee 43, and the Vols will start with Javontez Spraggins replacing Jerome Carvin on the offensive line. 
The Vols line up a 46-yard attempt for Brent Cimaglia, and the kick is blocked. Turnover on downs.
Touchdown, South Carolina: Hill takes it himself for the score. Gamecocks tie it at 21 with 4:32 left in the third quarter.
That's a 10-play, 71-yard drive for South Carolina.
Tennessee takes over and moves across the 50, and Cam Smith is cited for a defensive pass interference call. Vols now at the 15 on third down, and Guarantano's pass falls incomplete.
Cimaglia nails his second attempt of the game, this one from 27 yards to give Tennessee a 24-21 lead with 2:18 to go in the third quarter. Credit Tennessee with an eight-play, 65-yard drive there. 
South Carolina starts at its own 25. Jaylen McCollough enters at safety, and Bryce Thompson switches back to corner.
The Gamecocks punt on third down — Tennessee to start at its own 33.
END THIRD QUARTER: Tennessee 24, South Carolina 21.
Guarantano throws incomplete on third down. Vols to punt from their own 35, and South Carolina will take it inside their own 15. Credit Paxton Brooks with a 52-yard punt. 
Linebacker Jeremy Banks called for a late hit, giving the Gamecocks a free first down at the Tennessee 35.
Chippiness starting to show on both sides early in the fourth quarter, as the teams are separated before Deandre Johnson brings Hill down for a sack.
Parker White nails a 35-yard field goal to tie things up at 24. Five plays, 74 yards on that South Carolina drive. Tennessee takes over at its own 25.
Brandon Johnson with a 33-yard grab, and Josh Palmer hauls in a 32-yarder from Guarantano for the score. Now 31-24 Tennessee with 9:35 left, and a four-play, 75-yard drive. 
Gamecocks go three-and-out and punt it away. Vols will take it at the 50 with a huge chance to put this game out of reach, but the drive stalls out.
South Carolina ball at its own 15. Jeremy Banks called for a costly penalty, his second of the game. Gamecocks have it across the 50.
Collin Hill hits Legette for 17 to move to the Tennessee 25. After a couple more plays, Parker White nails a 42-yard kick, and the Vols will retake possession with a 31-27 lead. 
Tennessee forced into 3rd-and-27, and Eric Gray takes it for a couple. Vols set time punt it away with a little under two minutes left.
Jimmy Holiday recovers a muffed punt for Tennessee, and the Vols will escape in Columbia.
FINAL: 31-27 Tennessee. Vols are 1-0 in the 2020 season.