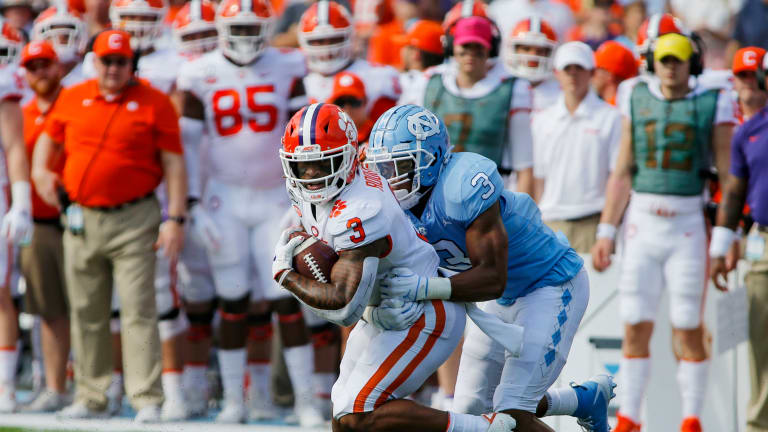 "Mad Scientist" Bateman Maximizing Carolina's Talent with Dominique Ross, Linebackers
Versatility has been a benefit for the Tar Heels on defense this season
At this point for the North Carolina linebackers, the depth chart and official positions have become merely a suggestion.
"Coach (Jay) Bateman is a mad scientist," senior Allen Cater said. "He's going to find out what we're good at and he's going to put us in the best situations to do that."
A position that was once a major concern for the Tar Heels has become a strength this season thanks to Bateman and linebackers coach Tommy Thigpen making adjustments with their personnel, and it certainly hasn't hurt that Chazz Surratt has gone from a big question mark to Carolina's leading tackler.
With Surratt starting the season-opener in place of the suspended Dominique Ross, the former quarterback surprised most everyone in the win over South Carolina, finishing as the Tar Heels' leading tackler.
Ross, who was surprised to see Surratt's defensive highlights when he committed to Carolina, wasn't one of those.
"Him moving over to quarterback to linebacker, it was kind of questionable, but during the springtime I saw that he was serious about it," He had the hard work, he had the dedication, he was willing to compete every day and he just showed the toughness. I always knew he was an athlete."
Surratt's emergence combined with a strong progression from Jeremiah Gemmell has allowed Bateman and Thigpen to maximize Carolina's athleticism, moving Ross from the inside spots to more of a hybrid role that doesn't exactly have a specific definition.
Gemmell, third on the team with 50 tackles, praised Ross for going outside his comfort zone.
"For D-Ross, a lot has changed," he said. "He's played on the defensive line coming off the edge, he's played inside the box, he's walked outside the box and played man on their No. 2 slot receiver, taking him up the pipe. Not too much stress has been on me and Chazz. For D-Ross, I respect (that). He's not even in the position he signed up to play and he's out there making plays and doing what he has to do for the team."
With Ross originally rotating with Surratt to play alongside Gemmell, Carolina eventually began playing the trio together along with Tomon Fox, who functions mostly as a pass rusher on the edge.
With Carolina ranking 56 nationally with 16 sacks, the ability to use Ross as an edge-rusher, there's a major benefit to having the 6-4, 230-pound senior comfortable in the role.
"He's playing Sam more now and we like hat because he's a really good pass-rusher and we've got to get more pressure on the passer," Carolina coach Mack Brown said. "That's one thing we're doing with him more, is trying to get him in positions where he can play in space and come from out there."
But as Gemmell mentioned, the role is more than just getting after the quarterback, as Ross has proven himself as one of Carolina's best open-field tacklers on the outside, making solo stops on 16 of his 25 tackles.
After spending his first three seasons on the inside, the chance to move outside was something he actually jumped at.
"I always wanted to cover," Ross said. "I always had the knack to cover. Just getting more reps at it, playing in space, it wasn't really a challenge for me. I just do whatever Coach needs me to do; I'm on it."
Gemmell thought about what Ross is asked to do, and technically, he believes that the fact that he's taking receivers one-on-one all the way down the field mean's he's not even a linebacker in some situations.
"You can say he's an outside linebacker, but he's technically playing nickelback," he said.
Ross' is perhaps the most obvious one for Carolina, but his versatility lends itself to Bateman's philosophy of cross-training players in multiple positions with the goal of getting the best 11 players on the field.
Cater, who has seen more playing time lately, thinks the opportunity to branch out is a selling point for Carolina moving forward.
"It's fun because I get the best of both worlds," he said. "I get to drop in coverage, I get to go rush the quarterback, I get to go make plays on first and second down. It's a recruit's perfect world; come here and you get to play everything.
"D-Ross is the perfect example of that. Play inside, play outside, cover tight ends, cover slot receivers, cover the backs, even spy the quarterback — he can do that."