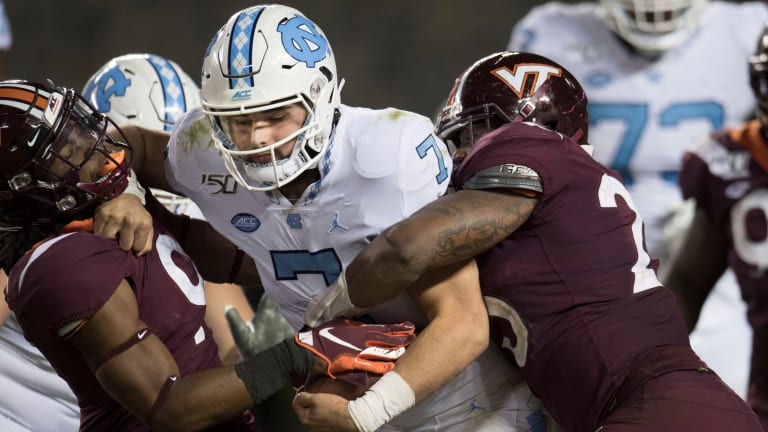 Sam Howell's freshman season measuring up with Carolina's best of all-time
The freshman QB is likely to rewrite the record books in Chapel Hill
Lost in the aftermath of Saturday's loss at Virginia Tech was Sam Howell's brilliance on a day that his offensive line didn't give him much help.
One game after setting a new single-game freshman record for passing yardage, Howell tied Carolina's single-game record with five touchdown passes and set a new mark for freshmen, with 20 touchdowns on the season.
"We cut a few guys loose and didn't get Sam an opportunity to stick his foot in the ground and make a throw," offensive coordinator Phil Longo said. 
When Howell had time in the pocket, good things happened for the Tar Heels.
First, there was the 47-yard touchdown pass to Dazz Newsome that the two made look easy, with Newsome getting a step on the secondary and Howell delivering a perfect ball.
"He's pulling the trigger faster," Longo said. "He's making faster decisions."
Or, the bootleg when Howell turned out of the pocket and found a wide-open Toe Groves for a 6-yard touchdown to help change the momentum in the third quarter.
That's obviously by design.
"We don't have a lot of receivers that make contested catches," Longo said. "The way the passing game works is we've talked about guys are in grass a lot, they're open. So he's hitting guys in open space."
Perhaps the most important piece for Howell, though, is that when guys have had to make contested catches, his accuracy has been on full display, as he did when he hit Beau Corrales for a touchdown in overtime, putting the ball on the money for the big-bodied receiver as he rolled to his right.
"He does a really, really good job of placing the ball away from the color of the defender," Longo said.
That's not something Longo believed in early on in his career, but Howell is the type of quarterback that proves it can work.
"When I first started coaching, when I got into this stuff early on, and coaches talked about, 'Hey, look we're going to landmark the ball on this armpit as opposed to this armpit,'" Longo said. "I didn't buy that. I just thought that was so specific and unrealistic."
With 20 touchdowns and just three interceptions on the season, Howell has made a habit with having "good" misses on his incompletions.
"We say in the quarterback room: 'Aim small, miss small,'" Longo said. "So there's a small target we want to find on every receiver. Some guys are better at that than others. Sam is really, really good at putting the ball in an area where we're not jeopardizing it with the defense."
Over Howell's past two outings vs. Georgia Tech and Virginia Tech, he's completed 59 of 100 attempts for 724 yards with nine touchdowns and one interception.
Longo hasn't noticed any change or specific area of growth out of the freshman quarterback — just the type of natural progression you'd expect midway through the season.
"A lot of the important areas offensively are just getting better, systematically and consistently better every week," he said. "I think the passing game with Sam is no different."
Already in the Carolina record books, Howell's performance over the next five games — and maybe six — will determine just how often.
Through seven games, Howell has completed 149 of 244 pass attempts for 1,892 yards, putting him within striking distance of several other records:

Freshman passing yardage: 2,655, T.J. Yates (2007)
Freshman completions: 218, T.J. Yates (2007)
Single-season passing touchdowns: 30, Mitch Trubisky (2016)
Lowest INT  percentage: 1.34, (6 INT, 447 attempts) Mitch Trubisky (2016)
Not only is Howell having an excellent season for a freshman, but it's one that will go down as one of the best in Carolina history.
At his current pace of 270 yards per game, Howell would end the regular season with the fourth-best passing season for a Tar Heel with over 3,200 yards, with a bowl game taking him to second.
Beyond this season, Howell's numbers will have him on pace to challenge for the program's all-time records in :
Passing yardage: 9,377, Yates (2007-10)
Passing touchdowns: 68, Darian Durant (2001-04)
Completions: 795, Yates
Attempts: 1,277, Yates