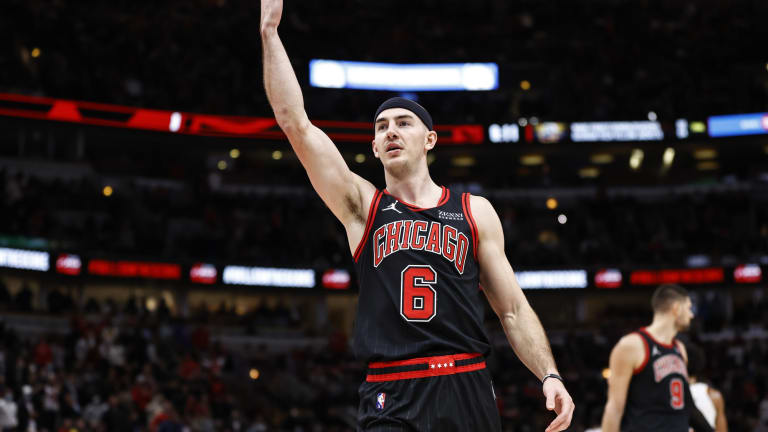 Here's What Alex Caruso Tweeted After The Bulls Beat The Cavs
The Chicago Bulls beat the Cleveland Cavaliers in Illinois on Wednesday evening.
The Chicago Bulls knocked off the Cleveland Cavaliers 117-104 in Illinois on Wednesday evening, and after the game Alex Caruso sent out a tweet. 
The post from Caruso can be seen embedded below.  
Caruso's tweet said: "Felt great to be back on the floor tonight.. United Center was rocking #BullsWin"  
The game was Caruso's first time playing since December 26.  
In his first game back he had nine points, three rebounds and two assists. 
The Bulls are 28-15 in 43 games, and are currently the first seed in the Eastern Conference.  
They have not been to the postseason since 2017, but this year they have a totally revamped roster with new players such as Lonzo Ball, DeMar DeRozan and Caruso. 
The drought appears as if it will end this season.  
Related stories on NBA basketball
DEROZAN PASSES JORDAN ON A LIST FOR THE BULLS: DeMar DeRozan and the Chicago Bulls have been on a roll to start the new season as the top team in the Eastern Conference. DeRozan is a four-time All-Star in his first season in Chicago, and he passed Hall of Famer Michael Jordan on a franchise-record list. CLICK HERE.
STEPH AND THE WARRIORS ARE ON FIRE: The Golden State Warriors have not made the playoffs in two seasons, but that appears likely to change this season. They are on fire to start the season led by superstar guard Steph Curry and have one of the best records in the entire NBA. . CLICK HERE.